Manchester United fans must learn to love Marouane Fellaini
Where's the love for the Reds' afroed enforcer? It's about time he got some, writes John Robertson...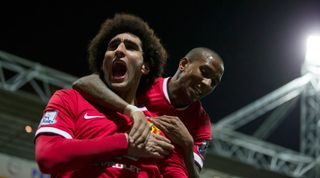 'Good football' and 'beautiful football' are two different things. Yes, good football can be beautiful, and beautiful football can be good. They don't always go hand-in-hand, though. In isolation, the good is about winning and the beautiful is about pleasing eyes.
By definition, it's the good football that brings trophies into the cabinet. West Germany of the 1970s and 80s, Juventus and AC Milan of the 90s, Mourinho of the 2000s – these were functional teams playing in well-defined systems using players who performed distinct and, for the most part, clearly-defined roles.
While beauty rests in the eye of the beholder, few games played by those teams would be considered attractive by the bulk of modern fans.
In recent years, however, the distinctions between appealing and effective football seem to have been blurred, or at least, there's a desire to see them become blurred. Winning games doesn't cut it anymore; you have to win games 'the right way'.
Manchester United have lost just three of their last 24 games. They've lost just two of their last 19 league games. That should be cause for celebration, but instead the focus has been on how Louis van Gaal has not been playing the 'correct' United way.
The scapegoat as hero
The butt of many jokes, it's Marouane Fellaini who has come in for much of the criticism and, to many, epitomises what the Reds are doing wrong. His languid running style, limited control over his limbs and supposed brawn-over-brain approach has won him few admirers.
And yet, it's Fellaini who has been among his team's most effective performers over the past few months.
From ugly duckling to Belgian swan? Possibly. Certainly, he has cast questions (relatively) over the performances of high-profile newcomers Radamel Falcao and Angel Di Maria; two players whose international reputations have only gone downhill since arriving at Old Trafford.
It's time for fans of the Red Devils and the wider football community, all of whom follow Manchester United to some degree whether they'd care to admit it or not, to start appreciating the kind of good football Fellaini is playing. Such a change of heart is particularly important for the remainder of this season as Van Gaal adopts a pragmatic style in order to make best of what he has.
Direct by design
Much of his transition this season has spawned from the more advanced position he's been deployed in. One of the more confusing aspects of David Moyes' reign last season was his positioning of Fellaini as a defensive midfielder.
Moyes saw first hand how effective Fellaini could be in an attacking role during his time at Everton, so the change to a defensive one was a genuine head-scratcher that the Belgian was clearly uncomfortable with.
One of the most obvious examples of Fellaini's increased impact in an advanced role can be seen in games against Liverpool. Last season United were trounced 3-0 by the Reds, with the Belgian playing a holding role; earlier this season the scoreline was reversed with Fellaini playing higher upfield.
Not only did he receive nearly twice as many passes, but the Belgian did so in more dangerous areas and via more forward passes. Direct balls from the back towards Liverpool's diminutive left side worked well.
A similar pattern of influence can be seen in United's last two Premier League games, with direct passes fired at Fellaini in wide and central areas. The result is control of the ball in areas that immediately put the opposition under pressure. It might not be beautiful, but it's incredibly effective.
This is a fine example of being direct by design. It is not, as many seem to believe, a last resort for when things are going badly.
The facilitator
Few United fans were left wanting after their 3-0 destruction of Tottenham at the weekend, a game in which Fellaini excelled and was the best player on the pitch until his late substitution.
Here he recorded an enormously impressive seven aerial duel victories, the same number he managed in the previous league game against Newcastle.
His ability in the air is, of course, a major contributing factor to the style of direct passes he receives. What makes him a genuinely worthwhile option, however, is his presence of mind when the ball is coming towards him. Far from a 'get ya head on it' kind of player, Fellaini has a keen understanding of how to use his talents to bring others into play.
During this season's win over Liverpool at Old Trafford, no two players on the pitch combined more often than Fellaini and Antonio Valencia, with 27 passes exchanged between the pair. Most effective were those into the feet of Valencia, who was able to get forward and create opportunities from wide positions.
This was only possible thanks to the directness of United's play, resulting in Liverpool becoming frequently stretched. Fellaini provides the pivot through which to turn that over-extension into chances.
Against Spurs the same thing happened, only this time on the opposite side with Ashley Young in place of Valencia. The ball would be moved forward quickly to Young, creating a planned attack underlined by a directness difficult to deal with – especially for a team like Tottenham that likes to press high.
Fellaini might not be the long-term solution at Old Trafford, and you could argue that his place in the team has come partly as a result of the misfiring Falcao and Robin van Persie.
What can't be argued, is that, in this educational first season of Van Gaal's, Fellaini has proven to be a valuable member of a team looking to string results together in order to return to the Champions League.
Fellaini is Manchester United's best facilitator of that approach, and for that he should applauded.
Liverpool vs Man United LIVE ANALYSIS with Stats Zone
Quizzes, features and footballing fun
Get the best features, fun and footballing frolics straight to your inbox every week.
Thank you for signing up to Four Four Two. You will receive a verification email shortly.
There was a problem. Please refresh the page and try again.