Meet the Ajax hotshot learning from Bergkamp and loving life with Lewandowski
Martin Harasimowicz sits down with the Ajax youngster who's a national hero already...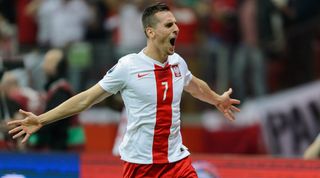 Robert Lewandowski is well regarded as one of the best centre-forwards in modern football, but there is no shortage of experts who believe that his new strike partner with the Polish national team might be even more talented and skilled than the Bayern Munich star. Arkadiusz Milik has one advantage already – by scoring the winner in Poland's first ever triumph over Germany in their recent Euro 2016 qualification fixture, he earned himself immortality and cult status among fans.
Meet the 20-year-old forward, who in only a few months went from young hopeful to national hero."It was an amazing feeling. To score against the world champions, in a first-ever win against Germany meant a lot to the fans and the entire country. It's also a big, positive confidence boost; something to build on," Milik tells FourFourTwo (opens in new tab), enjoying his instant popularity boost while trying to stay humble and focused.
"I've always believed that potential is hidden equally in your body and your mind, so scoring an important goal like the one against Germany can release those powers within you and make you believe in yourself. I feel like I'm growing as a player. The goals I've scored this autumn against Scotland and for Ajax are a further proof of that."
Living in the limelight
Milik became a local sensation at 17, coming out of nowhere to be Gornik Zabrze's leading scorer in Poland's Premier League. In 2012 he was sold for €2.6 milion to Bayer Leverkusen but never made an impact there, playing cameos in only six outings. Last year he went on loan with Augsburg and is now enjoying life at Ajax, where he's finally shown flashes of brilliance, scoring three goals in five league games and grabbing an assist at the Camp Nou against Barcelona in the Champions League.
He even went bananas in a Dutch Cup fixture, netting six times. "Scoring six goals is always a good thing, although it was against a lower-league team so I wouldn't put too much emphasis on that. It was nice, though," says Milik, who doesnt like to brag and prefers to stay out of the limelight, which might be a challenge if he keeps up scoring like that.
Leaving home at a very early age was a difficult choice. "Did I leave Poland too soon? It's hard to say," he says, before adding that he is very happy with his most recent career decision. "I've definitely got plenty of experience from my years in Germany, especially in the 20+ games I played for Augsburg. It wasn't always pretty, but I've managed to learn a lot. It's very important for a young, developing player like myself. I'm not a finished product yet, I still have room to grow.
"Ajax was a perfect choice for me. We have a lot of young players in the team. That's what they're known for – developing young talent, and getting them to the next level. All our practices are very technical, we always work with the ball. That helps to advance our skills on a regular basis."
It doesn't hurt that he's being watched and taken care of by two very accomplished gentlemen who know something about winning a trophy or two. "Frank de Boer and Dennis Bergkamp are both football legends, but also very good coaches – winning the league four seasons running is proof of that," says Milik.
"The opportunity to have individual training with Bergkamp is a great experience for me. We often stay after team practices, go over shooting drills or work on my technique. He offers his advice, tells me what should I focus on and how to make specific things better. He's had a major impact on me, no doubt about that."
"I was a big fan of Manchester United"
Before Milik signed his first professional contract with Gornik, aged 16 he had trials with Tottenham and Reading, but wasn't offered a contract and opted to go back to Poland. Experts agree that his style of play perfectly suits Premier League football. He's tall (6ft 1in), great in the air, equally good with his right and left feet and doesn't shy away from physical battles with defenders.
But what would be his dream move? "As a kid I was a big fan of Manchester United, but now as a footballer I'm just a professional," he admits, like a true diplomat. "My favourite team is the one I play for at the moment." But while Louis van Gaal might be happy with Robin van Persie and Radamel Falcao at the moment, Arsene Wenger may listen to Bergkamp's recommendation for a good striker.
Milik now benefits from playing with Lewandowski, who at his age was still in Poland with Lech Poznan. He's clearly ahead of his famous partner in career development, but at the same time still auditioning for the place he finally got a few months ago.
"I always want to learn from the best and playing with Robert Lewandowski offers just that," says the 20-year-old. "But I want to build my own name and my own style. We have a 4-4-2 system, which allows us to complement each other. Sometimes I take the central spot and he attacks more from the wing, but it could also be the other way around. We work on our movement and co-operation, which is already very good."
Hearing praise from everyone at the moment doesn't seem to bother Milik. The path is clear, and he understands the importance of avoiding any distractions."Right now I don't want to look too far ahead, just concentrate on the present season and how to make the most out of it. To be in a good shape, stay healthy and continue to progress – that's all that matters," the young striker concludes.
If that's the case, you'll be hearing about him quite a bit.
Thank you for reading 5 articles this month* Join now for unlimited access
Enjoy your first month for just £1 / $1 / €1
*Read 5 free articles per month without a subscription
Join now for unlimited access
Try first month for just £1 / $1 / €1