Meet Borja Mayoral and Mariano Diaz Mejia: Real Madrid's future stars?
Kiyan Sobhani gives the lowdown on the Merengues' two emerging talents, who could eventually provide the support Karim Benzema desperately needs...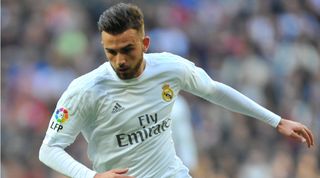 Karim Benzema has been netting just over a goal per game – the best mark of his career. Despite his off-field diversions, the Frenchman has been in the form of his life and his uncanny ability to bind and spearhead Real Madrid's attack has made him indispensable for Zinedine Zidane.
Yet Madrid are suffering immensely in the striker position. Benzema has been pinched with injuries throughout the season, and the club has no proper understudy for him.
It forces Zidane to shuffle the system and either play Ronaldo up front, or deploy Isco or James Rodriguez as a false nine – and neither scenario has been particularly successful.
It's strange that los Blancos went into the 2015/16 season without addressing some much-needed depth in Benzema's position, but there is some compensation waiting for them in La Fabrica, where they have two gems in Borja Mayoral and Mariano Diaz Mejia.
Real Madrid's Castilla stars are two of the top scorers in Spain's Segunda B2, combining for 26 goals. Mariano, 22 years old, leads the league with 15 while Mayoral, aged 18, is fifth with 11.
It's interesting to note that while Mariano leads the league in scoring and is four years older than Mayoral, he often comes off the bench for the latter.
There is a reason for this: Real Madrid's interest in developing Mayoral has been prioritised, as he has a 'feel-good' story to him, has more potential, and is Spanish.
It can be argued that Mariano is the better of the two players right now, but the Dominican Republic international also has less potential and is closer to the finished product than his Castilla team-mate.
For this reason, of the two it's been Mayoral who's been the chosen to get some minutes with the first team. But first...
Meet Mariano Diaz Mejia
Mariano is a handful to cope with if you're an opposing defender. At nearly 6ft tall, he's strong and sturdy. He can bulldoze his way past defenders, has a cannon of a right foot, and is an aerial threat too.
He can punish you in more ways than one, and his skill set is diverse enough that it can often surprise opposition players. For one goal, he might blast a free-kick. Another, he'll manifest a delicate lob from outside the area when you least expect it.
While he does have an impressive repertoire, Mariano's biggest asset is his sheer athleticism and ability to smash through defenders with his pace and power. He will bounce off defenders and dribble through you until he finds his way. It's obliterating and exhausting.
On incoming crosses, Mariano is just as terrifying. Once he decides he wants to get on the end of a cross, there's a good chance that'll happen.
He's also tremendously good at making runs without the ball and latching onto through balls. If he has an incisive pass fed to him in space behind the defenders, he is difficult to catch up with.
Meet Borja Mayoral
Mariano's team-mate, Spain U19 international Borja Mayoral, is an entirely different animal. If Mariano is the more polished and physically superior player, Mayoral is the more raw and skilled striker with a higher ceiling.
Though he's not as strong as his older team-mate, his fight is just as impressive and his Madridismo spirit has impressed the Bernabeu – a fan base notorious for being highly critical of its own players.
Mayoral is 18, but you'd assume he's much older judging by the maturity he plays with.
He has a great instinct to move without the ball and pressure defenders when the opposing team is attempting to pass it through their backline. When he has the ball at his feet, he feels comfortable finding his way out of tight spaces.
It didn't take long for Mayoral to show his dexterity with the first team. While looking a little lost when Zinedine Zidane brought him on in place of the injured Benzema at half-time in the Madrid derby, he worked tremendously hard, looked unphased by the magnitude of his opponent and created a couple of chances.
In his first career start with the senior team against Levante, Mayoral was even more involved, and his shot in the first half led to a goal. In reality it was his, even if on paper it was marked as an own goal.
He was thrown in at the deep end to try to find a bug in Diego Simeone's defensive machine – one of the most difficult propositions you can be challenged with as a player, let alone a developing teenager.
Mayoral could have an enormous future ahead of him. Real Madrid fans have been starving for the next Raul for over a decade now, and Mayoral is a project the club will continue to groom over the next few years to fill that role.
Still, he's not a sure thing just yet. Madrid have had plenty of promising prospects who didn't fulfil their worth in the past, but Mayoral has showed promise at youth level and impressed in his limited minutes at the senior level.
Arguably his most impressive feat with Castilla was a double against Manchester City in the U19 UEFA Youth League – the second of which perfectly sums up his talent as a footballer. There were shades of prime Zidane as he elegantly weaved through a paralysed defense.
What's next for this dynamic duo?
Real Madrid have to find a solution to fill the back-up striker position this summer, and it'd be a huge risk to rely on either Mayoral or Mariano at this point. They're both still relatively raw, and the club should look to loan at least one of them out to another La Liga team where they can receive ample playing time in the top flight.
While they develop, Madrid must find a player to tide them over until the two Castilla products are ready – a tall order. It's a slippery slope finding just the right fit to act as Benzema's back-up – a second-tier star comfortable with coming off the bench, who's not good enough to demand a starting role or stifle the development of the Mariano/Mayoral duo.
If Zidane stays on with Real Madrid for the foreseeable future, Real Madrid have the advantage of grooming their youth products properly – the Frenchman has a terrific connection with Castilla from managing the team, and serves as a mentor in their development.
Thank you for reading 5 articles this month* Join now for unlimited access
Enjoy your first month for just £1 / $1 / €1
*Read 5 free articles per month without a subscription
Join now for unlimited access
Try first month for just £1 / $1 / €1
Get FourFourTwo Newsletter
The best features, fun and footballing quizzes, straight to your inbox every week.