Analysed: Karim Benzema is more important than everybody thought
Seven years after his arrival, the Frenchman has arguably become the most important player at the Bernabeu. Kiyan Sobhani explains why Los Blancos need to address their over-reliance on him this summer...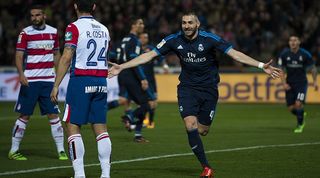 In August 2015, amid a fury of rumours surrounding a potential move to Arsenal, Karim Benzema posted a tweet to assure fans he wasn't leaving the Bernabeu, shattering the hearts of many a Gooner in the process. Benzema to Arsenal was a transfer that never materialised – a shame for the north Londoners, as the Frenchman's ability to hold the ball, link up with midfielders and play intricate passes with those around him would have made him a perfect fit for Arsenal.
But Benzema is a perfect fit for Real Madrid too, to the extent that he's sorely missed when he's absent. Los Blancos, aware of that very fact, were always unlikely to sell him last summer, particularly as the options were already rather thin in that position.
For all those clowns who want to make believe things at my fans. Here this is my home ! #HalaMadridYNadaMaspic.twitter.com/og6tMZKoft
— Karim Benzema (@Benzema) August 24, 2015
It may have made Arsenal fans' hearts sink, but what Benzema said was true: Madrid was his home, and the side would be nowhere near as effective without him in it. Luka Modric is another who is an absolutely essential part of the Spanish giants, but Benzema – the spearhead who makes the attack tick – is arguably more important than anyone.
Form of his life
It took a few years for the France international to cement himself as Madrid's first-choice striker after joining from Lyon in 2009. Now well established, he's currently enjoying his best season to date, averaging a goal every game in La Liga, a superior record to Gareth Bale, Cristiano Ronaldo, Lionel Messi, Neymar.
The only striker who has netted at a better rate is Luis Suarez, whose 1.04 goals per game put him ahead of Benzema by a whisker.
While Benzema's goalscoring return so far in 2015/16 is on a par with his career-best tally, he's drawn criticism for his lack of assists - just two all season. Such a figure does not accurately measure his contribution, though: more often than not, Benzema is involved in the move that ends with the ball nestling in the opposition's net, with the striker often playing the penultimate pass.
And that's perhaps what's most impressive about Karim Benzema: as prolific as he's been in front of goal, he's also an important creator for the team. He's not a typical No.9 in that sense, with the 28-year-old always willing to drop back and hover in pockets of space outside the area as others fly past him.
Benzema dropping deep
Sticky situation
Benzema is the glue that holds Real Madrid's attack together, and manager Zinedine Zidane is now experiencing just how difficult it is for the team to cope without their talisman at the top of the pitch.
Madrid simply don't have a proper striker to act as Benzema's understudy, with no one else in the squad capable of doing what he does on a weekly basis. As a result, wholesale tactical changes have to be made whenever he's injured or suspended.
Last Sunday's clash with Malaga was a case in point. Zidane fielded Jese Rodriguez and Isco alongside Ronaldo in the front three, a discombobulated forward line that lacked a central presence. Jese is the closest thing Real Madrid have to Benzema position-wise, but he's not nearly as good at holding up the ball and creating chances for others.
Isco, deployed as a false nine, is a gifted technician but has never looked comfortable as the line leader, with the Spain international far more useful deeper in the pitch.
Absence makes heart grow fonder
As such, Madrid lacked a figurehead against Malaga, with their play funnelled out to the flanks. What's more, when the ball was delivered into the box from out wide, there was nobody who could challenge aerially or win flick-ons. Against Malaga, Isco spent most of his time out on the wings, which is exactly where Javi Gracia's side wanted him to be.
It's a totally different dynamic to what Benzema offers, with the positions taken up by the Lyon man more typical of an out-and-out centre-forward.
Benzema's importance to Madrid really shouldn't be understated. Since Florentino Perez parted with €35 million to bring him to the Bernabeu seven years ago, the Real Madrid president has become something of a father figure to the striker. Perez has struck with him since the beginning; of the three Galacticos acquired that season, Kaka failed miserably and Ronaldo was a Ramon Calderon signing. Benzema, as Perez's man, had to succeed for the president's sake.
RECOMMENDED Real Madrid's Galacticos: Where are they now?
President's man
It has been a tumultuous time, though. In 2011, Benzema was publicly shamed by Kaka, who claimed his team-mate "could do rather more", a comment backed by boss Jose Mourinho. At the time, Benzema was the elephant in the room, the Perez love child who had a tendency to saunter around the pitch lackadaisically.
Benzema was inconsistent, with Gonzalo Higuain and Emmanuel Adebayor sharing the playing time. It wasn't until the latter's arrival on loan that Benzema finally began to take his role seriously, with the France international soon establishing himself as the club's leading frontman.
It's certainly taken time, but Benzema has now undoubtedly proved his worth to Real Madrid.
The question now is how exactly los Blancos can cure their over-reliance on him. The attack collapses when he's absent, and Zidane will be in a tough spot if Benzema picks up an injury ahead of a key match in the Champions League – the only trophy Madrid can still realistically win this term.
Rather than signing another glamorous but ill-fitting superstar this summer, Perez needs to address the problem up front.
Thank you for reading 5 articles this month* Join now for unlimited access
Enjoy your first month for just £1 / $1 / €1
*Read 5 free articles per month without a subscription
Join now for unlimited access
Try first month for just £1 / $1 / €1
Get FourFourTwo Newsletter
The best features, fun and footballing quizzes, straight to your inbox every week.