Mourinho vs Wenger: a decade of digs, gibes and japes
By Joe Brewin
Heard the one about the Portuguese and the Frenchman? They've been at each other for ages - and aren't slowing up just yet...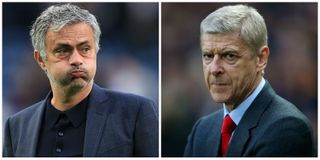 "Some clubs are treated as devils, some are treated as angels. I don't think we are so ugly that we should be seen as the devil and I don't think Arsene Wenger and David Dein are so beautiful that they should be viewed as angels"
Jul 2005: Mourinho on the fixture list favouring Arsenal
"We live in a world where we have only winners and losers, but once a sport encourages teams who refuse to take the initiative, the sport is in danger"
Aug 2005: Wenger rails against Chelsea's tactics

"I think he's one of those people who is a voyeur. He likes to watch other people. There are some guys who, when they are at home, have a big telescope to see what happens in other families. He speaks, speaks, speaks about Chelsea"}
Oct 2005: Mourinho responds to Wenger's criticism of Chelsea's transfer spending…
"I find it out of order, disconnected with reality and disrespectful. When you give success to stupid people, it makes them more stupid sometimes"
…Wenger, considering legal action, reacts to the "voyeur" comment…
"At Stamford Bridge, we have a file of quotes from Mr Wenger about Chelsea football club in the last 12 months - it is not a file of five pages, it is a file of 120 pages so we have a very strong reaction"
…but Mourinho can't let it lie (although he would later apologise for the word "voyeur")


"Plenty of managers have won the Champions League who will not be considered great managers. If you would like to compare every manager, you give each one the same amount of resources and say 'You have that for five years'. After five years you see who has done the most"
Feb 2007: Wenger defends his record ahead of the League Cup Final, which Chelsea win as John Obi Mikel, Kolo Toure and Emmanuel Adebayor are all sent off


Arsene Wenger

When you give success to stupid people, it makes them more stupid sometimes

"Unlike Arsenal, we sought success and tried to build it through a concept of the game using English players. That was to have a positive effect"
Nov 2007: Mourinho waves the Buy British flag

"The English like statistics a lot. Do they know that Arsene Wenger has only 50% of wins in the English league?"
Apr 2008: Seven months after leaving Chelsea, Mourinho takes a swipe from afar

"I'm not the person to be in a club three or four years without winning a trophy. Maybe Wenger should explain to Arsenal supporters how he cannot win a single little trophy since 2005"
2010: Asked at Inter if he could survive if he wasn't winning trophies, Mourinho takes aim at Wenger's lack of success

"I think there should be sanctions. I do not want to see that. It's a pity to see that from a big club and overall it gives a bad image of our game. I must say it is the best demonstration to think 'never do that again', because it looks, frankly, horrible"
Nov 2010: Wenger reacts to Sergio Ramos and Xabi Alonso collecting seemingly purposeful suspensions for Mourinho's Real Madrid…


Jose Mourinho

The history about the kids is getting old now
"Instead of speaking about Real Madrid, Mr Wenger should speak about Arsenal and explain how he lost 2-0 against a team (Braga) in the Champions League for the first time. The history about the young kids is getting old now"
…to which Mourinho reacts

"He is a nice man and I respect him a lot and I have the feeling that he is the same in relation to me"
Jun 2013: Mourinho cleans the slate in his 'Happy One' returning press conference



"Chelsea had already played twice against Man United so they don't play again anymore. They could have sold him last week but it opens up again about the dates of this transfer window. Some teams have already played twice against one opponent and some others not. I think if you want to respect the fairness for everybody, this should not happen"
Jan 2014: Wenger questions Mourinho's decision to sell Juan Mata to Manchester United…
"Wenger complaining is normal, because he always does. It's something that we know"
…to which Mourinho snaps back


Jose Mourinho

He is a specialist in failure, I am not

"It is fear to fail. Only Chelsea can lose it because they are in front. If you're not in the race you cannot lose it, if you declare yourself not in the race you cannot lose it, simple as that. Our job is to be ambitious and to try to win"
Feb 2014: Wenger decries Mourinho's attempts to downplay Chelsea's title chances
'He is a specialist in failure, I am not. The reality is he is a specialist because eight years without a piece of silverware, that is failure. If I did that in Chelsea I would leave London and not come back"
…to which Mourinho responds with both barrels
"I do not want to go into that silly, disrespectful remark. The only thing I know is it's more embarrassing for Chelsea than for me. I'm embarrassed for him, honestly"
…and Wenger heads for the moral high ground
"I do so many wrong things in football. But not this time because this time I was just in my technical area and it was not my problem. Game over. Story over"
Oct 2014: Things get physical in the Stamford Bridge technical area as the pair clash
"What is to regret after that? I wanted to go from A to B and somebody confronted me without any sign of welcome. B was get to Sanchez to see if he was injured. Was it a push? A little one. You can see when I really try to push"
... but there's nothing to be sorry for, says Arsene. Unless Jose wants there to be. Was that an offering out?


Jose Mourinho

You have to play between August and May, so they couldn't be champions

"They were scoring some, they were also conceding some. They were fantastic. They scored really beautiful goals, they concede some goals too and they were almost there. But they asked the international board to play only between January and April. And they told 'no chance, no chance'. You have to play between August and May, so they couldn't be champions"
May 2015: Not satisfied with having steamrollered the Premier League competition, Jose lays into his Premier League rivals (including both Manchester clubs)… agai
"Forget his speech and move onto something else. I'm not interested in his speech. I don't listen to what people say. I listen to the questions that are asked, but when I don't want to answer, I don't want to answer"
... and Wenger bites... his tongue
"If you add up the amounts clubs have spent in the last three or four years maybe you will find a surprise. If you put Ozil plus Sanchez plus Chambers plus Debuchy, you will maybe find a surprise. Get a calculator. That is the easiest thing, it leaves no space for speculation"
July 2015: Happy summer! Jose talks up Arsenal's title chances
"We spend when we think we have to spend and do not listen to what people think or say. When we don't have the money, we don't spend the money we haven't got. I believe that one day if you make real statistics of the players we have developed here and compare them to the other clubs, you will be surprised"
… but his French 'friend' isn't taking the bait again
Quizzes, features and footballing fun
Get the best features, fun and footballing frolics straight to your inbox every week.
Thank you for signing up to Four Four Two. You will receive a verification email shortly.
There was a problem. Please refresh the page and try again.