Nationalism, desertion and devotion: Why Al-Ahly vs Zamalek is more than a game
In the land of Pharaohs, a ritual as immense as the pyramids and mysterious as the Sphinx: the Al Ahly vs Zamalek derby. Alex Olliver reported for the April 2003 FourFourTwo magazine...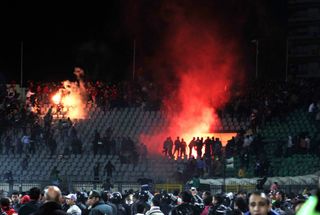 In a city as crowded and polluted as modern day Cairo it is easy to lose any sensation that you are in the midst of the world's oldest civilisation. Cairo houses a quarter of Egypt's 70 million people alongside the only surviving Wonder of the Ancient World, the Great Pyramids, still standing after four and half millennia.
It's a Middle Eastern city where Christian and Muslim live together in something close to harmony. A city that can been seen from space not because of any mammoth feat of human ingenuity but thanks to the enormous cloud of pollution that pinpoints it on satellite pictures.
Cairo's exploding population has already engulfed a dozen towns that were once a desert away from the capital, and within 20 years the Great Pyramids will no longer be a coach ride from the city but in the heart of downtown.
While the unrivalled chaos of the last century has left a city coming to grips with its collapsing economy, a youth culture trying to drag its elders into the 21st Century, and all the inherent issues that having Libya and Israel as your immediate neighbours brings, one thing has remained a constant – a footballing rivalry that can genuinely claim to dwarf Barça-Madrid and Boca-River.
Beyond fanatical
Al Ahly vs Zamalek goes beyond fanatical. It is part football match, part political rally, part history lesson and generally a good excuse for the locals to hurl rocks at each other.
Throughout most of the Egyptian league calendar Al Ahly and Zamalek appear to be no more than successful teams in an average league. Neither club have a huge home ground: Zamalek's Hassan Helmi stadium holds a shade under 40,000 while the larger club, Al Ahly, paradoxically hosts less than 20,000 in their Mokhtar el Tetch.
Yet come derby day the supporters abandon their homes to descend upon Cairo's 100,000-seater national stadium for Likaa El Kemma 'the Meeting of the Best'. What the contest may lack in technical quality and international superstars, it makes up for with unbridled obsession.
For 50 weeks a year, Cairo's tour guides, cab drivers, strangers in the street, hawkers selling plastic pyramids do little but regurgitate tales about pharaohs and mummies, but for two weeks surrounding the match, any excuse to talk about football is seized.
Here, as in many places around the world, English football is an international language, "ah... Beckman, Manchesta Uniteed". But get Egyptians onto the subject of Al-Ahly vs Zamalek and you see them as they were decades ago as wide-eyed children.
When no less an expert than Scotland's World Cup referee and Ahly-Zamalek veteran Hugh Dallas refers to the game as "bigger than the Old Firm," you know that it has to be a wee bit special. "You just don't realise quite how big it is until you see it for yourself," he enthuses. "I've done 14 or 15 Old Firm matches and even they don't come close to this. I genuinely believe that this is as big as it gets..."
Nationals against all-comers
Football arrived in Epygt during British rule a century ago. Although none of the English clubs survive from that era, Zamalek was formed to represent the expatriates of the time.
Originally founded in 1911 as Kaser-el-nil (Place on the Nile), in 1923 the club was renamed Al Mukhatalat, meaning 'Mixed', signifying Egyptians and Europeans playing together, representing the idea of Egypt as a conduit between Europe and Arabia.
Meanwhile, Al Ahly was founded in 1909, their name meaning 'national', the club coming to represent students and the rising nationalist movement that craved an independent Egyptian republic.
In World War Two, tensions were rising to unprecedented levels. Although both clubs had tried to retain an apolitical veneer, when King Farouk, who all too frequently used football as his PR tool, leant his considerable patronage to Mukhatalat there could be no denying the club's political allegiances.
When Farouk was deposed in 1952, the league was suspended and the club was forced to change its name once again – reflecting its affluent roots, to Zamalek, after Cairo's wealthy island district in the Nile.
The political seesaw having soared its way, Ahly appointed the newly founded Republic of Egypt's new ruler General Gamal Abdal Nasser as club president in 1954. Years of bitter struggle followed.
As Zamalek struggled to keep up with Ahly's dominance, the rivalry became less a sporting contest and more about politics. And just to sharpen things up, Ahly established a permanent home for themselves in the heart of the Zamalek district. The enemies were now sharing an island less than three miles square.
Events reached crisis point in 1966 when a game between the two was halted as the army stormed the stadium. In the ensuing riot over 300 people were injured and an unspecified number killed. Just a few months later the Arab-Israeli Six-Day War broke out and the league was suspended.
Normal service wouldn't be resumed until well after 1973's Yom Kippur War, Ahly immediately re-establishing their superiority, winning seven of the next eight titles.
In fact, when Ismaily sneaked the title last year it was only the fourth time since the Yom Kippur War that one of the Cairo giants hadn't been crowned champions. During this time Ahly had not only won 18 out of 27 league titles, but had also secured three African Champions Leagues and four African Cup Winners' Cups.
As the century closed, Ahly received almost unanimous support across the continent when they were voted African Team of the Century. No guesses as to which was the only club to challenge the vote.
NEXT: What divides the fans (it's not religion)
Who supports who
But who supports which club and why? Perhaps surprisingly, religion has no place in this rivalry. Even veteran fans claim not to be able to see an obvious divide between Muslims and Christians.
Walid Darwish, a regular Egyptian football observer and key figure in lbrahim Said's transfer to Everton, is stuck to find a real pattern in club loyalties over the last 25 years. "The '50s, '60s and '70s were about politics, not sport. Back then families had a clear choice – Nationalist or Royalist, and so Ahly or Zamalek, but it was never religious.
"Today's interest is purely sporting. Traditional family loyalties certainly go back to the politics, and the tradition is for children to grow up supporting the team of their parents, regardless of where they live.
"The older generation has moved on from the hatred that divided our country. Egypt is a liberal society by Middle Eastern standards and even those that were in the middle of the political fighting are enjoying the relative stability, so they don't want to live in the past.
"The only people that still contribute to any political divisions are the press, because for the last 40 years almost each and every one of the papers has had a visible loyalty to one of the camps.
"These days young Egyptians are deprived of any proper political orientation, so the historic meaning to the Ahly-Zamalek rivalry is likely to be forgotten. They cheer their team and hate the others, because that is what they do.
"It is a tradition embedded in the Egyptian consciousness that makes us classify everyone in the simplest terms: man/woman, Muslim/Christian, northern/southern, Ahlawy/Zamalkawy. My guess is that we will soon have this club classification on our national ID."
Displaced duo
While today's fans enjoy a relative truce in hostilities, two players have done their best to disrupt it: Hossam and Ibrahim Hassan.
Celebrated and reviled in equal measure, the twins have dominated Egyptian football for nearly 15 years. Hossam is the most celebrated player in Egyptian football history, a 157-cap and 76-goal international, inspirational leader, immense physical presence and supreme poacher, while the less prolific Ibrahim, a full-back, is arguably the worst behaved footballer in Africa.
Two years ago they became the first players for a generation to cross the great divide when they quit Ahly for Zamalek. The transfer started when Ahly offered Hossam just a one-year contract extension, while pressing Ibrahim to retire altogether. With both out of contract, there wasn't even a fee involved when Zamalek came knocking.
The double move provoked a reaction in the red half of Cairo compared to which Sol Campbell and Luis Figo both got off lightly. Death threats are taken seriously in this part of the world, and the twins still have to be accompanied by armed guards to this day.
In El-Fishawi (the cafe that claims not to have closed once since opening 300 years ago) waiter Kareem still takes it personally. "We loved them. We would have done anything for them. They moved to Europe we were happy for them; they returned we were happy for them.
"If they had wanted to retire we would have given them a party and lined the streets. But move to Zamalek? Unforgivable. Like selling the Sphinx. Even for money you do not betray your mother like that," he says.
"People started talking about the old rivalries of politics and nationalism for the first time in years," comments EgyptianSoccer.com's founding editor, Mohammad Sali. "In footballing terms it was such a waste of time. Ibrahim is past his best and Hossam's touch has gone.
"Besides, they've always been too much trouble. They have tried to take over every dressing room they have ever been in. They'll argue and fight with anyone. I don't think there is a coach that they haven't gone toe-to-toe with. They are too much of a liability.
"A few years ago in Morocco, Ibrahim tried to incite the home fans by giving them the finger. It may not seem much to a European, but with North African tensions the way they are that is just plain crazy. He also stormed Ahly's directors box a while back.
"When they crossed the divide things got even worse. During last year's 6-1 victory for Al Ahly, both of them were out of control. The Ahly fans had really turned on them. I mean really vicious, but the twins didn't care, they just kept on goading them. After the game Hossam waved his shoes at them, which is a huge insult over here."
One person better placed than most to judge the defection is former Ahly hero now of Everton, Ibrahim Said. "I can't say I was happy, but to me it was a professional decision and I understood. Good players will always be in demand and some will end up making such moves for personal reasons. You can't change it, but you can beat them to show them the error of their ways!"
NEXT: Revolving referees
Revolving referees
Things have spilled over on the pitch for years. In 1996 local referee Kadry Azeem caused chaos by not disallowing a legitimate Ahly goal – after a quick conference Zamalek just walked off in a huff, just the latest in a long line of player walkouts, the most serious being in the early '70s when an Ahly exit resulted in the most destructive football-related violence since 1958.
Today, with no Egyptian referee daft enough to want to stand in the middle, a Who's Who of Europe's top whistleblowers have been drafted in for the occasion. Not that the players seem any more respectful of imported officials.
In 1998 France's Mark Bata made his mark when, five minutes into the game, Ayman Abdel Aziz hacked down the then-Ahly hero Ibrahim Ilassan from behind. Bata didn't hesitate to show Ayman a red card, and he left the pitch after a few minutes. The trouble was that, yet again, the entire Zamalek squad and management followed him.
Ahly were awarded the match 2-0 and Zamalek received the heaviest punishment in the league's history – a nine point deduction, a two-year ban for their coach and bans for players Sabry and Khaled of a year and three months respectively.
One man though has managed the improbable task of not upsetting anyone: Hugh Dallas. "The first time I refereed the match was a bit spicy," he recalls. "It was the first match since the brothers (Hossam and Ibrahim Hassan) had made the move and I walked straight into it.
The players were fine, but the fans were a little more lively. I did have to stop the game a couple of times to remove rocks from the pitch. Fortunately the field is quite a way from the crowd so I wasn't too concerned for my own safety and I'd had a good game, which helps." It did: the Egyptians loved him.
"He was a credit to referees everywhere," says Walid Darwish. "He is the only one that we have actively sought to bring back. Coming into this atmosphere is so tough, but he looked after both matches almost perfectly. After every derby, players and coaches give interviews complaining about the officials, but after Mr Dallas's games no one could find a bad word to say about him."
This year our very own ninja-ref Uriah Rennie has been given his chance. When his appointment was announced the Cairo media pounced on his reputation, portraying him as a cross between Wyatt Earp and Bruce Lee. The papers ran pictures of him manhandling Roy Keane, and TV pundits revelled in his status as a karate blackbelt. It all adds to the excitement of the build-up.
Heavy policing
It's difficult to imagine an event with a heavier police presence. Three hours before kick-off a double ring of policemen in full riot gear surrounds the stadium. Once inside, at the end of every row sits a policeman with helmet, baton and shield.
Soldiers guard every exit and half a dozen dog teams patrol the running-track separating the fenced-in crowd from the pitch. But as a show of strength it's deceptive: most of the uniforms seem more concerned with smiling for the camera, smoking and watching the game than getting stuck into crowd control.
Only when I try to take a photograph of a teenager with blood gushing from his head do they intervene, in an attempt to prevent such an image reaching the world's media.
This year's event is apparently a little quieter than usual. Many Zamalek fans evidently feel too humiliated to show up following last season's historic 6-1 defeat. Given that Zamalek won the African Champions' League in December it seems incredible that they carry such a defeatist air.
When the teams emerge their body language mirrors their fans. Ahly players and supporters strut into the match as if the result is a foregone conclusion. When Zamalek trot out they look like they believe it too.
"You have to understand that winning the league is the only thing that counts in Egypt," Nile TV's Mohammad Rahim explains. "The Champions League is a bonus, cups are good, derby wins are important, but if a coach wants to keep his job, it is the league or he's out.
"Ahly have won all 12 games this season and with just 14 to go most people feel the league is already over. If Zamalek look like they are beaten it is because as far as the league is concerned, they probably are."
NEXT: Deafening bedlam
Deafening bedlam
As the game approaches it is bedlam in the red half, and the noise is near deafening. You would have thought that not having a roof on the stadium would lessen the atmosphere, but such is the incessant din of the Cairo traffic that the crowd has to give its all to be heard.
"You stand in the tunnel and are deafened by the noise," Ibrahim Said recalls. "You get goose-pimples and a sickening nervous feeling through anticipation, knowing that for the fans and players nothing else matters or exists in the world. It's wonderful!
"Even as a child I have never missed a derby. There were times when my father would not let me go, but I would sneak out and go anyway. You are in awe of the event and its atmosphere.
"It is impossible for impartial observers to understand what it means to be a part of it and to play in front of 100,000 people. I have been fortunate to score in these games, and the feeling is indescribable. There are very few better feelings. I've got the taste for derbies now, so I hope I get the chance to play in April's Merseyside derby."
Right from kick-off it is evident that despite instructions from their Brazilian coach to play something close to a natural game, the Zamalek players' priority is to avoid at all costs a repeat of last year.
Despite their apparent inferiority complex, Zamalek somehow manage to score after five minutes when El Hady finishes off a counter attack but within a matter of minutes Rennie seals his fate as the Zamalkawy's new voodoo figure by awarding an obvious yet still frenziedly-contested penalty to Ahly.
After a flurry of yellow cards for dissent, Gouda's penalty sends El Sayed the wrong way. With both sides surrendering possession with a frequency that would make England's Euro 2000 side blush, no real pattern emerges.
Individuals display odd flashes of skill but nothing sustained. Betal and Gilberto continue to squander chance after chance in front of the Zamalek goal and are duly punished when another counter allows Abdelwahed to restore the lead.
It is unseasonably cool and the match is played at high tempo, but even as Ahly make it 2-2 you wonder if they can keep it up. Sadly the answer is no. From here on the crowd provide the most entertainment.
Both sides waste far too many chances to report, making Rennie's performance arguably the best of the match. Managing to keep control as players writhe around on the floor and dive for penalties is remarkable given his notorious hair-trigger in the Premiership.
NOW READ THIS
After the game several people approach me – the only European journalist in the press box – to apologise for the match. They offer excuses such as both sides missing key players. Zamalek are without the out-of-favour Hassans and 'the Egyptian Zidane', Emam, while Ahly lack Bebo, who scored four in last year's match.
But few big games ever live up to the billing and no doubt by the time the next Limaa El Kemma comes round, tonight's will have gone down in legend as another classic. After all, who would ever doubt the claims of a nation with 5,000 years of storytelling history, or a referee from Motherwell?
This feature originally appeared in the April 2003 issue of FourFourTwo magazine. Subscribe!
Thank you for reading 5 articles this month* Join now for unlimited access
Enjoy your first month for just £1 / $1 / €1
*Read 5 free articles per month without a subscription
Join now for unlimited access
Try first month for just £1 / $1 / €1