Nobby Solano: My Secret Vice
"I love my trumpet. I used to play Latin jazz duets with Dion Dublin at Villa"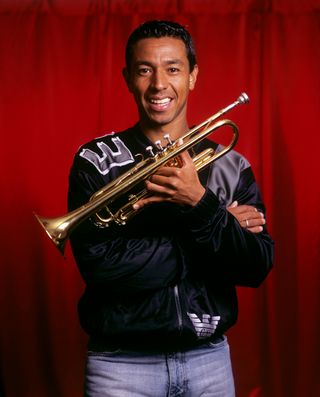 Footballers get plenty of free time so it's really good to find something else to do other than play PlayStation.
Like most footballers, I've tried to play golf but the technique's too tricky and the weather in England is too cold, so instead I prefer to play the trumpet. It helps me relax, takes my mind off the game and reminds me of my life in South America.
I started playing when I was at school in Peru. After studies each day, I'd play in the school band. Initially, I wanted to play the saxophone, that was my favourite instrument, but they only had a trumpet so I played that instead and now I seem to be stuck with it!
As I got older my football took over and I was able to practise music less and less, but when I was 22 I moved to Argentina to play for Boca Juniors and I suddenly found myself with time on my hands. At the same time, a friend of mine was going to Miami and offered to buy me a new trumpet while he was over there. He came back with a Professional Holton, which cost £500.
It was a great trumpet but unfortunately, I couldn't practise as much as I'd have liked because I lived in a small flat and my neighbours didn't particularly enjoy my music, probably because I'd forgotten how to read music and wasn't very good.
That Holton was the first trumpet I'd owned, because my dad could never afford to buy me my own when I was at school. I sometimes wonder what would have happened if he'd bought me a trumpet when I was five instead of my first pair of football boots. I don't think I'd be here now speaking to you – I'd be a musician.
The trumpet's not an easy instrument to play. You have to blow really hard, but the strain is not on the lungs, it's your lips. As with everything in life, to become any good at it you have to train every day.
If I was in a band I'd dedicate eight hours a day to practising, but at the moment it's just a hobby so I play only three or four times a week.
When I joined Newcastle United in 1998, I brought my Holton trumpet over to England and carried on learning, carried on trying to improve. Sometimes I'd take it into training and play it for the lads in the dressing room – though it wasn't always too successful. One time I played a duet with Gary Speed on guitar, but he likes rock music and I like salsa. I now realise the two styles should probably never be mixed.
I don't think Bobby Robson was so keen on me playing my trumpet. He didn't know about it when he first took over as manager, but he soon found out when I rang him up one night and played down the phone to him. I'm not sure he was too amused.
NOBBY'S TRUMPET TREATS
Marejada Feliz by Roberto Roena
You Make Me Feel Brand New by Simply Red
Careless Whisper by George Michael
Killing Me Softly by Roberta Flack
La Virgen De La Macarena by Arturo Sandoval
It's the same with David O'Leary at Aston Villa, he's not a fan of my playing either. Whenever I call him and he's got his mobile phone turned off, I like to leave him a nice loud message with my trumpet!
At least my Villa team-mates like my music, although whenever I play badly on the pitch they always take the piss out of me by saying 'Nobby, you've got to stop playing your trumpet so much and start concentrating on your football.' I used to play Latin jazz duets with Dion Dublin at Villa. It was nice to mix the sounds of my trumpet with Dion's sax, but sadly he moved to Leicester City so we don't get to play together anymore.
At present I've got three trumpets, two which I keep here in England and one in Peru. I don't like to travel with my trumpets, so I keep them in separate countries. The one I use the most is a Yamaha, which cost me about £350 from a music shop in Newcastle. It's not the most expensive trumpet but I figure I don't need the best model in the world because I'm a footballer not a musician. I don't think it really matters what instrument you use, it's how well you play that counts.
Of all the styles, salsa is definitely my favourite. It's very happy and it makes you feel like you're on holiday. In South America everybody loves it, you can even hear it when you go into the bank. Over here in England it's far harder to hear, I have to go to special club nights at places like the Copa in London or the Copacabana Latino Bar in Manchester.
Sometimes when my friends or brothers come over to my house, we'll have a few drinks and jam together for a bit of fun. Whenever I pick up my trumpet though, my wife picks up our son Matias and leaves the room. She says it's not that she doesn't like my music, just that she prefers rock'n'roll.
I sometimes wonder what style of music best describes my team's football. They say the Brazilians play to the samba beat so I reckon Villa's football last season was probably a mix between Latin jazz and heavy metal. Newcastle was more like opera – they were pretty boring!
I don't think I'm good enough yet to 'blow my own trumpet', as the English might say. I have a teacher who plays for the Birmingham Symphony Orchestra and he gives me lessons once a week. I say to him, 'I know I pay you, but am I any good?' He tells me that I'm getting better.
Interview: Matthew Weiner. Portrait: Jill Jennings (opens in new tab). From the August 2005 issue of FourFourTwo.
Thank you for reading 5 articles this month* Join now for unlimited access
Enjoy your first month for just £1 / $1 / €1
*Read 5 free articles per month without a subscription
Join now for unlimited access
Try first month for just £1 / $1 / €1
Quizzes, features and footballing fun
Get the best features, fun and footballing frolics straight to your inbox every week.
Thank you for signing up to Four Four Two. You will receive a verification email shortly.
There was a problem. Please refresh the page and try again.