Nobody wants to see Lamela's rabona
By Paul Watson
Erik Lamela has admitted his disappointment at the lack of response to his impressive rabona, writes Back of the Net...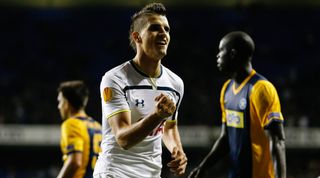 Having failed to assert himself at Tottenham last season, the former Roma man shocked onlookers by ostentatiously flaunting a majestic rabona against Asteras Tripoli in the Europa League.
But since that goal, Lamela has found that team-mates and friends have been oddly taciturn, with many refusing to even make eye contact.
"People are acting as if it [Lamela's stirring rabona] is something to be ashamed of, like I wouldn't want it all over YouTube," Lamela told FourFourTwo.
"Certainly this isn't the case in Argentina or in Italy. I guess people in England are more reserved, but I'm surprised I haven't had any positive comments about it [Lamela's prodigious rabona]. Not even a knowing wink here or there or a 'way to go fella'."
Some older English players, such as Martin Keown, have even gone so far as to suggest that Lamela acted inappropriately by showcasing his rabona during a professional match.
"For me it is not disrespectful, it is completely natural," Lamela insisted.
"Ever since I was 12 or 13 I became aware that I was developing a considerable rabona. Maybe I couldn't always control it [Lamela's burgeoning rabona], but I knew that one day it would make a lot of people very happy.
"If Keown has a problem with it, maybe it says more about him than it does about me. Maybe he's slightly ashamed of his."
Quizzes, features and footballing fun
Get the best features, fun and footballing frolics straight to your inbox every week.
Thank you for signing up to Four Four Two. You will receive a verification email shortly.
There was a problem. Please refresh the page and try again.