11 big-name players Arsene Wenger could have signed (but obviously didn't)
It's the running joke that isn't dying any time soon – and this time it's Jadon Sancho in the crosshairs. Oh, Arsene...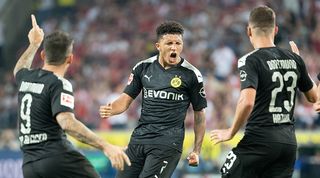 "I wanted to take him from Man City when he didn't get the games," Arsene Wenger revealed this week. "I tried to lure him because he's from London. I tried to get him to Arsenal. He's one of the best players of his generation. He can dribble, he has the arrogance."
We've been here before. Jadon Sancho is merely the latest in a string of high-profile footballers that Arsenal's former boss could have signed but didn't, adding to the choir of sighs in the red half of north London. Luckily for Gooners, Unai Emery's list of nearly-but-not-quites is probably a little more modest.
Here's Arsene's sorry lot...
Paul Pogba
Manchester United's £89m midfielder could have joined Arsenal earlier in his career if Wenger is to be believed.
"Things happened very quickly," the Frenchman revealed in 2014. "We were interested in him. We tried to get him to come here, but he very quickly signed for Juventus."
Still, at least they had Emmanuel Frimpong.
Yaya Toure
It's over 14 years since Patrick Vieira departed, and Arsenal fans are still unsure if they've ever replaced him properly. Even more galling for supporters, they could have nabbed Manchester City icon Toure had red tape not denied them – he even played for the Gunners in a 2003 pre-season friendly against Barnet.
"It would be up at the top [of my list of regrets]," Wenger lamented when remembering the passport trouble that prevented Toure from joining the Gunners. "He had an agreement with us – and it's not because we didn't want to sign him that he went to Ukraine."
Luis Suarez
Wenger was once asked if he'd ever wondered what might have happened if he'd signed Suarez from Liverpool in the summer 0f 2013. "Not now", he said. "It happened to me before but not now."
The Gunners lodged a bid of £40,000,001 in the belief that his Reds release clause would be triggered as a result. It wasn't – and owner John W. Henry wasn't too impressed.
What do you think they're smoking over there at Emirates?— John W. Henry (@John_W_Henry) July 24, 2013
Willian
In 2006, Brazilian Daniel Musatti was a scout at Arsenal, having been a long-time Corinthians coach who'd followed Willian's development at the club for years. And, as reported by ESPNBrasil, he recommended the now-Chelsea star to Arsene Wenger 12 years ago.
"I did the report of Denilson of Sao Paulo that year, and shortly after he was sold to England," said Musatti. "The athletes were recommended by Wenger's chief scout to the scouts of Brazil; they were all pre-determined.
"I made the suggestion that we watch Willian and make a full report of him for the analysis of Arsenal's chief scout, but at the time I was told there was no interest because they were looking at another player. A year after I suggested Willian to Arsenal, he was sold for a lot of money to Ukraine and developed there, turning into that great player we all see today. He could have gone to Arsenal but they preferred to watch Neto Baiano…"
(Neto Baiano is now 36 years old and playing in Brazil's Serie B after a journeyman's career around the world.)
Zlatan Ibrahimovic
The story of Ibrahimovic rejecting a trial at Arsenal because he "doesn't do auditions" isn't entirely true (like much of his book, I Am Zlatan), but the north Londoners certainly did want to land the striker in his younger years (Malmo's director of football Hasse Borg actually advised Ibrahimovic not to attend the trial and told Wenger he either wanted to buy the player or he didn't).
He didn't.
Gianluigi Buffon
Buffon and Wenger enjoyed a meal together while the former was still at Parma, and the Frenchman on the hunt for a long-term David Seaman replacement.
Juventus jumped in ahead of him, though, forking out an eye-watering £32.6m to bring the Italian to Turin in 2001. Eighteen years on, that price – an all-time record for a goalkeeper until summer 2018 – somehow looks like a steal.
N'Golo Kante
Wenger claimed in February 2017 that he'd made two attempts to sign Kante before Chelsea laid their claws on him in summer 2016, following the Frenchman's sensational displays for title-winning Leicester.
"I tried to sign Kante when he was in France and when he was at Leicester," said the Frenchman. "We can't explain everything - transfers are transfers - but it is quite obvious when you look at where he has gone. I believe Kante has had a huge impact. It's no coincidence Chelsea are where they are and Leicester did what they did."
Leicester signed Kante for around £5.5m from Caen. How hard did he try?
Dimitri Payet
Ex-West Ham hero-turned-villain Payet was looked at "many times", but Wenger chose not to make a move for a "top talent" who had "periods of up and down".
To be fair, he had a point on this one.
Cristiano Ronaldo
The Frenchman says his biggest regret is failing to capture Ronaldo when he had the chance – not surprising given that he went on to win everything possible with both Manchester United and Real Madrid, blooming into a five-time Ballon d'Or winner amid the presence of Lionel Messi.
"I showed him around and I gave him a shirt. It had his name on the back," Wenger said in 2008. "But in the end it was a question of the transfer fee between the two clubs."
Alex Ferguson and Manchester United wanted him more. "I spoke with Ronaldo and Jorge Mendes and he said we had to hurry because Arsenal and Real Madrid wanted to sign him," Fergie later recalled. "I told Ronaldo to join us. He explained he'd have to talk with his mother about it."
A chartered flight and reassurances about easing him into the first team did the job.
Lionel Messi
If that wasn't bad enough, Arsenal supposedly missed out on the other best player in the world, too. Cesc Fabregas joined the north Londoners from Barcelona in 2003, and Marca later claimed that Lionel Messi and Gerard Pique – part of the same fabled Generation '87 youth team – almost joined him.
"We were in discussions with Barcelona when we bought Fabregas, because Messi played [with him]," Wenger told beIN SPORTS this week. "You can realise sometimes what fantastic youth teams you had before when you're a club like Barcelona. In the same team: Messi, [Gerard] Pique and Fabregas.
"Pique and Fabregas came to England, Messi stayed in Spain. We were interested in him, but he was untouchable at the time."
Didier Drogba
The man who always scored against Arsenal – 13 goals in 15 meetings with the Gunners, to be precise – could have been playing for them instead. Wenger expressed regret at missing out on the striker who won four Premier League titles and the Champions League with Chelsea.
"I missed him when he played in France at Le Mans – not even in the top league," the Arsenal chief later claimed. "I knew he was good player there and I missed him. And secondly because he hurt us so much in big games that all this pain would not have happened."
RECOMMENDED21 players who LOVE scoring against one club
While you're here, why not take advantage of our brilliant subscribers' offer? Get 5 issues of the world's greatest football magazine for £5 – the game's greatest stories and finest journalism direct to your door for less than a pint in London. Cheers!
NOW READ
OPINION Roy Keane has a point about Alex Ferguson – but the feud proves why he'll never be a great manager
QUIZ Can you name England's major tournament squads 1996-2018?
WATCH Premier League live stream 2019/20: how to watch every game from anywhere in the world
Thank you for reading 5 articles this month* Join now for unlimited access
Enjoy your first month for just £1 / $1 / €1
*Read 5 free articles per month without a subscription
Join now for unlimited access
Try first month for just £1 / $1 / €1