Roy Keane has a point about Alex Ferguson – but the feud proves why he'll never be a great manager
Everything that makes the former Manchester United captain a compelling TV pundit also shows him up as completely unsuited to the dugout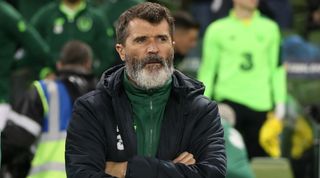 For a man with a promising punditry career, Jonathan Walters showed an ignorance of the business at the weekend. "I don't know why people listen to what he has to say sometimes," the former Republic of Ireland forward said. 'He,' obviously, was Roy Keane.
Walters should realise that in a world when even dull pronouncements from mediocre players are treated as news, explosive opinions from an iconic one are guaranteed an audience. While Walters and Sir Alex Ferguson are rarely mentioned in the same sentence, they were the targets of some of Keane's most outspoken and outrageous comments to Off The Ball last week.
He can be very right, is sometimes very wrong, and invariably entertaining. Keane has a perfectionist's negativity, a contrarian's willingness to challenge established wisdom and a loner's lack of interest in ingratiating himself with anyone. He has a turn of phrase that sticks in the mind, a needless viciousness and an inability to determine between legitimate and illegitimate topics of conversation, as his comments about Walters' late brother illustrated. "The hardest part of Roy's body is his tongue," Ferguson said in his second autobiography. "He has the most savage tongue you can imagine."
They are all qualities that make Keane a compelling pundit. They do not qualify him for management, just as being able to write a controversial 800-word column does not render anyone suitable for the post of prime minister. But Keane reportedly hankers after a return to the dugout; to a role that entails strategy and substance, empathy and understanding, coaching and contacts.
Realistically, no one would appoint him at a Premier League club. They probably wouldn't in the Championship either, but for many second-tier players a worthy overachiever like Walters should be a role model: one who worked his way up from the depths of League Two to win half a century of caps, figure in an FA Cup final and make 233 top-flight appearances. Not for Keane. "Have a look at his medals," he said last week. "That wouldn't take long." But nor does it render Walters' views irrelevant.
Imagine, then, that Sheffield Wednesday or Huddersfield had plumped for Keane this week and he introduced himself to his new charges by inviting them to show their medal collections. It might not take long, but nor would it galvanise them. He played for two great iconoclasts but Brian Clough and Ferguson were also two of the finest sports psychologists even if, as Gordon Strachan once said, some of his fellow Scot's methods would not pass the Geneva Convention.
In Keane, Ferguson found a fellow fanatic, but one who compromised even less. That inability to relate to mere mortals may have driven the Irishman to greatness, but could any employer be sure he wouldn't say anything as unnecessarily scathing? Could they, in short, stop Roy Keane from being Roy Keane? Could he? There are times when the twinkle in the eye suggests he knows he is on the verge of self-parody. There are others when he seems to lack the self-awareness to realise he can be the problem.
An issue when he was at Ipswich was his propensity to opine on the issues of the day in press conferences. He did a better job for Sky Sports News than Marcus Evans. He was a brilliant pundit while being a mediocre Ipswich manager. He plunged boldly where others always fear to tread. Ferguson illustrates that. The majority of well-paid observers seem to have granted him an immunity from criticism, sometimes while attacking others.
YEAR ZEROThe making of Roy Keane (Nottingham Forest, 1992/93)
Not Keane, who has always been the most piercing analyst of his old mentor's hypocrisy. Ferguson believed the manager was the most important person at a club – a convenient position to take when he was the manager – but suggested he always acted in Manchester United's best interests. Keane confronted Ferguson to tell him that his legal dispute about the horse Rock of Gibraltar with John Magnier and JP McManus, prominent United shareholders, was not good for the club. Keane was right: Magnier and McManus ending up selling their shares to the Glazer family.
As Keane highlighted last week, Manchester United recalled three loan players from Deepdale in Matty James, Ritchie De Laet and Josh King, when Preston sacked Darren Ferguson (to compound it, in an act of shameful sycophancy, Stoke recalled their two loanees as well). It was not in United's interests. It was a revenge mission by the Ferguson family.
But then few have held as many grudges as Sir Alex Ferguson. Few, except Keane. It's why he brings a refreshing honesty to discussions about his former manager and a brutal directness to conversations about others. That capacity to captivate, whether with the accurate and analytical, the off-beam or the unacceptable, makes Keane suited to the seat in the studio. But not the spot in the technical area.
While you're here, why not take advantage of our brilliant subscribers' offer? Get 5 issues of the world's greatest football magazine for £5 – the game's greatest stories and finest journalism direct to your door for less than a pint in London. Cheers!
NOW READ…
EXCLUSIVE What's Lionel Messi like in real life? From mumbling diamond to mercurial genius – but still a man of few words
QUIZ Can you name the last 50 English scorers in the Premier League?
Thank you for reading 5 articles this month* Join now for unlimited access
Enjoy your first month for just £1 / $1 / €1
*Read 5 free articles per month without a subscription
Join now for unlimited access
Try first month for just £1 / $1 / €1