Playing against peak Diego Maradona proved to Lothar Matthaus that he had the credentials for the highest level
"That performance helped me to make a name for myself in the national team," Matthaus exclusively tells FourFourTwo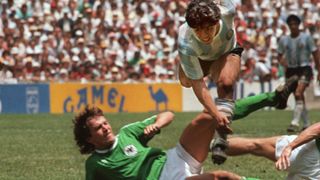 (Image credit: Getty Images)
For most players, coming up against Diego Maradona in his prime would have signalled the end of any aspirations they may have of one day becoming the greatest player in the world. After all, the diminutive Argentine would regularly humiliate his opponents with skill and guile.
However, for Lothar Matthaus, the opposite happened. It actually proved to the German that he had the ability to become a world-class player one day.
Despite making his West Germany debut at Euro 1980 and winning the tournament, Matthaus had yet to fully establish himself in his nation's starting line-up ahead of the 1982 World Cup.
Still only 21 years old and playing for Borussia Monchengladbach, Matthaus explains to FourFourTwo in the latest issue, a World Cup special available to buy (opens in new tab), that taking part in West Germany's preparation matches provided him with an inner belief that he could compete.
"Ahead of the 1982 World Cup in Spain, we flew to South America to play two friendlies against Brazil and Argentina," Matthaus said. "In the first match, I faced Zico. In the second, I took on Diego Maradona for the very first time.
"I was still relatively young and yet to nail down a place in the West Germany team. During that game in Buenos Aires, even though it was a friendly, I realised how high the bar was set in terms of quality at that level. Diego was already the best player in the world, and he was magnificent on the ball.
"I'd wanted to compete with the best and here it was. I played the full 90 minutes and conducted myself well. That performance helped me to make a name for myself in the national team – it had a massive impact on my international career."
Indeed, Matthaus went on to make 150 international appearances for Germany, making him the most capped German man in history. His international career spanned across 20 years, too, from Euro 1980 to Euro 2000, something most players wouldn't even consider.
The sweeper picked up eight league titles and many more trophies along the way, including the 1990 Ballon d'Or. However, it was his 1990 World Cup win, as captain, that really stands out for Matthaus, especially having lost in the final four years earlier.
"The day that changed everything for me [the 1990 World Cup Final]. We'd lost to Argentina in the 1986 final – Maradona was unplayable that summer and they deserved to win, but we were better in 1990. We were solid all game and I had an enjoyable battle with Diego.
"When you lift a World Cup as the captain of your country, it does something profound to you. You walk a little taller – you know that, no matter what happens from that day on, you'll always have that moment. It gave me assurance, strength and faith in my character.
"It was the best moment of my life and one that's still part of me. It gave me a bigger standing around the world – people regularly ask about 1990 for TV shows or books. I am who I am because of that success in Rome. I get goosebumps thinking back now."
Thank you for reading 5 articles this month* Join now for unlimited access
Enjoy your first month for just £1 / $1 / €1
*Read 5 free articles per month without a subscription
Join now for unlimited access
Try first month for just £1 / $1 / €1