Power, corruption and lies in FIFA: is this the beginning of the end for Sepp Blatter?
By James Corbett published
He's been in power for sixteen years, and insists there is a fifth term ahead, but at 78 years old is time finally up for FIFA's long-serving president? James Corbett discusses...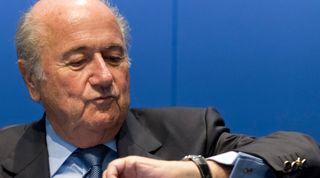 In the cavernous Sandton Convention Centre in Johannesburg, the FIFA president Sepp Blatter is having the time of his life.
It is June 2010 and we're at the FIFA Congress, on the eve of the South Africa World Cup. Blatter may as well be on a throne as delegates line up to fawn over him. When a profit of $196 million is announced for the previous year, Football Federation Australia's chairman, Frank Lowy, makes his way to the podium to eulogise FIFA's 'miraculous' financial results.
Then it's the turn of Blatter, who announces a one-off payment of $250,000 to each of the 206 assembled federations. "Are the federations happy?" exclaims Blatter, who is greeted by applause and delegates taking pictures on smartphones.
Remarkably – and who would have anticipated this – the Swiss has another big announcement. His third term of office is up in a year but he plans, at the age of 75, to stand for another four years. "I would like to tell you that we are going to do it together," he says, to more applause. "I'll be ready! You'll be ready!"
Blatter, then in his 35th year at FIFA – a career that started as a development officer, then general secretary, then, from 1998, president – has seen everything at the summit of world football. Since he joined FIFA in 1975, the television and communications revolution has made the game richer, more powerful, more widely watched than any sport in the world. As its leader, Blatter has become one of the most recognisable men on the planet.
Yet with fame can come notoriety, and FIFA has suffered massive scandals.
In 1998, Blatter's campaign was accused of paying bribes when he beat UEFA president Lennart Johannson to the FIFA presidency. In 2011, Blatter appeared to acknowledge that vote-buying had taken place but vehemently rejected any suggestion that he was involved.
FIFA's marketing partner ISL had collapsed in 2001, leaving huge debts and a massive trail of bribes linked to FIFA officials. In the process it almost bankrupted world football's governing body. Lurid stories of ticket rackets, vote-rigging and bribery proliferated. Blatter himself has suggested that the decision to award the 2006 World Cup to Germany was almost certainly influenced by bribery.
Members of FIFA's ruling council, the Executive Committee (ExCo), seem to be typified by Trinidadian Jack Warner, a ticket racketeer and thief who has faced numerous investigations into his financial dealings and whom The Guardian once memorably opined was like "the kind of horrifying, banshee figure who might appear in your nightmares waving a breadknife and wearing only a butcher's apron and a beard of bees."
Yet nothing would have prepared Blatter for what was to follow that Congress in South Africa. He may now reflect that June 2010, with the realisation of his personal dream of a World Cup in Africa, represented the pinnacle of his career; a period of calm. Since then there has been a churning maelstrom of scandal.
A new storm
A few short months later, in October 2010, the Sunday Times uncovered on film two ExCo members allegedly asking for bribes ahead of the vote to host the 2018 and 2022 World Cups. Seven weeks later, their remaining 22 colleagues voted Russia and Qatar as the prospective hosts. The following May, an attempt by the Qatari construction magnate Mohamed bin Hammam to unseat Blatter as FIFA president ended in ignominy when bribes linked to his campaign and Warner were uncovered.
Bin Hammam dropped out and was later banned from football for life. Blatter was elected unopposed. Following an appeal, the Court of Arbitration for Sport found, in July 2012, that they could not indisputably prove that Bin Hammam provided the $1m cash in question, but added that their findings were not "any sort of affirmative finding of innocence … it is more likely than not that Mr Bin Hammam was the source of the monies."
In April 2013, a much-delayed report into the ISL scandal named Blatter's predecessor, Joao Havelange, and other ExCo members as having received millions of dollars of 'commissions'. All the while a steady drip of outrage and whispers about Qatar 2022 and a failure to adequately overhaul its governance undermined FIFA's credibility.
Last week FIFA's reputation was again seriously questioned with the publication of an 11-page story in the Sunday Times detailing in vast detail Bin Hammam's alleged use of largesse and junkets to gain political influence in African football, which the newspaper linked to victory in the 2022 World Cup bid race. It also suggested there had been a manipulation of that contest.
When he stands before FIFA Congress in Sao Paulo this week, Blatter addresses an organisation mired in disrepute and with its reputation at another historic low. But things might get even worse. Within Brazil there is deep unease at the forthcoming World Cup, which may be threatened by the type of mass protests that undermined the Confederations Cup last June.
With the prospect of riots at an unpopular tournament held by a scandal-riddled organisation, could this be the end for Blatter? Or will the great survivor keep going?
The good, the bad and the ugly
FIFA is a world of contradictions and extremes, at once far better and far worse than most supporters' preconceptions. On the one hand it has an administration that has committed and hard-working individuals who believe passionately in the power of football as a force for good.
In providing technical and financial assistance it does some great things in the developing world. It utilises football to empower fledgling nation states like Palestine, Kosovo and South Sudan, while the rest of the world is bound by inertia. It uses football as a tool of diplomacy, helping resolve what seem otherwise intractable disputes – such as that in Cyprus.
Football is the ultimate leveller and this is reflected in the democracy of FIFA Congress, which – at least in theory – gives El Salvador equal standing with England, Guam with Germany. The game – and for this Blatter deserves more credit than anyone – is now more globalised, wealthier and more developed than at any time in its past. In no small part because of Blatter, football is now mankind's principle cultural activity.
This noble work is in contrast with the arrogant, self-serving and sometimes corrupt cast of characters that govern FIFA. Many of its members act like tin gods, treating those outside their fiefdoms with barely suppressed contempt while feasting on the game's spoils. Theirs is a world of first-class travel, the best seats in the house, extravagant per diems, and, sometimes, illegal inducements.
Take the ExCo. Of the 22 men that voted on World Cup 2018/22 in December 2010 (after the two in the Sunday Times stings were banned from taking part), 10 have had serious corruption allegations levelled against them, and three – Warner, Bin Hammam, and former head of the Brazilian FA Ricardo Teixiera – have had to leave the ExCo because of financial impropriety.
This doesn't even include people like Jacques Anouma, an associate of the deposed Ivorian dictator, Laurent Gbagbo, who is currently awaiting trial for war crimes at the International Criminal Court at The Hague.
There are some signs that the FIFA ExCo is changing. Recent inductees like Jordan's Prince Ali Bin Hussein and Australia's Moya Dodd, for example, are more forward-thinking, open and engaging than their predecessors. Yet change comes at a snail's pace. After FIFA encountered its 2011 corruption crisis it asked Transparency International to make recommendations to improve its governance, but just one of the 26 suggestions has been implemented.
Research by the US academic Roger Pielke Jr shows a similarly unimpressive record when acting on anti-corruption measures subsequently suggested by its own paid advisors. Moreover, even some of the new generation may have skeletons in the closet. Burundi's Lydia Nsekera – previously hailed as part of FIFA's future as its first elected female ExCo member – was alleged in last week's Sunday Times to have accepted cash gifts from Bin Hammam.
The beginning of the end?
How do you solve a problem like FIFA? Part of the problem is that under Blatter it has assumed the self-importance of a nation state, with his presidency carrying all the hallmarks of that of a head of state, not just leader of a sport governing body. Every World Cup now seems to be either a national rebranding exercise or bound up in some sort of geo-political narrative – 'It's time for Africa', 'A World Cup for the entire Middle East' and so on – that has little to do with football.
Yet if you distil it, FIFA's purpose is simple, the same as it was under Blatter's predecessors Stanley Rous and Jules Rimet: an administrator of the game's laws, the organiser of heavily subsidised development tournaments, plus a single commercial event every four years, the World Cup. Perhaps what it needs most is to strip itself of its baggage and grandiloquence.
Its biggest problem remains at its summit, Joseph 'Sepp' Blatter. Because he personifies the organisation no matter what good it does, or however much it changes, it remains – rightly or wrongly – tied up in Blatter's public image. It matters not if the caricature belies reality; Blatter is probably the most gifted and astute political operator in global sport.
Indeed, despite the massive reputational damage suffered by FIFA, Blatter has perhaps never been more politically powerful. The falls of Warner, Bin Hammam, Teixiera and the Korean Chung Mong-joon have left a great power void in which he thrives despite the never-ending collateral damage. Even UEFA president Michel Platini may not be able to put up resistance: because he is so heavily linked to Qatar 2022, Platini has been vilified and seems increasingly unlikely to rival Blatter for the FIFA presidency next year.
Moreover, the hectoring from the British media is not echoed throughout the world. FIFA now has 209 member associations, the majority of whose fortunes Blatter has revolutionised. The $250,000 'bonus payments' made to federations may be of little consequence to England or France, but from Aruba to Zimbabwe they go a long way. Many of his constituency consider him a hero.
Blatter said in 2011 that this would be his last term as FIFA president. There have been times since then when he has looked understandably jaded and shrunken, like the septuagenarian that he is. His performance at the UEFA Congress in March 2014 was rambling and at times barely coherent, and leaks to the media about his continued good health sometimes ring hollow. But then he bounces back, dominant, persuasive. Presidential.
At the age of 78, he is preparing to stand for a fifth term, and it is rumoured that he will announce this decision at next week's FIFA Congress in Sao Paulo.
"There is no doubt he will stand for another term," says German investigative reporter Jens Weinreich, who believes that Blatter will never voluntarily leave and his popularity among federation heads is such that he will never be voted from office: "I agree with the observation that the only way he'll leave FIFA house is in a wooden box."
Weinreich, who is one of the world's leading authorities on sports governance, says that the situation is not hopeless for those who want a more open and transparent world governing body. But since FIFA has shown itself incapable of transforming itself, that change must come from supporters and the press. He believes that Brazil – which witnessed mass protests during 2013's Confederations Cup and may do so again – could be a tipping point.
"Since I grew up in East Germany I have learned one lesson in my life: corrupt systems will never reform themselves," he says. "A kind of revolution is needed. In the former GDR hundreds of thousands of people have demonstrated on the streets in autumn 1989. They tore down the [Berlin] wall. They chased away the rulers.
"Something similar can happen now. The combination of a new level of revelations of FIFA corruption, led by the Sunday Times, plus millions of demonstrators in Brazil, can tear down the walls of FIFA's house."
Weinreich says that politicians, academics, many in the media and even inter-governmental bodies like Interpol have been "accomplices of FIFA crooks" over the years and "stabilised the totally corrupt FIFA system".
"Only some media houses and a few dozen journalists worldwide did their work properly in the face of legal threats and propaganda," he says. "The new material Sunday Times and the Telegraph have gathered in combination with the power of Brazilian protesters – this can create a revolutionary situation.
"For the first time ever I got the feeling that Blatter's era is coming to an end."
Thank you for reading 5 articles this month* Join now for unlimited access
Enjoy your first month for just £1 / $1 / €1
*Read 5 free articles per month without a subscription
Join now for unlimited access
Try first month for just £1 / $1 / €1
Quizzes, features and footballing fun
Get the best features, fun and footballing frolics straight to your inbox every week.
Thank you for signing up to Four Four Two. You will receive a verification email shortly.
There was a problem. Please refresh the page and try again.