FIFA 21 for PS5: Where to shop for the new console – and how you can play the latest FIFA on it
PS5 releases in the UK on Thursday, and with Dual Entitlement you'll be able to play FIFA 21 as soon as you get your hands on one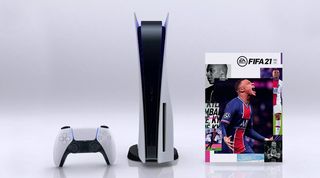 (Image credit: Sony/EA)
The Sony PS5 finally gets its UK release on Thursday, November 19, so if you missed the pre-order stock you'll need to know which reliable retailers to try out. Us good souls at FourFourTwo have tried to help you out – below we've listed all the places we think you should check first.
The even better news is that you'll be able to play FIFA 21 the moment you get your PS5.
We've rounded up the websites that will give you the best chance of landing the next-gen PlayStation console below, and any deals that are being offered.
And if you buy the PS4 version of the latest FIFA, you'll be able to upgrade it to the PS5 version for free with EA's offer of Dual Entitlement. This only runs out once FIFA 22 is released, so you'll be able to do this at any point you land a PS5 over the next year.
FIFA 21 will get its PS5 release on December 4, but until then the PS5's backwards compatibility means you'll be able to enjoy the PS4 version of FIFA on your new console.
PS5 and FIFA 21 order quick links
Sony PlayStation 5 latest deals
PS5 is now available where stocks allow – we'll be collecting the best deals here so you can see where you can get the cheapest price available.
PS5 UK orders:
FIFA 21 PS4 orders:
For all the best deals on ordering FIFA 21 for PS4, Xbox One and Nintendo Switch, check out our FIFA 21 order page here
The PlayStation 5 is available in two versions: the main console with all the trimmings will set you back £449, while the digital-only version is a comparatively peanuts £359.
The cheaper digital console will only play digitally downloaded games – so make sure you don't purchase a physical copy of FIFA 21 on disc if you plan on buying the lighter hardware.
PS5 orders in the UK round-up
Sony PlayStation 5 console
Next gen PlayStation 5 console out on November 12
FIFA 21 and PES 2021 news
PRO EVO PES 2021 season update released – what's new on the latest version?
FIFA 21 NEWS Release date, preorder, cover, trailer, demo – and everything else we know so far
FIFA 21 RATINGS The 100 best players revealed
Thank you for reading 5 articles this month* Join now for unlimited access
Enjoy your first month for just £1 / $1 / €1
*Read 5 free articles per month without a subscription
Join now for unlimited access
Try first month for just £1 / $1 / €1