Quiz! Can you name all 29 clubs to win the Europa League/UEFA Cup?
The UEFA Cup was born in the early 1970s, then evolved into the Europa League in 2009 - yet only 29 clubs have lifted the big, chunky vase. Name them!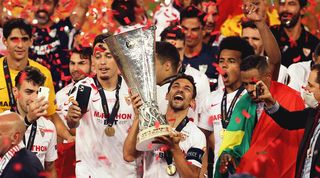 (Image credit: Getty)
Six minutes on the clock, 28 clubs to guess - there's a mixture of players, managers and clubs that you'll need to guess.
Remember to tweet your scores @FourFourTwo (opens in new tab) and share with your mates - especially if they're Blues fans.
NOW TRY Quiz! Can you name the line-ups from Manchester United 4-0 AC Milan, 2010?
The Europa League is a hard sell. Teams that aren't good enough to compete in the. Champions League battle it out for... a place in the Champions League.
Looking through the list of clubs to have won UEFA's secondary European competition, however, there are plenty of elite clubs who welcomed the chance for silverware. There are also some names on this list that you've probably forgotten existed.
In many ways, that's the beauty of the Europa. It may not have the glitz and glamour of Champions League football but it's a chance for a trophy from clubs that wouldn't otherwise taste success on the continent.
So since the semis kick off tonight, let's run through every winner of the tournament since its inception in 1971.
MORE QUIZZES
Quiz! Can you name every English league champion ever?
Quiz! Can you name every player with 50+ goals in European competition?
Thank you for reading 5 articles this month* Join now for unlimited access
Enjoy your first month for just £1 / $1 / €1
*Read 5 free articles per month without a subscription
Join now for unlimited access
Try first month for just £1 / $1 / €1