Ranked! The best Burnley player unveilings on social media
The Championship side have become experts at announcing new signings in the most creative ways in recent seasons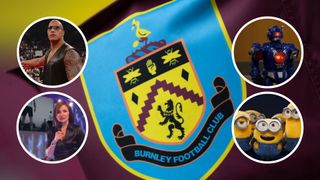 (Image credit: Getty Images)
When it comes to announcing a new player on social media, no club does it better than Burnley. Gone are the days of players posing with a shirt and club scarf in front of the pitch - now, teams are becoming a lot more inventive, with the Clarets the best of the lot.
From classic gameshows to forgotten films and everything in between, the masterpieces the club creates, with their wonderfully executed editing skills, really provide the unveiling of their new signings with that bit of extra pizazz.
Because what better way to increase hype among the fan base is there than pretending your new star striker is a dinosaur out of Jurassic Park, or Buzz Lightyear from Toy Story? Clubs across the Premier League and Football League take note, for this is how all players should be announced on social media...
The best Burnley player unveilings on social media
13. Vitinho
When Brazilian right-back Vitinho joined Burnley from Cercle Brugge in the summer of 2022, Burnley's creative team, parodying Friends, admit they don't think they have anymore ideas up their sleeve to announce a new signing. With that distinctive canned laughter in the background, though, it's clear they're only bluffing.
They even caption the video with a play on an iconic Rachel line: "Just so you know: it's not that common, it doesn't happen to every club and it is a big deal!"
Bravo, Burnley. Bravo.
Just so you know: it's not that common, it doesn't happen to every club and it is a big deal! pic.twitter.com/KEllFZX47ZJuly 28, 2022
12. Wout Weghorst
Signed from VfL Wolfsburg, Weghorst's announcement last January would arguably have been better off incorporating a large dog, rather than suggesting he was a dinosaur.
However, at 6ft 6in tall, having Weghorst roar into the camera seems an inspired decision by Burnley's social media team.
11. Samuel Bastien
This WWE-inspired announcement seamlessly transitions from Dwayne 'the Rock' Johnson in his wrestling heyday to Belgian international Samuel Bastien making a grand WWE-style entrance, seemingly shaking the Rock to his very core.
10. Taylor Harwood-Bellis
Two signings in one day? Stranger Things have happened… 💡 pic.twitter.com/8S80gOBZ5SJuly 1, 2022
FourFourTwo loves a cryptic clue, and they don't come much better than this Stranger Things hint. Using the lights to spell out Taylor Harwood-Bellis' initials, many a fan was left stumped as to what it could mean. Ingenious.
9. Darko Churlinov
What better way to reveal new signing Darko Churlinov to Burnley fans than having him spook TV host Yvette Fielding and the crew of paranormal TV show 'Most Haunted'.
The Macedonian clearly enjoyed the role, too, creepily laughing as he ominously says "boo" while under the microscope of a night-vision camera. We certainly wouldn't want to get caught in a haunted place with Darko anytime soon...
8. Peter Crouch
Perhaps the earliest player arrival given Burnley's specialised treatment came when Peter Crouch signed for the club in January 2019.
Synonymous with the robot, which Crouch so famously cracked out at the 2006 World Cup, Burnley decided to unveil the striker by using a toy robot entering the training ground, as you do.
Once inside, though, the robot is knocked over by a football, with the real roboteer now in town. It's a shame he didn't have a chance to reuse that famous celebration at Turf Moor, having failed to score in his short spell at the club.
7. Manuel Benson
Inspired by the 70s British sitcom Fawlty Towers, Burnley decided to unveil Belgian international Manuel Benson through one of the characters in the show, also named Manuel.
A clever link, but FFT are especially fond of the Fawlty Towers sign being replaced with "Fawltry Moor", instead. It's the little touches that make such a big difference.
6. Ian Maatsen
Having a bunch of minions saying "Ian Maatsen" in their cult-like way is impressive, albeit slightly annoying.
Some lovely recognition at the end of the video, too, with Maatsen saying: "These videos are getting worse." Perhaps, but they're still entertaining nonetheless.
5. Josh Cullen
With all the drama at 10 Downing Street in the summer of 2022, having Josh Cullen stepping through the door to reveal himself to the gathered press could well have happened, but fortunately for Burnley, he signed for them instead. There's also a clever red ticker bar, too, which is a lovely touch despite the knowing message.
4. Nathan Tella
It's nice to see you, to see you nice! pic.twitter.com/Wb0dhI3itHAugust 11, 2022
The Generation Game, hosted by the legendary Bruce Forsyth in the 1970s, needed couples to remember a list of items appearing on a conveyor belt before them.
Cleverly, Burnley listed a series of products with the 'ella' rhyme structure, with things such as Nutella, a case of Stella [Artois] and an umbrella make its way past the couple.
Eventually, we realise why. The last entry is Burnley's new midfielder Nathan Tella quite casually chilling on a sofa. Nice to see you, to see you nice!
3. Ameen Al-Dakhil
Everyone of a certain generation is a huge fan of Toy Story, so to see a scene of it make its way into a Burnley signing video certainly seemed encouraging. The genuine, laugh out loud moment comes when the camera pans up Buzz Lightyear, though, with Al-Dakhil's face replacing Buzz's.
In FFT's humble opinion, the caption is what makes this video truly what it is, with Burnley stating: "there's a Buzz around here" to bring everything together.
2. Albin Ekdal
Day 21 in the January Transfer Window 🏡 pic.twitter.com/Pu3dJFQGSBJanuary 21, 2023
Cor, this is a beauty.
After having already made multiple signings in the January 2023 transfer window, utilising the classic Davina McCall meme of her saying "fancy another one" should get tremendous credit. Going one step further, though, and recreating a short episode of the once-unmissable reality TV show is serious work.
The classic fish-eye camera in the corner of the boot room. The unmistakable timestamp. The diary room. It's near-perfect, and only one unveiling can beat it...
1. Lyle Foster
There's simply no beating this masterpiece - Lord Farquaad, the original Shrek movie, mirror mirror on the wall. Sublime. Oh, and the voiceover is exceptionally dubbed to the animation.
Having the tiny leader choosing between Lionel Messi, Cristiano Ronaldo and Lyle Foster with Escape (The Piña Colada Song) by Rupert Holmes playing in the background seemed a no-brainer, too.
Burnley might as well give up now, quit while they're ahead, and enjoy what they've created. They'll never top this.
Thank you for reading 5 articles this month* Join now for unlimited access
Enjoy your first month for just £1 / $1 / €1
*Read 5 free articles per month without a subscription
Join now for unlimited access
Try first month for just £1 / $1 / €1
Get FourFourTwo Newsletter
The best features, fun and footballing quizzes, straight to your inbox every week.
Ryan is a staff writer for FourFourTwo, joining the team full-time in October 2022. He first joined Future in December 2020, working across FourFourTwo, Golf Monthly, Rugby World and Advnture's websites, before eventually earning himself a position with FourFourTwo permanently. After graduating from Cardiff University with a degree in Journalism and Communications, Ryan earned a NCTJ qualification to further develop as a writer while a Trainee News Writer at Future.