Rated! Alexandre Lacazette vs Michy Batshuayi: Who your club should sign this summer
Premier League clubs are circling the two outstanding Ligue 1 strikers, but which one would prove the best addition for your club? Ligue 1 expert Andrew Gibney rates away...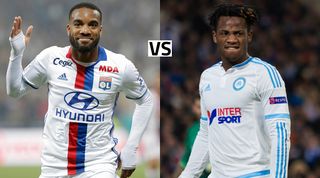 With 38 Ligue 1 goals between them this season, it's no surprise that Michy Batshuayi and Alexandre Lacazette have been linked with a string of clubs this summer.
Lyon, however, are hoping that qualification to the Champions League can persuade Lacazette to stay for another season, but Marseille know that their poor campaign will invite offers they simply can't refuse.
But who is the better striker, and more suited for life in the Premier League? We break down the key areas...
Goalscoring prowess
Lacazette: 31 Ligue 1 starts, 21 goals – 137 minutes per goal (2015/16)
For the first few months of the campaign it seemed like the 24-year-old was suffering from that tough Second Season Syndrome. Expectations were high off the back of a 27-goal campaign but injuries, poor form and general unhappiness meant that he only scored five times in the opening 15 games – three of them coming against Saint-Etienne.
Under Bruno Genesio, however, Lacazette is back to his best – he's plundered 11 goals in nine games, and last season was the first Frenchman to score 20+ goals in the league since 1998. 8/10
Batshuayi: 32 Ligue 1 starts, 17 goals – 173 minutes per goal (2015/16)
With nine goals in just six starts last season, it was always going to be interesting to see how the Belgian reacted with a step up in game time.
Batshuayi's minutes on the pitch have tripled, and after 11 games of the current campaign it looked like his goals haul might too.
Marseille have struggled, though, and the pressure on his young shoulders has become a little too much. The goals dried up and the criticism followed – his winner against Reims on Saturday was only his sixth league strike of 2016. Without a decent supporting cast, it's not exactly a surprise. 7.5/10
Big-game experience
Lacazette: 18 Champions League apps (4 goals), 18 Europa League apps (4 goals)
This will be Lacazette's seventh season as part of the Lyon squad – he has come through the youth setup and paid his dues as a winger along the way. Once a starter, the 24-year-old has proved himself as a man for the big occasion.
Lyon and the player were struggling earlier in the season, but he still found a way to score a hat-trick in the Rhone derby – something he didn't manage last season. The Champions League came at the wrong end of the campaign for the striker, with only one of his four goals in the competition coming this season. Lyon were poor and the results showed that. 7.5/10
Lacazette's hat-tricks against Saint-Etienne and against Monaco recently, as per Stats Zone
Batshuayi: 1 Champions League app (0 goals), 17 Europa League apps (7 goals)
As a super-sub, Batshuayi built a reputation for scoring goals when it mattered – seven of his nine goals last season came in the second half.
Two late equalisers to grab a point
This campaign 10 of his 17 have come after the break, including 90th-minute equalisers against Toulouse and Saint-Etienne. He also gave OM the lead when they faced Paris Saint-Germain in Week 9 – something Lacazette has never managed – although they went on to lose 2-1.
Batshuayi's work against PSG in week 9
He may not have similar Champions League experience, but he was a huge factor in Marseille gaining results in this season's Europa League. 6.5/10
Temperament
Lacazette: 172 games for Lyon; 24 yellows, 2 reds
A local boy through and through, Lacazette was unhappy when OL president Jean-Michel Aulas told the world about the player's reluctance to sign a new bumper contract. A deal was eventually reached, but the disruption – as well a back injury – affected his mood and form.
It looked like his heart wasn't in it, and perhaps he had stayed a season too long. Lacazette has shown fine character since to turn his season around, however, helping Lyon qualify for the Champions League group stage and becoming a leader of this young team in the process. 8/10
Batshuayi: 62 games for Marseille; 9 yellows, 0 red
Last year, having joined with a blossoming reputation, it was refreshing to see a young striker accept his role as a substitute and do his best to make an impact whenever Marcelo Bielsa called upon him.
This year, as Marseille's one and sometimes only striker, he has taken that burden in his stride. He still cuts the figure of a frustrated player at times, but who wouldn't in this current team? Batshuayi makes bad decisions at times and consistency has been missing, but he tries to keep a smile on his face. 7.5/10
Potential
Lacazette: Lyon (172 games, 72 goals), France (10 games, 1 goal)
The striker turns 25 at the end of the month, and yet it's still uncertain as to whether he'll be picked by Didier Deschamps for Euro 2016. He has scored 53 goals in three full league campaigns, and now the only question that remains is whether he can perform this well outside of France.
It's hard to make a case against him, but there is no hard evidence to suggest he can still go on to be one of Europe's best strikers at the highest level. That, however, will only be proven once he makes his move. 7.5/10
Batshuayi: Marseille (62 games, 26 goals), Belgium (3 games, 2 goals)
The Belgian forward has scored 26 goals in just two seasons with Marseille, an excellent return for a 22-year-old and why he is attracting so much interest from around Europe. He's big, strong and good on the ball, but is also fast, can pass and is good in the air – close to a complete striker.
Batshuayi has benefited from playing a lot more minutes this season, which is what has helped him develop. Now, you feel he needs better players around him to improve further. 8.5/10
Premier League suitability
Lacazette: 5ft 8½in, 73 kg
This is the biggest question mark over Lacazette's head. Under Hubert Fournier, he found success playing in a two-man attack, with trickery and pace around him. He likes to drift left, turn to face goal and create little triangles – about as far removed from a targetman as you can get from a No.9.
After Genesio took over in January, Lyon reverted back to playing three up front and Lacazette has had to adapt – which he has done magnificently. However, as much as he is now the focal point of the attack, everything is played in triangles up there. With young forwards Maxwel Cornet and Rachid Ghezzal alongside, the style suits him.
One of the reasons that he hasn't played much for France is that he's not a traditional No.9, but not a winger either. La Liga worked for Antoine Griezmann and Pierre-Emerick Aubameyang has come on leaps and bounds in the Bundesliga, and those leagues look like better options. 6/10
Batshuayi: 5ft 11½in, 78 kg
There are definitely elements of Batshuayi's game that you can see in the success of Romelu Lukaku in the Premier League. He's a powerful runner with a strong upper-body – two big attributes a top English club would want.
He is also younger and used to playing as a backup to more established strikers at club and international level – something that would be quite handy at White Hart Lane. He is also, however, a player who could help take West Ham to the next level alongside his ex-Marseille team-mate Dimitri Payet. 8.5/10
Verdict
Breaking it down and working out the key skills of each attacker, you have to believe that in the long-term it's Batshuayi who could be a revelation in the Premier League. He has the raw attributes and the profile to not only cope, but excel in England.
Judging each player on their current ability, Lacazette just edges it.
Both are supremely talented, exciting players, however, and their clubs have helped get the best out of them along the way. The question now is who – and how badly – wants their services for next season.
More features every day on FFT.com • Football's hottest prospects scouted on FFT.com
Thank you for reading 5 articles this month* Join now for unlimited access
Enjoy your first month for just £1 / $1 / €1
*Read 5 free articles per month without a subscription
Join now for unlimited access
Try first month for just £1 / $1 / €1
Get FourFourTwo Newsletter
The best features, fun and footballing quizzes, straight to your inbox every week.