Real Madrid's homegrown '80s greats La Quinta: Where are they now?
By Elliott Turner published
Elliott Turner looks at what became of Los Blancos' fantastic homegrown team of the late '80s…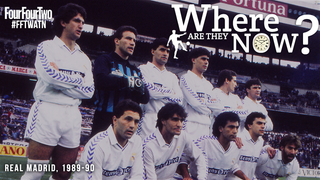 You can laugh, but, once upon a time, Real Madrid's youth academy was the envy of the world and known as la Fábrica [the factory]. This was the 1980s, a decade blighted by Thatcher and Reagan but blessed with Steven Spielberg films and an unprecedented run of domestic success for Los Merengues. In fact, Madrid won five La Ligas in a row, a Copa del Rey, and three Spanish Super Cups.
Like all fairytales, the good guys earned a nickname: la Quinta del Buitre, "The Vulture's Cohort." While writing for Spanish daily El País, journalist Julio Iglesias saw a young and talented group of players who would lead Castilla, Real Madrid's second team, to a title. Star striker Emilio Butragueño, long and lean like a vulture, poached goals as a vulture picks the flesh off a carcass... and "Butra" sounds like Buitre, Spanish for "vulture."
Powered up front by the grace of Emilio Butragueño and the intensity of Hugo "Hugol" Sánchez, Real Madrid didn't just win games, they ran over other teams, a runaway locomotive with no need for a conductor. Play a holding midfielder? Not needed. Still, despite winning two UEFA Cups, the Champions League crown eluded their best efforts. The run-and-gun fun in Iberia did not translate to dramatic two-legged ties of European knockout rounds.
Some Madrid fans are bitter that la Quinta never lifted a European Cup, but those who saw them will never forget their irresistible energy and aggression. At any moment and in any game, a tsunami of goals could arrive. You could only hold your breath and wait.
Emilio Butragueño
The Vulture scored a brace on his La Liga debut for Real Madrid against Cádiz, and never slowed down afterwards. In his European debut, he notched a hat-trick against Anderlecht. Butragueño was a classic continental forward, which is to say he couldn't be bothered to head crosses and his workrate was negligible. Still, he combined lightning-quick acceleration with daring dribbling and unfathomable trickery. He was the Spanish fusion of Romario and (Brazilian) Ronaldo before those two were even old enough to drive a car.
And Emilio always could find the time to slow down, balance himself, and sidefoot to the far post with his right foot. He even had a video game named after him in 1988.
After retiring, Emilio remained at Madrid but changed his boots for a suit and tie. His role with the club has alternated (opens in new tab) between Vice President and Director, depending on how well Jorge Valdano gets along with the newest coach. He is currently (opens in new tab) the Director at Real Madrid, and handles his public relations duties with tact and grace. Hence his other nickname: El Caballero Blanco, the White Knight.
Next: The goal machine who was nearly a dentist
Hugo Sánchez
Hugol first arrived in Iberia as a flashy signing for crosstown rival Atlético Madrid. The Mexican striker scored too many goals, though, for Real Madrid to not notice and they soon bought him. If Emilio made his own meals, then Hugol was a classic last-touch striker; he endeared himself to fans (opens in new tab) with his tireless running, amazingly frizzy Mexi-fro, toothpaste commercials and somersault goal celebrations. He won the Pichichi award five times, the European Golden Boot once, and notched 164 La Liga goals in only 207 appearances.
After retiring, Hugo returned to Mexico and eventually became coach of his hometown club Pumas. They won two consecutive Liga MX titles, and he was appointed coach of the Mexican national team. However, things with El Tri went disastrously. He was fired early in his tenure, like most coaches (opens in new tab) of Mexico, but saved some face by managing Almeria and helping the small Spanish club avoid the drop.
Hugol is now a talking head for ESPN. He's also a pretty bright guy: before becoming a futbolista, he attended university and was close to becoming a dentist.
Martín Vázquez
Simply put, Vázquez was an opposing goaltender's worst nightmare (opens in new tab). He heavily favoured his right foot when dribbling and shooting, but always had the cunning to trick a defender and carve out space for his shot around the edge of the box. And when he lowered his moustachioed face to the ground and took aim, a rifled shot to the low corner always zipped past the keeper. The power and precision were marvelous.
Vázquez left Madrid and enjoyed a nomadic end to his career, with spells in France and Italy. However, after retiring, he returned home to roost in Madrid and has coached youth teams for the merengues. He also shows off his skills sometimes at Veterans' games (opens in new tab).
Next: The silky handler of genitalia
Míchel
You can gauge somebody's talent at soccer by the length of their nickname; the fewer syllables, the better. In the case of Míchel, he was everything you could want in a classic winger: he ran hard up-and-down the field, his crossing was impeccable, and he was a physical bastard. In fact, he was once sanctioned for handling the genitalia (opens in new tab) of Carlos Valderrama.
After retiring, Míchel penned some opinion pieces for Marca and appeared on TV for RTVE, but eventually tried his hand at coaching. He stumbled at Madrid and his youth team was relegated, but he moved on and even lasted over a year as coach of Sevilla. He then won domestic titles at the helm of Olympiacos. Most recently, he was fired (opens in new tab) by Marseille last April, but expect to see him back patrolling the sidelines sometime soon.
Miguel Pardeza
Miguel was a member of the Quinta del Buitre, but perhaps more so only in name. Yes, he came up in Madrid's youth system and played for Castilla (the second team) alongside Emilio and company, but Pardeza hardly played very many games for Real Madrid's first-team. After 28 games sprinkled over three years, he left for Real Zaragoza.
After his retirement, though, Pardeza became the technical director of Real Zaragoza, and then was tempted back to Real Madrid by Florentino Perez near the start of Perez's second stint. In 2014, he was fired and the technical director (opens in new tab) role was left vacant as part of a club restructuring to appease Jose Mourinho.
Next: Doing the dirty work
Manuel "Manolo" Sanchís & Miguel Porlan "Chendo"
Yes, la Quinta famously played without a holding midfielder in many games, but contrary to belief, the team did field quite a few good defenders. Like most teams in the 1980s, Real Madrid eschewed a flat backline and favored a sweeper/stopper combination: Manuel Sanchís played sweeper, and appeared in 523 league games (opens in new tab) over 18 years. He only ever played for Real Madrid and was captain for 13 years. He now regularly appears on RTVE (opens in new tab) as an expert. Of course, he has been criticized for being a bit biased towards Madrid; after 500 games, you would be too.
Like Manolo, right back Miguel "Chendo" Porlan also spent his entire career (opens in new tab) at Real Madrid. Over 16 years, he made 363 La Liga appearances. His galloping forays did not result in a lot of goals, but he constantly surged ahead to support the attack and overload the right flank. His career highlight was probably nutmegging Diego Maradona (opens in new tab) in a UEFA Cup game. After retiring, he worked as a matchday delegate for Madrid - a customer service position, a fitting job for a humble and friendly guy.
Francisco "Paco" Buyo
Buyo is often overlooked by Real Madrid fans thanks to the later brilliance of Iker Casillas. Still, Buyo was a pretty good shot-stopper. If San Iker relied on incredible reflexes and rushing off his line, Buyo's game was positioning, patience, and sticky fingers. Except for absolute piledrivers, Paco often snagged shots (opens in new tab) instead of pushing them - thus preventing rebounds and easy tap-ins. He played 11 seasons for Madrid, winning La Liga (opens in new tab) in six of them.
Since retiring, Paco has become something of a renaissance man. He appears sometimes on Al Jazeera, had his own blog (opens in new tab) at El País, played for Real Madrid's veterans team, and allegedly has his own artificial turf business (opens in new tab).
Next: The German, the chunky lad and the futue Spain manager
Bernd Schuster
Just when Barcelona fans thought things couldn't get any worse, Real Madrid stole star German playmaker Bernd Schuster from them. Of course, there was plenty of bad blood (opens in new tab) between Schuster and the FCB brass - the club had been busted for signing players to double contracts to avoid paying taxes, and Schuster had led the players' very public protests at them footing the Hacienda bill, not the club.
Madrid happily signed Schuster and the German instantly contributed to an already potent attack. Schuster's surging runs from midfield combined with a cannon of a right-foot - he regularly split free kick duties with Hugo Sanchez and scored plenty of goals (opens in new tab). Over a decade later, he became coach of Real Madrid and led them to a La Liga title. The icing on the cake was a pasillo [guard of honour] at the Camp Nou (opens in new tab).
Schuster was fired the following autumn after a dismal start to the season and a depressing pre-Clasico presser in which he admitted Barça had probably won the league already. He coached Besiktas in Turkey and returned to Spain with Malaga, but is unemployed. Still, his name always crops up when an EPL (opens in new tab) or Liga team is rumoured to be on lookout for a new coach.
José Antonio Camacho
Camcho played over 500 games in 15 years for Real Madrid, but he was not an attacking fullback like Roberto Carlos or Marcelo. Camacho stayed at home for the most part, but combined a solid reading of the game with some really nasty physicality that would have made Jose Mourinho smile. He was only 5ft 8in, but had such nimble feet that he was impossible to get around. In Spanish, the phrase sudar la camiseta literally means "to sweat your jersey" and signifies a solid effort by a player. Camacho was famous for really sweaty armpits (opens in new tab) (not helped by wearing a white jersey) and nobody could doubt his commitment.
After his playing time ended, he embarked on a lengthy managing career. He coached several clubs in Spain, including Sevilla and Real Madrid, before being named manager of the national team. During this time, Spain qualified for the 2000 Euros where they lost in the quarters to the France of Zinedine Zidane. Spain also qualified for the 2002 World Cup but lost to host country South Korea, again in the quarter-finals.
Camacho enjoyed a two-year stint at Benfica before returning to coach Real Madrid, but his stay in the Spanish capital was short and bitter. He spent a few years away from management and worked as a pundit, but returned to coach Osasuna for three years before accepting a gig as coach of the Chinese national team. He was fired in 2013 after a loss to Thailand, but is back on TV (opens in new tab).
Rafael Gordillo
More Real Madrid
Rarely has a last name been so apt. Rafael Gordillo belongs to the illustrious line of "Puskas" personas at Real Madrid: pudgy but absolutely lovable. He was short and stout, which was fitting because gordo means "fat" but illo means "less so." He manned the left wing for seven years for Real Madrid, more hustle and bustle than craft. He wore his socks down, but never let his guard down and his effort matched the intensity of Hugo Sanchez, the preferred recipient of his crosses.
After his he hung up his boots, he was the Vice President (opens in new tab) for second-division club Écija Balompié and then became a director at Real Betis. In 2010, he was elected President of Real Betis. He is currently the PR director for Real Betis (opens in new tab).
Thank you for reading 5 articles this month* Join now for unlimited access
Enjoy your first month for just £1 / $1 / €1
*Read 5 free articles per month without a subscription
Join now for unlimited access
Try first month for just £1 / $1 / €1
Quizzes, features and footballing fun
Get the best features, fun and footballing frolics straight to your inbox every week.
Thank you for signing up to Four Four Two. You will receive a verification email shortly.
There was a problem. Please refresh the page and try again.