Rise of Bas Dost: Germany's net-busting Dutchman who turned down Aston Villa
The Wolves' free-scoring striker is in sensational form in all competitions – but his ascent hasn't come without its difficulties, writes Archie Rhind-Tutt...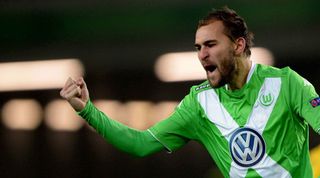 Bas Dost is a man who, in his own words, finds Sudoku incredibly soothing. When Wolfsburg fly to Lisbon for their Europa League last 32 second leg against Sporting, the Dutchman will likely be playing the numerical puzzle. Here, though, is another teaser: how is it that only Lionel Messi has scored more goals than Dost in 2015?
EAT MY DOST
Bundesliga 11 apps, 11 goals
DFB-Pokal 2 apps, 1 goal
Europa League 4 apps, 2 goals
The year is still young but Messi has amassed 14 – unsurprising given the previous standards set, yet still outstanding. Dost's tally of 11 from six games, however, is very much a shock.
It eclipses the six he mustered in an injury-ridden 2014, but that may imply he would have been first choice if fit, which wasn't the case. It is only now, just over halfway through his third season at Wolfsburg, that he has become the club's premier striker.
Avoiding Alves
Dost was originally a €7 million purchase for Felix Magath at Wolfsburg back in summer 2012, having turned down Alex McLeish and Aston Villa among others. The Dutchman had been prolific at Heerenveen in the Eredivisie, particularly in his final season when he scored 32 goals in just 34 league games.
A national team call-up from Louis van Gaal followed in August, although he didn't make an appearance and is still awaiting a first cap for the 2010 World Cup runners-up.
Still, Dost netted a 90th-minute winner on his Bundesliga debut away at Stuttgart. It turned out to be the highlight of Magath's season before he was sacked having taken just two points from the next seven games.
But when Dieter Hecking eventually replaced Magath at the turn of the year, Dost fell out of favour. That Stuttgart strike seemed to have been something of a high point for the Dutchman – only 11 league goals followed over the next two campaigns.
His record after 41 outings in the Bundesliga was similar to that of another former Heerenveen player, and not the likes of Ruud van Nistelrooy or Klaas-Jan Huntelaar. Instead it was a striker Middlesbrough once bought for a club record £12.5m; Brazilian flop Afonso Alves.
Alves moved to Teeside in January 2008 and struggled from the start. If Luis Suarez is held up as an example of the quality that can be found in the Eredivisie, Alves is the player held aloft when warning otherwise.
Dost was even asked about his predecessor when he first joined Wolfsburg in 2012. He admitted he'd followed his career path but added: "You shouldn't let your own life be influenced by the fate of other players. I am convinced that my decision is right."
Before this season, though, Dost had netted 12 Bundesliga goals in 41 games. Alves managed 10 Premier League strikes in 42 matches. The lanky Dutchman looked more Alves Mk II than the next Huntelaar.
Dosting down
It was only in December that Dost's sorry situation at the Volkswagen Arena began to change. Even 35-year-old Ivica Olic had been ahead of his rival, 10 years his junior, in the Wolfsburg pecking order.
Heading into their first game of December at Lower Saxony rivals Hannover, Hecking's Wolves were second in the table and Olic had netted five goals in 13 games.
With the score locked at 1-1 on 67 minutes, Hecking brought Olic off and replaced him with Dost, who'd barely played a quarter of an hour of the club's Bundesliga campaign up to this point. But within three minutes of coming on, the Dutchman had put Wolfsburg ahead and on course for their eventual 3-1 win.
Not that it made for a satisfied striker, that is. "Everybody wants to be playing and I'm not playing very often, so of course I'm not happy," he grumbled to Bild.
It was the last time Hecking left Dost on the bench for a league game, and the last time Olic started for Wolfsburg in the Bundesliga. From then on, Dost was Hecking's first-choice frontman.
His first two Bundesliga starts of the season followed without fruition. But Dost scored on his third as Wolfsburg closed out 2014 with a win over Cologne. Evidently that was enough to satisfy his coach and sporting director Klaus Allofs. Come the first game of 2015, Olic had been sold to Hamburg.
It was a gamble. "The club are relying on me," admitted Dost, who would repay the faith quickly with a mercurial scoring run.
It began with two goals against league leaders Bayern Munich – quite an achievement in itself as the reigning champions had only conceded four times in the first half of the season.
Just over a fortnight later, Dost scored four in one game, even after sitting in the aisle of the train on the way to Leverkusen due to a reservation mix up. Yet his performance at the BayArena is undoubtedly the best of his time in Germany, a showing which has propelled him to being the Bundesliga's most in-form player. Dost netted a 93rd-minute winner to earn Wolfsburg a 5-4 win and complete his personal quadruple.
"I had to pinch myself at first to make sure it had really happened," said the striker, who became the first Dutchman ever to score four goals in a single Bundesliga game – not least in front of his family too.
"We put a huge amount of faith in him and he is repaying that," said coach Hecking.
King of Queen
Given that Dost lists Queen among his musical favourites, it's likely Don't Stop Me Now has found its way onto a recent playlist. Judging by the two braces that followed his display against Leverkusen; against Sporting in the Europa League and then against Hertha last Sunday, it's somewhat fitting.
The latest strikes against Hertha took his 2015 tally to 11 goals in six games, a haul only likely to increase given the attacking talent at Hecking's disposal.
Whether it's €30m man Andre Schurrle, €20m midfielder Luiz Gustavo or the €25m star of Wolfsburg's season, Kevin De Bruyne, Dost certainly has the supporting cast to maintain his current form.
If it continues, a national team call-up will inevitably follow – even if the player himself is keeping cool about that. "That's a dream but not an issue right now," he said after Sunday's victory over Hertha.
Robin van Persie and Huntelaar are both currently injured and likely to be struggling for fitness ahead of the Netherlands' next fixture against Turkey. On current form it seems that dream will come true soon enough.
Thank you for reading 5 articles this month* Join now for unlimited access
Enjoy your first month for just £1 / $1 / €1
*Read 5 free articles per month without a subscription
Join now for unlimited access
Try first month for just £1 / $1 / €1