Special: Real Manchester United fans missing out on FA Cup final tickets and the FA's response
Red Devils fans are unhappy at both the process and distribution of seats for the biggest match of the season, explains Republik of Mancunia...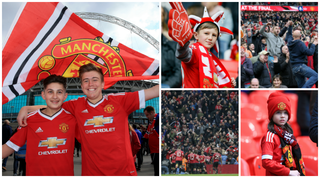 Year on year, whichever team reaches the FA Cup final, there are always complaints about the Football Association from the supporters. These frustrations usually start for Northern teams when they reach the semi-final, and they have to drag themselves down to London, rather than easier grounds for fans to reach, like Villa Park, Old Trafford or Anfield.
The criticism is usually kicked up a notch when National Rail release statements claiming that there won't be any trains out of London for the fans to get home, unless they leave the game early, thanks to the kick-off time set by the FA.
Happy Monday! Let's watch it one more time... #mufchttps://t.co/7SlLehJZzp
— Manchester United (@ManUtd) 25 April 2016
Then, if your team is fortunate enough to reach the final, you've got to do it all over again, at the cost of £45, £65, £85 or £115 for a ticket.
Kick-off time
When United played Everton in the FA Cup semi-final, it was revealed that the FA chose the 5.15pm kick-off despite knowing that this later kick-off would prevent the 60,000 fans getting back up to the North West after the game by rail, thanks to maintenance work they had previously been made aware of. Thankfully for United fans, the club put on free coaches. But leaving Old Trafford at 10am in the morning, only to return by midnight at the earliest (with other fans not getting back until 2am), is hardly the ideal journey.
All you need to know about applying for FA Cup final tickets: https://t.co/x8pKTutiSZ#mufcpic.twitter.com/H8ftY30gdr
— Manchester United (@ManUtd) 24 April 2016
For the final, United knew they would have a smaller allocation than the one they had for the semi-final, and confirmed to fans that tickets would be dished out to those who had 10 credits from attending all home cup games this season. Once these fans had been sorted out, those with nine credits, eight credits, and so on, would be in with a chance, according to an e-mail the club sent out.
On Tuesday, United supporters were ringing up the ticket line, refreshing their e-mail inbox, and checking their mobile phone for a text message, desperate for news over whether they would be going to Wembley or not. This is their first appearance in the final since 2007, in a competition they haven't won for 12 years.
Real fans
For the fans with 10 credits, particularly those who had forked out for the trip to Wembley less than a fortnight earlier, there was the assumption a ticket was theirs. It was the fans who hadn't paid for every cup match who were sweating over their chances.
The first text I got from a friend who hadn't got a ticket came late in the afternoon. I was sure he had been to all 10 games but I assumed he must have missed one.
It was only when I went on Twitter later that I realised just how many supporters, even those who had been to every game, had missed out (see replies to this tweet). Having taken it for granted that I would get a ticket, I now felt fortunate that I had been successful in the ballot.
United have been given an allocation of just under 28,000 from the FA, yet have 30,000 Executive Members and season ticket holders with the full 10 credits. The ballot selected fans from the pot at random, leaving 2,000 season ticket holders who had been to every cup game without a ticket for the final. This isn't even taking in to consideration the fans who have paid for eight or nine cup games, on top of the price of a season ticket, who don't even have the hope of getting a ticket in the second ballot next Wednesday, after any unwanted tickets from staff or Executive Members have been returned.
Numbers game
What follows are the stories of just a handful of the United fans who paid for all 10 of United's home cup games this season, the maximum requirement to apply for FA Cup final tickets, but were told on Tuesday that they were unsuccessful.
Tom sits in Stretford End tier 2, paying £704 for his season ticket. Aside from going to all the home games, he has travelled around the continent to watch United, going to Brugge, PSV and Wolfsburg, as well as Liverpool in the Europa League, and the FA Cup semi-final replay at West Ham.
Andrew pays £722 for his season ticket and was at Wembley for the FA Cup semi-final, paying £50 for the privilege, but won't be going back for the game that really matters.
Gav has had two season tickets in the Sir Alex Ferguson for 10 years. In that period of time, he has opted in for and paid for every home cup game. To add insult to injury, a friend of his who didn't take a ticket for the FA Cup semi has been given one for the final.
Paul and his two mates sit in the East Stand and went to the semi-final, as well as Europa League trips to PSV, Midtjylland and Liverpool.
Connor sits in Stretford End and he's applied for near enough every away game, only to be successful in two ballots, which surprisingly is pretty good going given how many fans get chubbed for every away.
David and his 13-year-old son Chris sit in the top tier of the Sir Alex Ferguson stand, paying £836 for the two season tickets. He estimates he's spent over £600 on cup tickets this season and had to break the news to his son that they wouldn't be going to Wembley.
Simon and Craig pay £703 for their season tickets in the Stretford End and went to the FA Cup semi-final, and the list of disappointed fans goes on and on.
The immediate thought for some supporters who had missed out was the early season ticket renewal deadline fell last Friday, and they had opted to wait until the end of the season to part with their cash. Lots of fans are unhappy with the idea of Louis van Gaal staying on for a third season, so in an attempt to put pressure on the owners, are waiting until the season ends, and the Dutchman to be sacked, before renewing.
There is no greater passion. Join the Season Ticket Waiting List for 2016/17: https://t.co/gdprr8jg53#mufchttps://t.co/W2b63xlITT
— Manchester United (@ManUtd) 4 May 2016
Rejected fans
However, the rejection was indiscriminate, as there are fans who have renewed early, and all they've got to show for it is a free scarf, and not a ticket for the final.
Maybe this is the 'free, exclusive, limited-edition club scarf' you get if you renew your season ticket early #mufcpic.twitter.com/oE05jODQLj
— Man United News (@ManUtdMEN) April 19, 2016
It's hard to see what the solution is here, but it's understandable that United fans feel let down.
Crystal Palace have been given the same allocation as United, which is larger than their average home attendance, and even bigger than a sold out Selhurst Park. In contrast, United have 28,000 tickets for 55,000 season ticket holders.
While in some senses it would be fairer for the larger fanbase to have more tickets, it would defeat the idea of the final being held in a neutral stadium, if one fans' end was bigger than the other's.
Corporate tickets
The greatest frustration is probably the fact that while 2,000 United fans who will feel they deserve a ticket miss out, the FA are giving 34,000 tickets away to neutral fans [read the FA's response below].
At the Player of the Year awards on Monday night, Olly Murs was talking about how excited he was to be going to Wembley, while John Bradley, an actor in Game of Thrones, talked up his chances, with the interviewer laughing and saying "surely we can sort you out with a ticket."
And a big hello to singers @OllyOfficial and @NathanSykes! #MUFCPOTYpic.twitter.com/7eMCetvaFY
— Manchester United (@ManUtd) 2 May 2016
I wonder if these two, and all the other "celebrities" and corporates who will be in attendance at the final, endured the dreadful third round game against League One side Sheffield United, that United won with a last minute penalty, after 90 minutes of awful football. Did they make the Friday night trip to Derby, or the Monday night journey to Shrewsbury? Did they watch 120 minutes of goalless rubbish against Championship side Middlesbrough, only to see United lose on penalties? Were they there to see their team knocked out of the Europa League by their hated rivals Liverpool?
Cup success
Watching United in cup competitions this season at Old Trafford has been a chore, rather than a privilege, and an expensive one at that. Yet fans have done it with the belief it meant if United did reach a final, they would certainly be going, but that isn't the case.
The FA Cup semi-final game hasn't been counted in the credits, which means there are some supporters who made the journey for the Everton game who haven't received a ticket for the final, while there are other fans who weren't as bothered about making the effort for the semi, who now are off to hopefully see their team lift the trophy against Palace.
As previously mentioned, there will be a second ballot next week, keeping hope alive for some, where unwanted tickets from staff members and executives will be returned. Tickets are set aside for United employees, like the groundstaff, the admin team, stewards, coaches, and so on, to get first dibs, but not all of those will necessarily be used so can be redistributed among the fans.
Pushing for more
United have claimed that they are "pushing the FA for additional tickets" in the e-mails they've sent to disgruntled supporters, trying to explain why they have been let down. While United may well be fighting the FA for the good of the club and are working in the best interest of the fans, just as they did when putting on free coaches for both journeys to Wembley, it's worth remembering it's in their best interests too.
What incentive will there be for fans to purchase all cup tickets next season if they know it won't guarantee them entry to the final? While lots of fans just want to be at every game they can to support the team, regardless of how poor the football is, it's unlikely that any of the supporters adding hundreds of pounds to the cost of their season ticket are doing so without the thought of going to a final.
This is United's biggest game of the season, or even the past three seasons, so the demand is high. Yet as it stands, thanks to the FA offering over a third of tickets to supporters of neither club, so many entitled fans are set to miss out.
-------------
FourFourTwo asked Manchester United for their view on this, but so far the club has offered no response.
We also asked the FA for a reply, and a spokesperson told us the following: "There have been 28,780 tickets made available to the two clubs and that's around 57,500 to both clubs - that's gone up this year following meetings of fan groups last year to discuss the ticket allocations. So there are more tickets for the fans this year.
"We have to balance that against the Club Wembley tickets for the football family: the volunteers, the clubs and people who help to run football. It's a well established process. There are some 17,000 Club Wembley tickets.
"But we're 'not for profit' and all that money made from those [Club Wembley] seats goes back into the game, to the wider benefit of football."
Can @ManUtd captain @WayneRooney help them to their first FA Cup Final win since 2004? #emiratesfacuphttps://t.co/vEIyhqhUqd
— The Emirates FA Cup (@EmiratesFACup) 27 April 2016
FourFourTwo were also pointed towards the recent FA statement on the allotted kick-off times and ticket allocation, repeated below:
More United features
"Once again The Emirates FA Cup has enjoyed a fantastic campaign and we very much look forward to welcoming back Crystal Palace and Manchester United for a repeat of the 1990 Final.
"The early evening slot has been a very successful time for broadcasters this season, and this will allow for a projected 3m extra domestic viewers to see English football's showpiece game, as well as millions more around the world. We are also pleased we have been able to find a solution that means more fans of the two finalists will get tickets for the game, while continuing to recognise our national network of grassroots volunteers.
"The FA is a not for profit organisation, ploughing all money generated back into the game at all levels. Clubs at every level have also been able to enjoy the financial reward from the Emirates FA Cup with almost £30m going back to clubs from the FA prize fund and broadcast fees."
Quizzes, features and footballing fun
Get the best features, fun and footballing frolics straight to your inbox every week.
Thank you for signing up to Four Four Two. You will receive a verification email shortly.
There was a problem. Please refresh the page and try again.