Third-gear Spurs find a way through: 5 important points from Tottenham 4-1 Sunderland
John Robertson was at White Hart Lane to see the home side go behind but roar back to see off the Black Cats...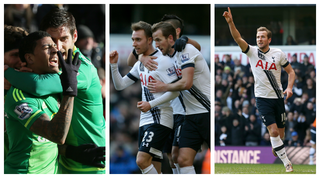 A Christian Eriksen-inspired Tottenham side found the means to see off Sunderland in a victory that was harder work than might first appear. After falling behind to Patrick van Aanholt's close-range strike, Eriksen, Mousa Dembele and Harry Kane saw off the Black Cats by all getting on the scoresheet. Here are five tactical notes from the game using award-winning Stats Zone...
1. Spurs shockingly wasteful until forced into action
While it might seem churlish to criticise a team's performance in front of goal after they've just scored four, it's undeniable that Tottenham could have netted far more if they'd shown greater composure and instinct when shooting.
Prior to Sunderland opening the scoring in the 40th minute, the likes of Harry Kane and Christian Eriksen were woeful in front of goal. Of the 11 shots the team unleashed before going a goal down, only two hit the target. After the goal, nine of 15 had the potential to beat Sunderland's debutant keeper Jordan Pickford.
It felt as though the goal shocked the Lilywhites into life, and not only because they equalised two minutes later.
From the 40th minute onwards the shooting improved drastically, even though the nature of the chances changed little. Certainly, the improvement in accuracy wasn't down to more chances that would typically be considered 'high percentage' being created… until the final 20 minutes, at least, when Sunderland realised they had to take some risks in order to get back into the game.
Against better opposition, it's possible that Spurs would have been punished for their poor finishing in the first half.
2. Dembele stunning on return
Injured since December, Mousa Dembele returned with a performance that will surely cement his place in Mauricio Pochettino's starting 11 from this point forwards – particularly during games in which the Argentinian will expect to dominate possession.
Given license to get forward more frequently than his central midfield partner, Eric Dier, it was Dembele's often understated passing ability that was key to Spurs being able to retain the ball with consistent ease within Sunderland's half.
Christian Eriksen might hog the post-match highlight reel, but without Dembele the Danish creative midfielder would have found the going incredibly tough and, certainly, would not have received the ball in dangerous areas as often as he enjoyed today.
It wasn't just the efficiency of the passing that made such a difference when it came to creating chances, however; it was the incisiveness and vision shown in the final third that proved so devastating. Sunderland were generally adept at preventing much penetration through the middle of their penalty box, but that didn't have too much bearing on Dembele's ability to move the ball into threatening positions.
Not only does this show a great technical passing ability, it also highlights a great vision and footballing intelligence.
When you take into account that Dembele will typically be flanked by some combination of Eriksen, Dier, Dele Alli, Son Heung-Min and Erik Lamela, a case is beginning to be made for Spurs being one of the best, if not the best, passing team in the league.
3. One-dimensional Sunderland
Sunderland came with a specific gameplan in mind, and they stuck to it with a stubbornness that is always likely to get you into trouble when playing at this level.
On the one hand they successfully fended off the central area around their own penalty box, but they were lacklustre when it came to defending the flanks and were phenomenally one-dimensional in attack. It's difficult not to feel pity for Jermaine Defoe, so impressive with his hat-trick midweek versus Swansea, who was left incredibly isolated up front.
The attacking philosophy amounted to pumping balls into the box from very deep positions. Unsurprisingly, the vast majority of these predictable rolls of the dice failed to hit anything close to the lone target of Defoe.
On those rare occasions in which The Black Cats did look to get the ball down and play it into Spurs' box they found equally little success… which perhaps explains why Sam Allardyce was so intent on the long ball game.
Simply, the defensive partnership of Jan Vertonghen and Toby Alderweireld exhibited a speed of movement and thought that completely outstripped the Sunderland attacking unit. Adam Johnson's precise pass for Patrick van Aanholt's goal was the one shining light in an otherwise limp offensive performance. The two also teamed up to score against Swansea a few days ago.
Sunderland might well have expected to leave White Hart Lane with nothing, but that doesn't excuse the total absence of impetus shown here.
4. Dele Alli lost
Whilst Dembele excelled, Alli struggled to get himself involved in the game. The cause could well revolve around the fact that Dembele performed many of the tasks usually given to Alli and Pochettino will need to look at how he can accommodate both players in the future in order to maximise his team's potential, otherwise it could be that one of them needs to be dropped in place of someone else.
Alli's failings highlight just how resolute Sunderland were in protecting the middle of the park, with all of his take-on attempts ending before they'd really gotten going. Not once did he look close to beating his marker when he had possession.
Additionally, it was only his sideways passes in the middle of the attacking third that found their target – anything forward was snubbed out as mercilessly as his take-on attempts.
More impressive was his movement, which saw him pick up possession across a wide range of areas. This should have given his actions an unpredictability that would have further troubled Sunderland, but that just wasn't the case. Instead, it was left to his team-mates to unlock their opponents. Even his shooting, normally reliably accurate, left much to be desired.
5. Patrick performs
His side might have succumbed to the pressure brought upon it by the better team, but Patrick van Aanholt can hold his head up high following his personal performance this afternoon. Not only did he score Sunderland's sole goal, but also his forward runs from left-back frequently looked like the only genuine threat Spurs had to accommodate for across the entire 90 minutes.
The link up with Johnson for the goal represents a microcosm of van Aanholt's qualities: he is disciplined in hugging the touchline with a view to stretching an opposition defence, he is capable of playing accurate short passes during build up and he's quick to spot any gap that can be exploited.
While he often stuck to team orders and resorted to long balls forward into Spurs' half, when we remove these from his data his qualities in combining with his team-mates become obvious. Indeed, it would be interesting to see how he would handle himself if he were surrounded by others that are equally capable in such a capacity and/or if he were playing under a system that put greater focus on retaining possession.
Further, despite his comparatively short stature, he is equipped with a keen sense of timing when it comes to headed clearances. This is mirrored by his ability to highlight danger along the ground, resulting in a 100% success rate when it comes to attempted clearances.
Analyse Tottenham vs Sunderland yourself with Stats Zone
More features every day on FFT.com • Analysis
STATS ZONE Free on iOS • Free on Android
Quizzes, features and footballing fun
Get the best features, fun and footballing frolics straight to your inbox every week.
Thank you for signing up to Four Four Two. You will receive a verification email shortly.
There was a problem. Please refresh the page and try again.