Twinkle-toed Griezmann Atleti's genuine superstar in bid for Madrid domination
The Frenchman has looked every bit the £24 million player for Diego Simeone's side this season, writes David Cartlidge...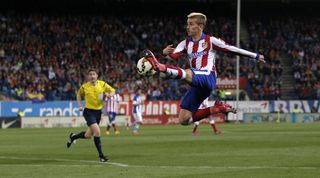 He may only be 24, but Antoine Griezmann has already had quite the journey. As a 13-year-old he was educated in Bayonne, France during the day, before travelling across the border into San Sebastian in the evening.
There in the Basque Country he trained and took the first steps to becoming what he is today: one of the most exciting attacking players in the world.
His path to stardom has not been without its trials and tribulations, but in this moment, Griezmann is playing the best football of his career.
A brace against Deportivo La Coruna at the weekend – the first a brilliant overhead kick – took the Frenchman's tally in all competitions to 23 goals in 46 games this season, improving upon his best-ever total of 21 with Real Sociedad in his final season with the Txuriurdin.
Cholo's champion
To say his move to Atletico Madrid was the right one for his progression would be putting it lightly. Diego Simeone had been enamoured with Griezmann for some time before the move, and since the latter's arrival at the Vicente Calderon, his notoriously ice-cold manager's affection has only grown.
Cholo has referred to Griezmann as an "intelligent player" and has praised his steady growth since arriving for a heavy €30 million from Real Sociedad in the summer.
"He has grown a lot since November," chimed the Argentine. "This is the player we need. Beyond the goals and assists I really value his work for the team. That's making him a better footballer."
With 20 league goals this season, Griezmann is just four strikes away from equalling Christian Vieri, Jimmy-Floyd Hasselbaink and Radamel Falcao in terms of debut seasons with the club.
Atleti have always enjoyed great strikers, and while Griezmann is not your typical penalty-box predator, the Frenchman's versatility stands him above most.
"Grizi", as he's named himself, started out as a lightning winger. He moved onto becoming a striker, second striker and even played in central midfield during his time with La Real.
Simeone has used Griezmann more advanced in a second striker role, and in turn has gone on to praise his player's ability to adapt to the conditions he's put in. Certainly, it was necessary to succeed with Atleti.
"At first I couldn't breathe in the training sessions under Simeone," Griezmann revealed. The sheer level of intensity required by Atleti's Argentine boss throughout the week in practice is not for the feint-hearted, but if there's another quality Griezmann has in abundance, it's heart.
Football has been there from the beginning for the Frenchman, as his mother attests. If he wasn't outside with a ball at his feet, she recalled, "he'd be annoying everyone running about in the hallways of the house".
What doesn't kill you
Despite early flashes of his gifts, every major club in France turned down the chance to sign the youngster before La Real took advantage – not because he wasn't good enough, and not because he didn't have the right attitude. Simply, he was too small. Boyhood club Lyon were among those who didn't fancy him.
After numerous rejections in his homeland, Griezmann says it was his father who kept pushing him, and insisted that he never gave up. Real Sociedad eventually came calling, and while the move had its difficulties – Griezmann admitted crying himself to sleep at night with homesickness while still only 13 – it turned out to be the perfect environment in which to learn.
Fittingly, when FFT interviewed the young attacker to celebrate his inclusion in February's 23 Under 23 edition, parents Isobel and Alain were in town to visit their son and sat attentively in the corner.
"I now say thanks to those who rejected me," the Frenchman declared. "I'm with a great club, in the best league in the world, playing in the Champions League. The road ahead is about work and effort, not height."
Simeone no doubt approves of such sentiments from a young head, especially one whose attitude came into question at times. An incident in a French nightclub with the under-21s saw Griezmann miss a year of action at all levels with France, a ban issued with the idea of curtailing his troublesome traits off the field.
But since his return under Didier Deschamps, Griezmann has gone about making the vacant space left by Franck Ribery his own. His attitude has been exemplary since, with Deschamps the visionary who saw that a little wake-up call could help the player truly realise his potential.
A World Cup cameo left French football fans puzzled as to why their own clubs had ignored the player before, but at the same time satisfied knowing their team's future wouldn't be based around muscle-bound centre-backs and Paul Pogba in midfield. France, so eager to move on from this notion of being a nation obsessed with physical prowess before technical competence, have a fine-tuned pocket-rocket on their hands in Antoine Griezmann. Now they simply cannot ignore him.
Shooting star
If he's to become a central figure for France and eventually grab glory at club level, then there's no better place to continue the learning process than with the Vicente Calderon club.
Griezmann's level of ambition is enormous, but it's equally matched by Simeone's desire to shape footballers and extract attributes from them that they didn't even know existed.
Take training sessions for instance, and Griezmann's newfound stamina levels. Already, despite not even finishing his first season in Madrid, he looks a more complete player. PSG and Manchester United remain regularly linked, but the structure he has in place at Atletico provides him with the perfect education.
Atleti are by no means a team of stars – that's left to the city's other club. In Griezmann, however, they could have a genuine A-lister; more so than Arda Turan and even one of their own, Koke.
Not only is he a face for the image they are trying to achieve as one of Spain's superpowers – Griezmann wouldn't look out of place taking up the vacant spot in One Direction – but he is also beginning to purvey the values of the club too: hard work, dedication and sacrifice.
It's an unlikely role for Griezmann, who is often nailed down as an individual, but it's one he's blossoming in. If he doesn't score it's not a problem, so long as his contributions are to Simeone's standards.
When Atleti take to the field against the likes of Real Madrid and Barcelona now, not only do they have the endeavour and spirit, but the quality too. In a young Frenchman who's had it anything but easy in his short professional career so far, the Rojiblancos boast a star to match Neymar and Gareth Bale – that ability to get fans on the their feet, the charisma... and now the goals.
The Frenchman's journey still has many more twists to come, but it's one heading in the right direction.
Real Madrid vs Atletico Madrid LIVE ANALYSIS with Stats Zone
Thank you for reading 5 articles this month* Join now for unlimited access
Enjoy your first month for just £1 / $1 / €1
*Read 5 free articles per month without a subscription
Join now for unlimited access
Try first month for just £1 / $1 / €1
Get FourFourTwo Newsletter
The best features, fun and footballing quizzes, straight to your inbox every week.