Valencia's latest left-back sensation chased by Arsenal and yet to commit at Mestalla
Jose Gaya is following in the footsteps of Jordi Alba and Juan Bernat with good reason, writes David Cartlidge...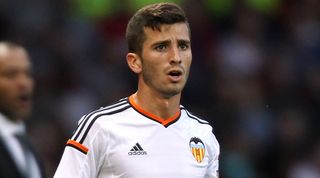 The 60-second story
FACT FILE
Date of birth: May 25, 1995
Place of birth: Pedreguer, Spain
Height: 5ft 7in
Position: Left-back
Current club: Valencia (27 apps, 2 goals)
International: Spain U21 (3 caps, 0 goals)
Converted full-backs are all the rage these days, but most either come from centre-back or wing positions. Few, however, come from up front. It's just one of Jose Gaya's special features that makes him the latest, and most exciting, Spanish full-back on the block.
Born in Pedreguer, Alicante, Gaya has risen rapidly onto the scene at Valencia and, despite having only 20 La Liga appearances to his name, has shown enough to suggest Jordi Alba won't have it all his own way in dominating Spain's left-black slot in the future.
Why you need to know him
Valencia's academy at Paterna remains immensely undervalued, and when looking at the left-backs they've produced it's difficult to understand why. Alba came first, then went to Barcelona, before Pep Guardiola lured Juan Bernat to Bayern Munich. Gaya, however, might well surpass both, such is his wide-ranging skill set.
Things might've been extremely different for him, though, had it not been for a phone call on the morning of one youth game.
Gaya woke up for Valencia's Infantil A match against Elche, facing his usual journey of more than 100km with his father from Alicante to Valencia, and was told he would be playing a different position.
He would be playing left-back. At the time, Gaya was a striker. With a season of 60 goals behind him, it was expected he would go on to great things leading Valencia's attacking line; today it might well have been him instead of Paco Alcacer up front.
The young player never queried the decision of Vicente Castro, his coach at the time, and instead simply strolled into his new full-back position. After a few words of advice from the defensive coach, he was away. "From day one he took the concept of the position on board. He had a great game that day," says Castro.
"At first he missed the position, but he was never angry, not at all. Even at that young age, he could see you had to put the team above everything."
It's that maturity which earned him a debut with Valencia Mestalla (the B team) aged 16, and subsequently the first team at 17. Gaya has taken each step admirably, skipping a few along the way as the technical staff at Valencia deemed him too good for Cadete A and other levels.
Spain have recognised him too, with call-ups at under-17, 18, 19, 20 and 21 levels. A place with the full squad isn't far away, as the next generation of Spanish talent begins to emerge.
This season at Valencia he has held down the left-back slot with incredible composure. Nuno Espirito Santo has made the player first choice in a team bustling with new arrivals from around the globe.
The boy from the cantera is holding his own, and despite competition from Lucas Orban he looks best placed to retain the position for good.
Strengths
Gaya's most notable asset is his ability on the ball. His previous as a striker, plus time on the wing, has made him more comfortable in possession. Gaya is highly adept at both running with the ball and receiving it, before making an intelligent decision. The 19-year-old can link up with the attack superbly, and shows the ability to not only offer width but also drift inside – as shown by his recent goal against Espanyol in the Copa del Rey. Gaya insists he can offer more goals once he has further settled in his role.
At first, he admitted, it was difficult getting used to defending. "I remember him [Castro] telling me I had to delay my runs forward, and think of the defenders first," said Gaya. "He said add to the attack, of course, but also repeated I had to close opponents down and cover the space in behind."
Weaknesses
If there is one major flaw in Gaya's game, it's his tendency to deliver the ball too early. This is an area of his game that can be worked on, and with practice no longer be an issue.
Cesar Azpilicueta encountered a similar problem at Osasuna, Marseille and Chelsea. Now, he's one of the most well-balanced full-backs in Europe. Instead of driving on or going for the overlap, Gaya can sometimes lump the ball into the box too early and without precision.
They said...
Boss Nuno has hailed his young left-back, saying: "Gaya started with us [in pre-season] and the sporting director told me, 'We have someone who can replace Bernat'. He has exceeded all our expectations; work ethic, humility and learning ability – and he's still growing."
Did you know?
In recent testing, Gaya was clocked at being the sixth-fastest player in La Liga. Meanwhile, the youngster had no defensive idols as a youngster, given his striking past. Instead, his favourite players were Valencia icons Pablo Aimar, Vicente and David Villa.
What happens next?
The idea is that Gaya gets a full season under his belt, and plays more than 30 games. It will help his formation as a player, and continue to improve the defensive side of his game. It's easy to forget that as recently as 2008 he was playing up front, and the position itself remains new to him in many regards.
Spain will likely come calling too, and a battle with Juan Bernat and Jordi Alba will commence.
There's a contract that also needs to be signed. Gaya's deal may not be up until 2018 but his clause stands at €20 million, an attainable figure for many clubs looking to lure one of Spain's most exciting young players.
Arsenal have been most widely tipped to make a move, but Real Madrid and both Manchester clubs have also been linked previously. They'd better form an orderly queue.
Thank you for reading 5 articles this month* Join now for unlimited access
Enjoy your first month for just £1 / $1 / €1
*Read 5 free articles per month without a subscription
Join now for unlimited access
Try first month for just £1 / $1 / €1