What Arsenal fans could expect from Michael Zorc as sporting director
By Michael Yokhin published
Zorc is a key target for Arsenal, according to German publication Bild – but not necessarily the right one, writes Michael Yokhin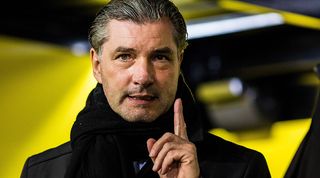 Arsene Wenger might have been at Arsenal for more than two decades, but that spell fades in comparison to the Gunners' apparent target as the new sporting director. Michael Zorc is more than just a Borussia Dortmund legend. He has been there since 1978, through good times and bad, and its almost impossible to imagine the club without him.
One would doubt that Zorc can imagine himself without Borussia.
Born in Dortmund, he joined die Schwarzgelben as a 15-year-old and gradually became a vital player. Zorc is less known globally, having represented Germany just seven times and never participated in a major tournament, but he has made the most appearances in Dortmund history – by a distance – with 561 games between 1981 and 1998. He is also their second-highest scorer of all time with 131 league goals.
As the captain and undisputed leader of Ottmar Hitzfeld's great Dortmund team of the 1990s, Zorc won two championship titles and lifted the Champions League trophy in 1997. That triumph came late in his career, though, and he only played one minute of the final against Juventus. A year later he called time on his illustrious career, and was immediately promoted to a new role upstairs.
Twenty years of progress
Ever since 1998, Zorc has been the sporting director at Borussia – naturally, the longest-serving specialist in the league. If he doesn't leave for Arsenal and finishes the season, the 55-year-old will count 20 years in the driving seat.
Having taken the job unprepared at the age of 35, Zorc had to learn everything from scratch and made a lot of mistakes along the way. His appointment was initially criticised in the press, and even the fans who adored him didn't really believe that he was capable of succeeding. Countless poor signings were made, chief among them the infamous Nigerian striker Victor Ikpeba.
It wasn't Zorc's fault solely, of course, but Dortmund went through extremely difficult times at the turn of the millennium and came very close to bankruptcy in 2004.
As the sporting director, Zorc had to oversee drastic financial changes; within two seasons, the salary budget had been halved. He had to prove himself to the new board, led by the chairman Hans-Joachim Watzke, but never thought of quitting.
"My character has not changed," Zorc said in an interview with SPOX in 2010. "I never gave up as a player, and I won't give up as a manager. I always know that I am capable of doing the job."
By that time, he was hugely influential in building an empire capable of elevating Borussia Dortmund to the very top.
A string of good decisions
Choosing Jurgen Klopp as a coach in 2008 proved to be a masterstroke, but the current Liverpool boss succeeded because he fitted perfectly into the club's strategy and philosophy. Zorc was responsible for investing in the youth academy, providing BVB's kids with state-of-the-art facilities and making them the top priority. "It's very satisfying to watch a young player developing into a star who performs in front of 80,000 fans," he later reflected.
Nuri Sahin, who became the youngest Bundesliga player ever, and Mario Gotze – scorer of Germany's winning goal in the 2014 World Cup Final – benefited hugely from such an attitude.
Gradually, Zorc improved his dealings in the transfer market, with chief scout Sven Mislintat – now lured to Arsenal – assisting him ably. The signing of Shinji Kagawa from Cerezo Osaka for just €350,000 in the summer of 2010 is the best example of their exceptional work, and the Japanese star was crucial to winning two Bundesliga championship titles in 2011 and 2012.
In order to fully grasp Zorc's influence, one should look at the club structure as a whole. Just like Barcelona, Borussia Dortmund believe that all of their teams should follow the same philosophy, and thus youth and reserve team coaches become important parts of the system.
Huddesfield Town manager David Wagner, Klopp's closest friend, coached Dortmund's reserves for four years. Daniel Farke, now in charge of Norwich, replaced him in 2015. Hannes Wolf, who led Stuttgart to promotion last season, worked with Borussia's U17 and U19 teams before moving on in 2016.
"Zorc is the most important man, responsible for everything on daily basis," one Dortmund-based journalist tells FFT. "He is in touch with the first team, the scouts and the youth coaches. He is a very calm guy who knows exactly what is the best for the club.
"He understands the Borussia Dortmund DNA better than anyone, because he is so local. It is all about hard work, passion, fighting spirit and down-to-earth attitude in the Ruhr valley."
Limitations
However, that's also the reason why the aforementioned journalist finds it very difficult to believe that Zorc could leave home and be successful elsewhere – let alone in a new country.
"He has never left the city. It's not that he isn't good enough for another club, but the very idea is just unthinkable and it will be tough," he says.
Indeed, Zorc himself told SPOX last year: "Hopefully, I will leave Dortmund only due to old age. During my playing days, I had various offers from other clubs and considered them, especially towards the end of the career when I lost my place in the starting lineup. The closer the final decision came, the clearer it became that Dortmund is my place and I want to stay."
Zorc claims he rejected a big-money opportunity in Japan: "The J League was the financial equivalent of the current Chinese league those days," he recalled. "I could have earned a lot more than in Dortmund, but refused."
The financial deal at Arsenal might be tempting this time too, but at 55, the German could be reluctant to make such a revolutionary change in his life – especially since he knows that he would never get the same professional freedom with the complex political confines of the Emirates Stadium. After all, Arsene Wenger has never hid his derision at the idea of working with a director of football or sporting director.
RECOMMENDED
Dortmund, too, will do everything they can do keep hold of him having already lost Mislintat to north London. BVB's director of communications Sascha Fligge was unequivocal about Zorc's future on Monday night: "There were rumours in England but this was just a rumour. He will definitely stay with us."
Stranger things have happened, however, and if Zorc agrees against all odds then the Gunners will get a very experienced, visionary and successful specialist. But those qualities would probably count for little in London: Zorc is only experienced, visionary and successful in one job – the sporting director of Borussia Dortmund.
That is the only thing he knows, and Arsenal are way too different.
Thank you for reading 5 articles this month* Join now for unlimited access
Enjoy your first month for just £1 / $1 / €1
*Read 5 free articles per month without a subscription
Join now for unlimited access
Try first month for just £1 / $1 / €1
Quizzes, features and footballing fun
Get the best features, fun and footballing frolics straight to your inbox every week.
Thank you for signing up to Four Four Two. You will receive a verification email shortly.
There was a problem. Please refresh the page and try again.