What Roy Hodgson can learn from Mark Sampson with England
England Women's chief has been criticised in some quarters for his tinkering, but Jamie Ranger argues that it's kept the Three Lionesses fresh and flexible...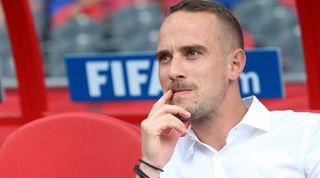 With their 2-1 defeat of Norway on Monday night, England made history as the first women's team to win a knockout game at the World Cup. Before this year's edition of the tournament – expanded to 24 teams from 16 – the group stage preceded the quarter-finals, where the Three Lionesses had always been overcome – including a penalty shootout defeat to France in 2011.
England also broke their own record of having never beaten a European team at the World Cup finals, and while the co-efficient rankings made them favourites against the Scandinavians (sixth in the world versus 11th), a psychological barricade had to be stormed as well as a footballing one.
Ch-ch-changes
Though the Women's World Cup is garnering more media coverage than ever before, the lack of back-page scrutiny has chiefly benefited England manager Mark Sampson, a veritable youngster at 32.
The former Bristol Academy boss has been afforded the ability to experiment, make mistakes and recalculate, all without the fanfare of tabloid vitriol. England had already used all 20 outfield players going into the Norway match, and kicked off with a different starting line-up for the fourth game running.
This flexibility is indicative of a preference for reactionary systems, where tactics are determined on an expectation of nullifying the opposition over the longstanding modern British football tradition of attempting to shoehorn the exceptional players onto the pitch.
Proponents would argue that this approach is pragmatic and cerebral; critics label it negative and conservative. But the debate itself has only been discussed by few like-minded sports journalists and former women's internationals taking part in the WWC coverage. In the absence of retired Arsenal and England legend Kelly Smith, the team lacks a star individual, a creative fulcrum that an entire XI can be built around. Nevertheless, this lack of a talismanic figure doesn't give England the appearance of a car without an engine; a group of hard grafters without a creative hub. It's liberated them.
System shuffles
England national teams, at least until recently, have had to go into World Cups talking up their chances of winning, and pretending to start as equals alongside the world's greatest.
The England women's setup, however, have humility and solidarity on their side; the international stage dwarfs the Women's Champions League in terms of personal importance and prestige, and the players are free to accept their underdog status and plan accordingly.
Rachel Yankey, a former England international and an insightful pundit on the BBC's coverage, has often been critical of Sampson's willingness to sacrifice positivity and invention for the solidity of positional discipline, but that criticism is perhaps indicative of England's philosophical shortcomings in the past.
"We can play a 4-3-3, a flat 4-4-2, a 4-4-2 diamond," Sampson gushed in an interview with TheGuardian. "That gives us a real advantage because the players are very comfortable with those formations and we'll certainly be implementing every single one at different stages during this tournament."
In fact, Sampson opted for a 4-1-4-1 in the knockout match against Norway, deploying Fara Williams as the link between defence and midfield, and using Fran Kirby wide.
The Reading hopeful had been one of the stars of the tournament thus far, a player with youthful exuberance, diminutive gait and a swaggering dribble that proved the difference in the group stage win over Mexico. Playing wide isolated Kirby, but her runs sufficiently helped tire the Norwegian back four.
The impact of substitute midfielder-slash-battering ram Jill Scott made her aerial and physical presence felt when she replaced Kirby. Sampson switched to a 4-4-3 with Scott playing in behind two strikers, a towering presence with an ability to pick long, direct balls out of the sky with ease. The game opened up just as the self-proclaimed 'fittest team at the World Cup' began to look leggy, and England capitalised.
Making mistakes
It's too easy to pigeonhole the Welshman's approach as brawn over beauty; cold rationality over the naïve optimism of flair. England's match against Colombia was an end-to-end game, with Sampson backing the attacking side of his team over the defensive complacencies that had emerged in brief moments.
If the young manager believes concentration to be a problem with his squad, much like it has often been for England teams of both sexes in the past, than better to accept it as a variable as much as a moment of magic. He's compensated with rigid formations, and a cycle through tactics like an overzealous bachelor on Tinder to keep the opposition guessing and the players thinking.
While the England team can be overly defensive, they are also often the underdog, and certainly will be in their weekend quarter-final clash with hosts Canada. It's not that Sampson wants his England to be as conservative as they have been so far; this is a coach who worked under Roberto Martinez at Swansea, after all, and counts the current Everton manager among his coaching idols.
The other side of the experimental coin is failure, and Sampson has been guilty of a few lapses in judgement: England's back-line were too deep and standoffish against France, which led to a long-range goal being fired in as defenders dropped off. One could argue that the game was too open in the closing stages of the win over Mexico, allowing the North Americans to reduce the deficit late on.
But ultimately, these mistakes haven't cost England in a crucial match, and have allowed the team to grow into the tournament. Roy Hodgson may be the elder statesman of the two England managers, but there could be something to learn from England's tactical approach at the Women's World Cup.
More on the 2015 Women's World Cup on FFT.com
Continental continues to support the growth of women's football in England. From grassroots sponsorship and community programmes, to the FA WSL, women's FA Cup and England Women's team, Continental is committed to providing a pathway for the next Duggan, Aluko or Carney.
Thank you for reading 5 articles this month* Join now for unlimited access
Enjoy your first month for just £1 / $1 / €1
*Read 5 free articles per month without a subscription
Join now for unlimited access
Try first month for just £1 / $1 / €1
Get FourFourTwo Newsletter
The best features, fun and footballing quizzes, straight to your inbox every week.