Where are they now? Chelsea's 1997 FA Cup winners
A blockbuster strike opened this 2-0 victory over Middlesbrough and paved the way for two decades of Chelsea glory. Here's what the Blues XI have been up to since that day at Wembley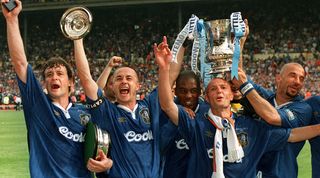 The sight of Chelsea captains lifting trophies has become rather familiar in recent years, but that wasn't the case 20 years ago.
A 2-0 victory over Middlesbrough in the 1997 FA Cup Final actually meant a first major honour for most of the players involved - barring a certain Welsh striker, who was picking up his fourth winners' medal in the FA Cup alone. It also meant a first major honour for Chelsea since the 1971 UEFA Cup Winners' Cup (with due respect to the 1990 Full Members Cup and 1989 Second Division trophy, of course).
On top of that, Ruud Gullit became the first foreign manager to win the FA Cup. All this - plus the spectacular start to the game - help explain why it's considered a memorable FA Cup triumph. But what have the boys who made it happen been up to in the two decades since?
Ruud Gullit (manager)
If there was ever a man to symbolise the nouveau chic of English football in the '90s, then Gullit was him.
Post Euro '96, football was reinventing itself in England. Hooligans were gradually disappearing from the terraces, replaced by fans who preferred a latte to a pint (well, before 11am anyway). The whole atmosphere was more cosmopolitan, and Chelsea had themselves a manager who embodied it.
Gullit was cool personified. From his punditry that summer with BBC Sport – where Gullit discussed the ideals of "sexy football" to get us all aroused pre-watershed – to his dreadlocks and style in the dugout, he was a manager very much for the times.
His team played like it, too. Chelsea were no longer laboured and tiresome; they had a zip to their play and weren't afraid to express themselves. It meant they would throw a few victories along the way, yet it was worth it for the way they approached matches.
Quite what happened to his managerial career after Chelsea's FA Cup win in 1997 is a mystery, though. The first overseas and black manager to lift the trophy, Gullit never scaled such heights again in short spells managing Newcastle, Feyenoord, LA Galaxy and Terek Grozny in Russia. Having long worked as a TV pundit, he was named as Dick Advocaat's Netherlands assistant in 2017.
Frode Grodas (goalkeeper)
He was a Chelsea player for barely two seasons, so it says much about Grodas that he maintains cult hero status at Stamford Bridge. Much of that is down to his position in goal against Middlesbrough in the 1997 FA Cup Final, but his character and sense of humour meant the Norwegian was equally championed by Blues supporters.
From their first-ever goalkeeper William "Fatty" Foulke through to the likes of Petar Borota, Chelsea have tended to have a No.1 who celebrates the quirks that the position is supposed to bring. Grodas is on that list.
He gave Dennis Wise a run for his money in the prankster stakes and, like his captain, was a reliable performer when the time came for the serious business of winning football matches. Grodas was 32 when he arrived at Stamford Bridge from Lillestrom. He was a surprise signing in the summer of 1996, but come the end of the campaign, Chelsea fans all knew his name.
He's gone on to work as a coach with the Norwegian FA alongside former Blues team-mate Erland Johnsen.
Steve Clarke (centre-back)
Chelsea's longest-serving senior player, Clarke had seen it all at Stamford Bridge by the time this final came around.
He joined the club from St Mirren in 1987, and within a year the Blues were relegated from the top flight. They bounced back at the first time of asking in 1989 and haven't looked back since, gradually building the foundations to become the club we know today.
Clarke was a big player in all of that and Chelsea fans loved him for it. He was a chameleon, always adapting to suit the managers who he played under - and even played as a right-wing-back for a period under Glenn Hoddle.
Winning the FA Cup in 1997 was his crowning moment, though. The competition was the pinnacle for sides with little chance of winning the title, and after a decade of ups and downs at Chelsea – which also included 1994 FA Cup Final defeat to Manchester United – it was fitting that Clarke was in the line-up to lift the cup.
His Chelsea story doesn't end there of course: Clarke assisted Jose Mourinho when the Blues won back-to-back titles in 2005 and 2006. He was also in the dugout alongside Avram Grant for the 2008 Champions League Final loss. These days he can be found managing Kilmarnock. 
Frank Leboeuf (centre-back)
Leboeuf arrived from Ligue 1 as an unknown but made a massive impact at Chelsea. 
The Frenchman helped the Blues end a 26-year wait for proper silverware, and symbolised everything that the club was becoming. The Frenchman was carefree at the back, playing with a grace Chelsea fans hadn't seen along the King's Road since... well, forever.
Ultimately, Leboeuf helped drag Chelsea into the 21st century a few years before the Millennium bug was supposedly going to create carnage.
He's now an actor and featured in 2014's Stephen Hawking biopic The Theory of Everything.
Frank Sinclair (right-back)
Like Steve Clarke before him, Sinclair had a long history with Chelsea, having come through the club's youth ranks. And just like Clarke, the Londoner had been part of the Blues side that was thumped 4-0 by Manchester United in 1994 at Wembley.
That game holds particularly bad memories for Sinclair, as he gave away the penalty on Andrei Kanchelskis that helped United cruise to victory. So 1997 was redemption for the defender who had done well to fight the tidal wave of foreign imports coming into the club, and who remained a regular under Ruud Gullit. Sinclair lacked the same technical ability as the likes of Leboeuf, but he slotted into Gullit's side effectively, playing at centre-back or right-back.
Less than a year after defeating Middlesbrough in the FA Cup at Wembley, Sinclair was scoring against the same opponents beneath the Twin Towers in the League Cup final.
These days Sinclair is assistant manager at Radcliffe FC in the Evo-Stik North, combining his duties with media appearances. 
Scott Minto (left-back)
The FA Cup final was Minto's last match in a Chelsea shirt. With the face of the club changing, he bucked the trend for many Englishmen and opted to move abroad, joining Benfica.
He had signed from Charlton in 1994 when Hoddle was Blues manager. Urban legend has it that Minto should have joined the club a year earlier but a case of mistaken identity from the Chelsea scouts meant another left-back from Charlton, Anthony Barness, was signed instead. Apparently, Minto was injured when Blues scouts were supposed to be watching him and got confused with Barness.
He eventually got his move a couple of years later, however, and followed it up with silverware in 1997.
He's now an accomplished TV presenter with Sky Sports, and has a reputation as one of the most affable people you'll meet in football circles.
Roberto Di Matteo (midfield)
We all recall Take That telling us how it only takes a minute to fall in love. Well, ask Di Matteo and he'll tell you that it takes less time to become a Chelsea god. Just 42 seconds, in fact.
The Italian had scored his first ever Blues goal against Middlesbrough way back in August 1996 when securing a 1-0 win at Stamford Bridge. He then followed up that feat by netting the most important goal of his Chelsea career against a hapless Boro, who were caught napping in the opening minute at Wembley.
Di Matteo pounced from midfield, driving at the backline before unleashing a long-range effort to stun Ben Roberts in goal. And what was the Italian's secret to such a historic strike? "I just hit it," he would later explain.
Di Matteo is a bona fide legend in west London. Not only did he score the opening goal in 1997, he struck against Boro in the 1998 League Cup Final and also grabbed the game's only goal in 2000 FA Cup Final against Aston Villa. Four years later he was manager when Chelsea stunned Europe to win the Champions League in 2012.
The Italian hasn't managed since losing the Aston Villa job in 2016, though, following a similarly ill-fated stint with Schalke. 
Eddie Newton (midfield)
Another survivor from the 1994 FA Cup Final loss to Manchester United, Newton went one better than his team-mates Steve Clarke and Frank Sinclair in 1997 – the latter of whom had been a youth team team-mate at Stamford Bridge.
Newton scored just 10 goals in his Chelsea career – indeed, he hadn't registered a single strike in 1996/97 – but such form didn't prevent him from arriving at the key moment to seal victory over Middlesbrough, putting the result beyond all doubt when he bundled over the line in the 83rd minute.
Like Sinclair, Newton had also given away a penalty against United a few years earlier, so his goal to secure victory against Boro banished those ghosts.
He remains with Chelsea in the present, working behind the scenes in a coaching capacity at Cobham and also keeping a watchful eye on the Blues' army of loan players.
Dennis Wise (midfield)
When Wimbledon won the FA Cup in 1988, it was a victory as unexpected as the hurricane Michael Fish assured us wasn't going to happen a few months earlier. Much to weatherman Fish's dismay, the worst storm in 300 years hit the south-east of England in October 1987. Come May, Wimbledon served up the footballing equivalent against Liverpool with a shock 1-0 victory at Wembley.
Dennis Wise was a part of that team and nine years returned to the Twin Towers, only now it was role reversal; Wise's Chelsea were the overwhelming favourites to lift the cup against a relegated Middlesbrough. And how did he deal with the pressure? The way Wise always would, with a chortle. If there were any nerves from the Chelsea captain, they were never on show.
From Chelsea's Blue Day cup final song and music video, through to his championing of colloquial English when "teaching" the likes of Gianfranco Zola, Wise was the life and soul of the Stamford Bridge dressing room. He gave the side their famed spirit and it was reflected in the way Chelsea approached the whole occasion with the swagger that would win them silverware.
Wise captained Chelsea to victory in the League Cup and Cup Winners' Cup in 1998, following it up with more FA Cup success in 2000. He departed the Blues for Leicester in 2001, to be replaced by a new generation at Stamford Bridge that included a certain Frank Lampard. You'll find Wise on your televisions as a TV pundit now. 
Dan Petrescu (midfield)
The abiding memory of Petrescu's FA Cup story in 1997 wasn't actually the final, but another game when onlookers took Chelsea seriously as contenders to lift the trophy.
It was back in January and the fourth round when the Blues were trailing Liverpool 2-0 at Stamford Bridge. Petrescu had an altercation with Robbie Fowler, who wasted little time in reminding him of the score by holding up two fingers. When half-time came, Reds players were reportedly rubbing Chelsea noses in it as they walked down the tunnel, goading them with premature glory.
So after the Blues completed an incredible post-interval comeback, crushing Liverpool en route to a 4-2 victory, Petrescu turned the tables and reminded Liverpool players of the score himself when he was fouled. Four fingers came up on one hand, with another two for Liverpool. 
Since his playing days ended in 2003, Petrescu has indulged in a distinctly global management career which has taken him from Romania to Poland, to Russia, Qatar, China and Dubai. He's currently managing Romania's Cluj. 
Gianfranco Zola (striker)
First there was Eric Cantona who dazzled Premier League audiences with his brilliance to convince us that Johnny Foreigner could offer something to the English game which stretched beyond clichéd good looks and an exotic accent. Then Gianfranco Zola entered the fray.
His influence at Chelsea was instant. Signed in November 1996 from Parma, he completely changed the way that Gullit's side played football. With stardust in his heels, he sprinkled it wherever he travelled to become a neutral's favourite. There was no arrogance nor controversy, just a wonderful player whose purpose was to reinforce the beauty of football that Pele had once described.
Zola was incredible, and his role in Chelsea's 1997 cup run was significant. He scored one of the best goals the semi-finals has ever seen when slotting home against Wimbledon at Highbury, while he also grabbed the assist for Newton's goal against Boro.
If Zola altered stereotypes as a player, he's lived up to them since moving into management. The theory is that great players rarely make good managers, and his track record since stepping into the dugout suggests as much. In his most recent stint with Birmingham he won just two matches (out of 24) before resigning, with the club fighting relegation at the back end of 2016/17.
Mark Hughes (striker)
After Zola's arrival at Stamford Bridge, the expectation was that Gullit would opt for a glamorous Italian strike partnership up front, with Gianluca Vialli partnering his compatriot. Vialli had not long won the Champions League with Juventus, after all. 
Gullit tried that combination at first, but when Vialli picked up a knock, Mark Hughes didn't refuse the opportunity to reinstate himself as the top dog in west London – as he had been in the season prior to Vialli's arrival in the summer of 1996.
The Welshman's partnership with Zola was unexpected, yet helped Chelsea's season explode into excitement. With Zola's craft and Hughes's rugged industry, the Blues had the perfect balance. They could battle and scrap, but also dazzle their way to victories. Hughes was entering the twilight of his career and Zola's arrival helped him to an unexpected renaissance, winning his fourth FA Cup with the club he'd supported as a boy growing up in Wales.
Now a manager, his career post-playing has gone much further than Zola's. Hughes has enjoyed successful spells with Wales and Blackburn Rovers, while he's currently Southampton boss.
Quizzes, features and footballing fun
Get the best features, fun and footballing frolics straight to your inbox every week.
Thank you for signing up to Four Four Two. You will receive a verification email shortly.
There was a problem. Please refresh the page and try again.