Why Arsenal's big task is to be more like Tottenham
The two north London rivals share more similarities than they might like to admit, not least in their pursuit of success on a budget, writes Richard Jolly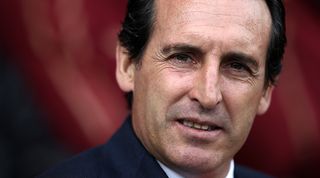 Opposites can show certain similarities. For years, Tottenham pitted themselves against Arsenal and borrowed from their blueprint. They envied their neighbours and tried to emulate them. During two decades of inferiority in the capital, their search for a White Hart Lane Arsene Wenger led them to a host of managers with elements of the Frenchman's CV.
There was the relatively unknown import (Christian Gross), the title winner at a previous club (George Graham), the pivotal figure from Wenger's Monaco (Glenn Hoddle), the Frenchman (Jacques Santini), the man born in the 1940s charged with piloting the club into the 2010s (Harry Redknapp), the seemingly progressive intellectual (Andre Villas-Boas).
Admittedly, there was also Tim Sherwood, whose persona seemed to have come straight from stereotypes of White Van Man, but the abiding lesson was that, if imitation was the sincerest form of flattery, it was not a method for outperforming Arsenal. Sometimes emphatically, sometimes with acts of escapology, Wenger finished ahead of all of them.
Fresh meet
Compared to many of his predecessors, Mauricio Pochettino didn't look like Wenger Lite. He nevertheless succeeded where they failed, overhauling Arsenal and seeing off Wenger with a combination of excellent management and fine timing: a Pochettino near the peak of his powers proved better than a Wenger in decline.
And so, the first North London derby without Wenger since 1996 has an element of novelty: after the years of Tottenham wanting to be Arsenal, perhaps the Gunners now have Spurs as their role models.
Unai Emery was a Pochettino-type appointment, having made his reputation as someone who could overachieve with comparatively limited resources, honed his skills in Spain's supporting cast, and was accompanied by a philosophy based around a commitment to pressing that required fitness. Arsenal are already making a Tottenham-esque surge up the running charts, covering more miles and making more sprints. The statistics are sign of a commitment to collectivism.
They are showing some traits of Pochettino's debut season side; a team in transition who conceded too many goals but who had a propensity to rally and score plenty of their own. Viewed from a distance of four years, it feels strange that Younes Kaboul was the Argentine's first choice as captain just as, in the future, it may look odd that Petr Cech skippered the Spaniard's first sides. The blend of old and new can be uneasy but change has been enforced at both clubs.
SEE ALSO The death of the disciplinarian? Why coaches like Jose Mourinho are losing their touch
Out with the old
Like Pochettino before him, Emery has brought a smiling ruthlessness. The Spurs manager began by selling Michael Dawson, a popular stalwart too slow to man his high defensive line. His Arsenal counterpart started off by exiling Jack Wilshere, a long-serving local seemingly too immobile to operate in his high-powered midfield.
Both inherited clubs that had spent heavily, if incoherently, in the previous couple of years. Pochettino showed a capacity to ignore reputation and price tag alike as he discarded players such as Emmanuel Adebayor, Roberto Soldado and Paulinho.
Each exists as a warning to men Emery has already omitted, such as Mesut Ozil and Henrikh Mkhitaryan. Aaron Ramsey is already certain to depart next summer, as Paulinho did after a year of Pochettino's reign. If there has been a shared message that their teams are not star vehicles, it is reflected in who they have favoured.
The most emblematic figures in Pochettino's maiden campaign were Ryan Mason and Nabil Bentaleb, the comparatively unfamiliar and unheralded midfielders who signalled a change of approach. Their modern-day Arsenal counterparts may be Alex Iwobi and Matteo Guendouzi. Each has the look of a Pochettino-style project; a young player a manager can mould. Each is an opportunity to demonstrate his coaching prowess. In the long term, of course, neither the ill-fated Mason nor Bentaleb were good enough. They were transitional but symbolic selections.
BETWEEN THE LINES Ryan Mason: "I have 14 metal plates in my skull, with 28 screws holding them in place, and 45 staples. And I was a lucky boy"
Improve your lot
Yet they still demonstrated a manager's capacity to improve players, to see the potential in the emerging and have the boldness to pick them.
Perhaps the rejuvenated Rob Holding may provide the best evidence of Emery's case to engineer improvement but, if Granit Xhaka represented an enigma until his appointment, the same may be said of Mousa Dembele before Pochettino arrived. Emery's attacking inheritance looks better than Pochettino's was, though the Argentine's transformation of Harry Kane stands apart as a piece of alchemy.
But that capacity to draw more from players is essential when much of the budget was spent before their appointment. Pochettino has compensated for a lack of flexibility in the transfer market with tactical switches; perhaps, in going to 3-4-2-1 at Bournemouth on Sunday, Emery is doing likewise.
Cleverness is required to cancel out a competitive disadvantage with the genuine big spenders. If the other four members of the big six all spent at least £50 million on one player this summer, neither of the north London neighbours bought anyone for £25 million; infamously, Spurs didn't recruit anyone at all. Now the objective for Emery's Arsenal is one Pochettino's Tottenham have started to master: to secure a top-four finish at the expense of more favoured teams.
If Emery, with his three Europa Leagues, has flagship achievements to his name and the recurring criticism of Pochettino is that, however often he qualifies for the Champions League, he has never won a trophy, it's worth recalling that is a combination which suits Stan Kroenke.
If Tottenham spent years trying to be Arsenal, now Arsenal's task is to be Tottenham.
SEE ALSO Why this season's Real Madrid are a shadow of their former selves
Quizzes, features and footballing fun
Get the best features, fun and footballing frolics straight to your inbox every week.
Thank you for signing up to Four Four Two. You will receive a verification email shortly.
There was a problem. Please refresh the page and try again.