Unpopular Opinion: I'm a Chelsea fan – and we'll be better off without Eden Hazard
Garry Hayes is perfectly happy to contemplate life without the Belgian if and when he decides to join Real Madrid – and here's why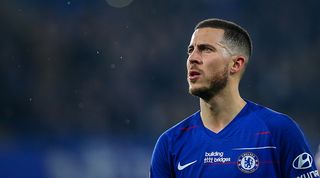 With his match-winning display against West Ham earlier this week fresh in minds, I can already hear the deep intake of breath at the very notion.
Yet for all the moments of genius Hazard has produced in his seven years at Stamford Bridge – including the slalom run that carved open the Hammers' rearguard – the truth is that the Belgian has held Chelsea back.
His signing in 2012 was supposedly a new dawn in the Blues' development as a club. After Chelsea won the Champions League shortly before Hazard's arrival, the previous generation was gradually broken up.
Didier Drogba left immediately for China, while Frank Lampard, Ashley Cole and Petr Cech saw their influence gradually wane. And with the appointment of Rafa Benitez in December 2012, even John Terry had to battle for recognition at the club he had once ruled supreme.
Others suffer
Hazard, then just 21, was the player Chelsea were building their future around. So much, in fact, that the club hasn't signed another player to challenge him since. The signings that have followed have been about complementing his talents in the way any club does when using their star man as a cornerstone.
The likes of Mohamed Salah and Kevin De Bruyne, for instance, have been passed by because managers needed to build a team that ensured Hazard was able to perform. Under Jose Mourinho, that meant the more industrious Oscar as a No.10 and Nemanja Matic being re-signed to stiffen up defensive midfield. So many players were overlooked as they competed with Hazard.
The problem is, for that to pay off and clubs like Chelsea to sustain their success, such a player has to be exceptionally gifted. He's got to be worth the gamble on losing other stars – and Hazard has shown us that he isn't.
The moments of brilliance we saw against West Ham come in fits and starts, which isn't good enough from a player who was, by this stage of his career, expected to be hitting similar heights that Lionel Messi and Cristiano Ronaldo still consistently reach. Hazard doesn't.
Berna-bound
The long-term Real Madrid target has been lauded for the 19 goals he's scored this term, which ranks as his best return in a season at Chelsea.
Yet look at where those goals have been scored: a mere two have come against teams from the Premier League's top six. We can bump that number to three if we include his Carabao Cup strike against Liverpool (another wonderful example of his individual skill, it must be said).
Indeed, after his bright start under Maurizio Sarri this term, Hazard went on his usual goal drought. From October 7 to December 16, he failed to score. In comparison, peak Lampard was regularly netting 20+ goals a season for Chelsea from a deeper position.
"He's the best in the Premier League," was the cry after Hazard's exploits this week. That may be the case – but if it is, it shows how the bar has been lowered at Stamford Bridge.
Pre-Hazard, Chelsea weren't happy unless their best and most important players were the world's top talents in their positions. Lampard was, Terry was, Drogba was: all three were bona fide world leaders in what they did. Hazard? He isn't even close.
Being the best in the Premier League is not what delivers success abroad which, for so long, was the barometer Chelsea measured their success by in the first decade of Roman Abramovich's ownership.
It wasn't enough for managers to win the Premier League and compete domestically; Chelsea had to achieve success in Europe and be among the leading clubs. And they did, winning the Champions League in 2012 having previously reached five semi-finals, and losing the 2008 final on penalties to Manchester United.
Nowhere near
With Hazard as their leading light, Chelsea have reached just one Champions League semi-final, in 2014. Even then, Jose Mourinho blamed him for a goal and declared that his player wasn't "the kind ready to sacrifice himself 100 per cent for the team and his mates".
Chelsea haven't been close since. The Blues' transfer policy has been about maintaining Hazard's position at the club, bowing to him so that his status was maintained.
It's been admirable from Chelsea, but equally the club's downfall. They've brushed off Madrid's interest, but at what cost? As we've seen from the recent sales of players such as Phillippe Coutinho, a club losing their talisman isn't always the travesty it's made out to be.
Since Coutinho departed nearly 18 months ago, his £142 million transfer fee has helped bring in Virgil van Dijk and goalkeeper Alisson. We need not go into how influential both have been in Liverpool becoming one of Europe's strongest sides right now, let alone the Premier League's.
It can't be denied that Hazard has been a fine servant for Chelsea. Should they lose him this summer, however, it shouldn't be billed as Armageddon. It will sting, but with Callum Hudson-Odoi showing rapid progress and the club looking at other up-and-coming talents, Blues fans shouldn't panic.
Then read...
UNPOPULAR OPINION Why the Europa League is better than the Champions League
PROFILE Why Napoli's Kalidou Koulibaly will be Europe's most in-demand centre-back this summer
While you're here, why not take advantage of our brilliant new subscribers' offer? Get 5 copies of the world's greatest football magazine for just £5 – the game's greatest stories and finest journalism direct to your door for less than the cost of a London pint. Cheers!
Quizzes, features and footballing fun
Get the best features, fun and footballing frolics straight to your inbox every week.
Thank you for signing up to Four Four Two. You will receive a verification email shortly.
There was a problem. Please refresh the page and try again.