Why Cristiano Ronaldo has been Real Madrid's major problem this season... but he can also be their solution
It's been a wretched season for Real Madrid, but Thore Haugstad explains that all is not lost - providing Cristiano Ronaldo has his shooting boots on for a crunch Champions League tie against PSG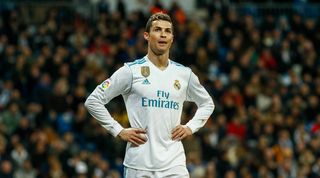 Steve Bruce would make for an unlikely advisor to Zinedine Zidane, but the Aston Villa boss does have one saying that rings true for Real Madrid: "You're only as good as your strikers." Give a manager a forward who keeps missing and he might struggle. Give him two such players, and you get the kind of scenario where even the Spanish champions crash and burn.
The decline of Madrid has baffled many. Los Blancos sit fourth in La Liga, 17 points behind Barcelona, and were recently dumped out of the Spanish cup by Leganes. The coach and most of the players are the same that won the last two editions of the Champions League. Somehow, they're just not playing well.
Or are they? As a team, Madrid don't seem to have gone off the boil completely. Some individuals have, however. Above all Cristiano Ronaldo, the top scorer, who might at once be considered their problem and their solution.
Covering the cracks
No part of Madrid's team has underperformed as much as the strikers. Watch the defence and you'll see a disorganised bunch who ship about a goal per league game; check the figures and you'll find that they were just as shaky last season. In fact, Madrid concede 0.03 goals fewer per game now than when they won the title.
As for chance creation, Madrid remain the best in the top five European leagues. They unleash 19.4 shots per league game, more than Manchester City (18) and far more than Barcelona (15.4). Playmakers Luka Modric and Toni Kroos are still pulling the strings; Marcelo and Dani Carvajal are still raiding the flanks. There's just nobody there to stick the ball in the net.
And that seems to be the issue. Madrid have scored 50 goals in 22 league games, a decrease of 0.52 per game from last season. While 50 goals is clearly decent, Madrid need more, because their attacking ways demand that the strikers make up for inevitable defensive cracks. Cautious coaches might make do with one goal and win 1-0. Zidane often needs three or four.
This risky style would ostensibly put pressure on all of Madrid's strikers, but their hierarchy is such that most of the burden rests on one man alone.
Ronaldo dependence
For this is the way Madrid have been designed: everything revolves around Ronaldo. The centre-backs look for him with balls over the top, the full-backs swing in crosses, while dribbling wingers set him up with cut-backs. Kroos and Modric stand at his service. Karim Benzema, his partner up front, gives him space with link-up play and distracting runs (or is at least supposed to).
This is the kind of service that has helped Ronaldo score so many goals for so long. He demands it, because he wants to be the focal point and score enough to be named the best player in the world. Madrid accept it, because it makes sense to hand the big chances to the best finisher. With three Champions League titles and three Ballon d'Ors won in four years, the arrangement has worked well for both parties.
This season, however, the reliance on Ronaldo has increased. The reason is partly because the forwards who used to chip in with goals contribute less: Gareth Bale has suffered injuries, Benzema has looked lost and Alvaro Morata has been sold to Chelsea.
And so Ronaldo has struck 6.8 shots per game, by far the most in the top five leagues, and an increase of 1.2 from last season. Out of Madrid's 250 attempts from inside the box, he has recorded 84 – a share of 33%. The rest have mostly been fired by players not tasked with scoring, such as defenders via set pieces or midfielders running into the box. In other words, Zidane has never been more dependent on Ronaldo converting his shots.
At which point the Portuguese has endured one of the worst spells of his career.
Heavy burden
His inefficiency has been inexplicable. By mid-January, the lowest point of Madrid's season so far, Ronaldo had scored four goals from 94 shots in La Liga. One had been a penalty, another a penalty rebound. His shot conversion, which is usually between 15% to 20%, stood at 4.3%.
This has cost Madrid. Sometimes they have played badly and dropped points; more often they have created enough chances to win. In two of their home defeats, to Real Betis and Villarreal, Ronaldo notched up 12 and 11 shots respectively without scoring. Had Madrid not threatened at all, their problems would have seemed more profound. When shot after shot misses the target, you start to look at who is firing them.
Ronaldo hasn't been alone in wasting chances. Benzema has scored twice in 16 league games, an unbelievable record for all the wrong reasons. The Madrid board must take responsibility for selling Morata, who hit 15 league goals as a substitute last season; and Mariano, who has hammered in goals for Lyon.
This season was the first that no Madrid player had scored more than four goals after 17 league games. It did not only highlight Ronaldo's woes, but also how none of his team-mates had stepped up to lighten the burden.
While Bale might help out more now that he's back, Madrid will continue to rely on Ronaldo's finishing given the chances that come his way. The good news for Zidane is that Ronaldo has struck seven goals in his four league games since mid-January. On Saturday, he scored a hat-trick as Madrid returned to their old ways, crushing Real Sociedad 5-2 at the Bernabeu.
That win went down as a promising dress rehearsal for their Champions League tie with Paris Saint-Germain, as much because of Ronaldo's display as that of the team. Should he continue to recover his form in the coming weeks, Madrid should be able to do the same.
Thank you for reading 5 articles this month* Join now for unlimited access
Enjoy your first month for just £1 / $1 / €1
*Read 5 free articles per month without a subscription
Join now for unlimited access
Try first month for just £1 / $1 / €1