Why EVERYONE suddenly wants Thomas Lemar – and who he should sign for
Devastating shooting, passing and pressing: why the least appreciated of Monaco's young stars is being linked to a string of top Premier League clubs and beyond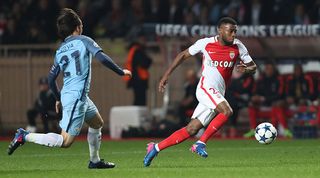 Monaco were without doubt the most delightful team to watch in Europe last season. The Ligue 1 club ended PSG's era of dominance in awe-inspiring style, racking up 95 points and scoring 107 goals – making them the second-highest-scoring side in Europe's top leagues after Barcelona.
Led by astute Portuguese head coach Leonardo Jardim and enriched with electric young players, the Monegasques also made their mark in the Champions League by eliminating Manchester City and Borussia Dortmund in the knockout stages, and reaching the semi-finals.
Teenage sensation Kylian Mbappe, the resurrected Radamel Falcao and midfield maestro Bernardo Silva were the stars mostly stealing headlines in Monaco's impressive campaign. Even the likes of Fabinho, Tiemoue Bakayoko and Benjamin Mendy have been highly praised for their contributions in their team's success.
Thomas Lemar, however, was somehow in the shadow of his team-mates throughout the season, despite being an instrumental member of the squad. The 21-year-old notched up an incredible 14 goals and 17 assists in all competitions last season, yet those numbers tell only part of the story of how integral he has been, and how much he brings to his team.
If the media didn't show enough attention last season, the same cannot be said about clubs who are acknowledging his talents. Earlier this year, there were rumours of Juventus, Manchester City and Chelsea scouting the player, but it seems the interest for the young Frenchman is reaching its peak this summer.
Premier League heavyweights Arsenal, Tottenham and Liverpool are now strongly linked with the France international, and we might soon witness another player making a switch from the French Riviera to England.
Supporting artisan
Since making a move from Caen in 2015, Lemar has been used in a number of different positions at Monaco. He's played in a midfield of two and three, before finally settling last season on the left flank in their 4-2-2-2 formation, where all of his qualities came to the fore.
As a left-footed footballer, you might assume that he was operating as a traditional winger, but Lemar's style and role in Jardim's system is different. He often drifts inside, inviting left-back Mendy to make runs beyond him, or he drops deeper to let Mbappe roam from his position in attack. Lemar combined perfectly with both of these players in the final third, with their movement having caused confusion for opponents.
The 21-year-old has excellent vision and boasts a good range of passing – he's capable of unlocking defences with his pinpoint crosses from almost anywhere on the field. His left foot can be devastating when he shoots from distance, or when he's taking free-kicks.
Lemar also has admirable acceleration and the ability to dribble past markers, but he doesn't force his runs. He's intelligent, and due to his neat first touch and assured ball control in tight areas, he knows when to pick his moments.
The youngster was a creative force for his team alongside Bernardo Silva, who joined Manchester City this summer. However, one of his notable improvements last season was his willingness to help out his team-mates defensively, whether putting pressure on the opposition or tracking back.
Small wonder, then, that so many Premier League clubs want him in their ranks, having showcased the extent of his talents when Monaco faced English teams in Europe. Lemar scored in both games against Tottenham in the Champions League group stage, and was a key figure in two mouthwatering matches against Manchester City, where he provided two assists.
He has already represented France five times, and it would be surprising if he doesn't feature at the 2018 World Cup in Russia, despite stiff competition for squad places.
Who should he join?
The list of Lemar's potential suitors has increased rapidly, and although he's been linked with numerous clubs across the continent, it's believed that Arsenal, Tottenham and Liverpool are favourites for his signature if the midfielder does leave the French champions this summer.
At Arsenal, Arsene Wenger is in need of a creative attacking midfielder for next season, particularly due to the uncertain future of his two biggest stars in Mesut Ozil and Alexis Sanchez. Even if they stay, however, they could form a deadly trident in attack with Lemar. The former Caen player is brilliant at anticipating the movement of – and combining with – players who possess flair and intelligence, similar to the likes of Ozil and Sanchez.
One player who would definitely benefit from Lemar's presence in the team is Olivier Giroud. Since his move from Montpellier, Giroud has arguably never had a player who could fully utilise his aerial ability and other traits as a striker. With Lemar and his precise crosses, things could finally change for the 30-year-old French forward.
At Tottenham, Mauricio Pochettino is mainly using two formations – a 4-2-3-1 and a 3-4-2-1 system. Lemar would face strong competition from Son Heung-min on the left flank. The South Korean had a remarkable campaign with 21 goals and 10 assists in all competitions, but the pair are different types of player, and in many aspects the young Frenchman surpasses Son. The ex-Bayer Leverkusen player is superb at what his does – cutting in from wide, making perfectly timed runs behind backlines and finding himself in a lot of goalscoring opportunities.
Yet despite his notable numbers, there's a sense that Son is missing something from his game. The difference is that Lemar is proactive with his passing and more creative than the South Korean, given time. Last season, the Monaco star produced 2.2 key passes, 1.6 crosses and 2.3 long balls per game, while Son carved out 1.3 key passes, 0.4 crosses and 0.6 long balls.
Another area where Lemar is better than Son is in how they execute their defensive duties. Lemar makes 1.4 tackles and 0.9 interceptions per game; Son 0.6 tackles and 0.2 interceptions. Pochettino already has a well oiled-machine up front with Harry Kane, Delle Alli, Son and the indispensable Christian Eriksen as conductor behind them. If they add Lemar and he fits in well, Spurs could become even more of a nightmare to cope with next season.
At Liverpool, it may be trickier to find a suitable place for Lemar in Jurgen Klopp's tactics. The Reds' typical formation is 4-3-3, and one way to fit the Frenchman into a starting XI is to deploy him alongside Roberto Firmino and Sadio Mane, on the left side of the attacking trio. This would mean that Philippe Coutinho would move deeper into midfield.
RECOMMENDED
6 bargains from Serie A who'd make perfect Premier League transfers
Sergej Milinkovic-Savic: Liverpool transfer target who's had a Pogba-like impact on Serie A
Although Lemar could successfully fulfil the counter-pressing demands that Klopp requires from his team, the impression is that his talents in attack would be wasted without the presence of an out-and-out striker at Liverpool. Lemar has the experience to play in a midfield three, and that could be an alternative solution, but his displays there are not the reason why he's one of the most sought-after players in Europe today.
Whether the young midfielder does move this summer (as seems increasingly likely) or stays at Monaco for another year, his future looks as great as the belated clamour around him.
FourFourTwo verdict: With their fluidity and flying full-backs, Tottenham feel like perfect suitors for Lemar. They can offer Champions League football where Arsenal can't in 2017/18, and are desperate for an injection of this kind of quality to bolster their squad for another title assault. Son looks set to miss the start of the season with a broken arm.
Thank you for reading 5 articles this month* Join now for unlimited access
Enjoy your first month for just £1 / $1 / €1
*Read 5 free articles per month without a subscription
Join now for unlimited access
Try first month for just £1 / $1 / €1