Why Liverpool fans sing 'You'll Never Walk Alone'
Paul Brown explains the history behind Anfield's anthem and why the Reds adoped it for their own...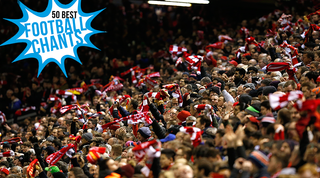 Few songs are so closely associated with a football club as You'll Never Walk Alone is with Liverpool. A communal anthem of triumph over adversity, it seems particularly suited to ever-hopeful football fans crammed on to a terrace, although it actually began life as a Broadway showtune, in the 1945 Rodgers and Hammerstein musical Carousel. The best-known recording of the song, though, is a 1963 pop version by Liverpool's own Gerry and the Pacemakers.
There's some debate over when You'll Never Walk Alone was first sung by Liverpool fans, who were well known for crooning pop songs on the terraces throughout the 1960s. Anfield was one of the first football grounds to have a DJ, and fans would sing along to a pre-match countdown of the latest top ten hits, many of them by local favourites such as The Beatles, Cilla Black – and Gerry and the Pacemakers.
CHANTS Ever sung this at a match? What's the best club song of all time? #FFTBestChants#Liverpool#YNWA@LFCpic.twitter.com/xgkE3NdjOb
— FourFourTwo (@FourFourTwo) 21 March 2016
You'll Never Walk Alone entered the Top 10 ahead of a home game against West Brom on October 19, 1963, and that may have been the first occasion fans sang along with the song. Two weeks later it was No.1, so was played just before kick-off against Leicester. The song spent four weeks at No.1, and nine weeks in the Top 10, but fans continued to sing it long after it dropped out of the charts.
Terrace anthem
50 Best Football Chants
Gerry Marsden and his mates certainly helped turn You'll Never Walk Alone into a terrace anthem, although some fans recall singing the song before Gerry ever recorded it. By their accounts, Liverpool fans first sang the song after an FA Cup semi-final defeat against Leicester at Hillsborough on April 27, 1963, almost six months before Gerry's version hit the charts. So how could that be?
Well, You'll Never Walk Alone didn't sit around waiting for some Scouse moptops to record it. A lament sung for the family of Carousel's male lead Billy Bigelow, who dies during an attempted robbery, the song was popular and effective right from the start; no less a songsmith than Irving Berlin compared it to the 23rd Psalm ("The Lord is my shepherd, I shall not want"). In 1956, Carousel had been turned into a popular movie, and You'll Never Walk Alone had been covered by Frank Sinatra, Doris Day and Shirley Bassey, so fans would have known the song before Gerry took it into the Top 10.
Whatever the inspiration, by 1965 Liverpool fans could be heard belting out You'll Never Walk Alone at Wembley during the FA Cup Final win over Leeds, with TV commentator Kenneth Wolstenholme referring to the song as "Liverpool's signature tune". It was subsequently adopted by Celtic fans, after a 1966 Cup Winners Cup semi-final at Anfield, and is sung today by fans of Borussia Dortmund and several other clubs, but 'YNWA' remains enduringly and indelibly linked with Liverpool.
Check out where YNWA finished in our 50 best football chants here
Thank you for reading 5 articles this month* Join now for unlimited access
Enjoy your first month for just £1 / $1 / €1
*Read 5 free articles per month without a subscription
Join now for unlimited access
Try first month for just £1 / $1 / €1
Get FourFourTwo Newsletter
The best features, fun and footballing quizzes, straight to your inbox every week.