27 essential Fantasy Premier League tips from old winners and experts
Don't miss the Friday deadline! Featuring top player picks and strategic advice for 2019/10 from ex-champions and the best fantasy football tipsters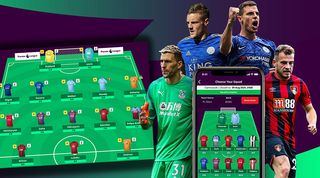 Want to boss the work fantasy football league this season? Of course you do – because you know that if Mike from accounts wins again, you'll be furiously trawling for jobs on LinkedIn faster than he can squeal 'Ryan Fraser!' again. 
Read on with these insightful Premier League fantasy football tips. Heed advice from people who've taken home the trophy and write about it weekly on the best players to pick, how to use the Fantasy Premier League features best and much more. Remember: the deadline is Friday, August 9 at 19:00 (BST). 
When you're done, there's plenty more content to feast on. The team at @FantasyYIRMA are back with their Fantasy Premier League bargains: cheap defenders, midfielders and forwards; we've got you covered with these excellent (and awful) fantasy football team name ideas; while Niall Hawthorne tells you the nine things that will definitely happen to you this fantasy football season.
Don't miss them...
Part one: Player tips
By John Wallin (aka @FantasyGaffer) from our good pals at FantasyYIRMA – covering fantasy football since 2012
Lucas Digne, Everton (DF, £6.0m)
The Frenchman scored 158 fantasy points in 2018/19 – the joint-7th-highest total among defenders – and showed phenomenal attacking potential in recording five fantasy assists and scoring four goals. With 13 clean sheets on top, you're getting peak Leighton Baines for the price of current Antonio Rudiger.
Ricardo Pereira, Leicester (DF, £6.0m)
Like Digne, Pereira is a defender with the mindset of a wide midfielder. The Portuguese pocketed 10 clean sheets and six assists last term but should better his tally of two goals and 22 bonus points this time around. 
Cesar Azpilicueta, Chelsea (DF, £6.0m)
'Dave' hasn't been available for this price since the 2016/17 season (truly, Maurizio Sarri's impact on this Chelsea side is historic). Azpilicueta recorded one goal, six assists and 16 clean sheets last season, but his price has dropped £0.5m this year. FPL managers tend to favour lightning-quick full-backs – of which the Spaniard is famously not one – but he is worth more than this and has been the most consistent source of defensive returns for half a decade.
Trent Alexander-Arnold vs. Andy Robertson, Liverpool (both DF, £7.0m) 
Oh, but those young flyboys and their incorrigible attacking antics. Everyone wants to own at least one – but which? If not for Robertson, Alexander-Arnold's 13 fantasy assists would make him a shoo-in. His Scottish team-mate, however, scored a massive 213 points with 12 assists of his own. 
TAA is the more attractive option; the least-owned of Liverpool's top defensive trio (29%) and the only one with both offensive and defensive upside. He played 'just' 2,460 minutes last season in securing the third-highest DF total last season.
Gylfi Sigurdsson, Everton (MF, £8.0m)
Last season, Sigurdsson trailed only Crystal Palace's penalty machine Luka Milivojevic on a points-per-million basis. Everton have six winnable matches before hosting Manchester City on September 29, including promoted sides Aston Villa and Sheffield United. They also open the season at Crystal Palace – against whom Sigurdsson has three goals and four assists in just nine appearances. He may be the Iceman, but he should start hot and stay hot.
Ryan Fraser, Bournemouth (MF, £7.5m)
@FANTASYYIRMA
Following consecutive fantasy coverage across seven years and more than 250 gameweeks, FantasyYIRMA are confident in saying they've wasted a large portion of their adult lives on fantasy football
Fraser's price has put a few people off, but £7.5m is pittance for the player who trailed only Raheem Sterling in assists last season. Even better, Fraser actually led the EPL in Expected Assists (that's xA for you non-nerds) and should be priced level with Sigurdsson (£8.0m) based on his potential this term. Plus, he gets two promoted sides in the first two weeks. You can always sell him in September.
Kevin De Bruyne, Manchester City (MF, £9.5m)
Two years ago, De Bruyne scored eight goals with 18 fantasy assists. One injury-riddled campaign later and his 12% ownership is 12th for midfielders, behind both Bernardo Silva and Sterling. He hasn't opened a season for less than £10m in four years, but can be had for a snip this term. City's schedule doesn't get choppy until November, by which time you'll have had ample time to regret not buying him at the start.
Mo Salah, Liverpool (MF, £12.5m) vs. Raheem Sterling, Manchester City (MF, £12.0m)
Everyone has tried to fit both Salah and Sterling into their side, but fielding a backline of four Sebastien Squillacis for it is tough to stomach. Mo may have a couple Golden Boots and a player-of-the-year gong and… well, actually that's plenty of reason to take him over Sterling. 
It's no knock on the sublime City 'midfielder' – and really, get them both if you can – but Salah's early exit from the AFCON, coupled with Sadio Mané and Roberto Firmino's late returns to training, means Klopp will once again count heavily on his Egyptian king. 
Sergio Aguero, Manchester City (FW, £12.0m)
Every year Aguero is doubted by the haters and the losers. This season there are fewer high-quality discount options up front, so investing in one – or preferably two – proven scorers is key. Aguero has managed five 20+ goal seasons on the bounce despite never breaking 2,600 minutes in a campaign. How good is he? Last season he played 700 fewer minutes than Salah but scored just one fewer goal. 
Pierre-Emerick Aubameyang, Arsenal (FW, £11.0m)
If you hate advanced stats, you probably haven't read this far (and also kick puppies or something). But Auba led the Premier League in Expected Goals (23.55) and should have won the Golden Boot instead of getting a 33% slice. The 30-year-old has bagged 22+ goals in three of his last four seasons – including a massive 31 in 2016/16 for Dortmund – and also led all forwards in bonus points last season (32).
Sebastian Haller, West Ham (FW, £7.5m)
Haller may not fit the profile of the 20+ goalscorer FPL managers typically covet, but he does fit the mould of last season's breakout forward Raul Jimenez. Like the Mexican, he's capable of scoring and assisting goals in equal measure. Last term he netted 15 and laid on nine more for team-mates. Expect Haller to claim the majority of minutes leading the Hammers' line, and all the spoils that come with it.
Callum Wilson, Bournemouth (FW, £8.0m) vs. Harry Kane, Tottenham (FW, £11.0m)
Wilson finally had his breakout season – added in no small part by Fraser also enjoying one of his own – but is priced up at just £8.0m. The Cherries open against two promoted sides and face only one top-six team in their opening seven fixtures. Kane (£11.0m) has stiffer competition in Manchester City, Arsenal and Leicester. Take Wilson early, then capitalise on Kane's mid- and late-season heroics... well, later.
Part two: 10 key tips for success
The expert Fantasy Football Scout site (whose members include three previous FPL winners, including 2018/19 champion Adam Levy; they also won the FPL league of leagues again) have shared their top tips per position for the season ahead. Take a look at these and you won't go too far wrong...
1. Did they play during the summer?
Consider the summer internationals when constructing your initial squads. A number of players will have been late back to first-team training after major tournaments. Keeping an eye on the teamsheets for recent friendlies should help steer your opening selections.
2. Who are the best promoted players?
Assess the main players from the promoted sides. These teams always tend to offer kindly-priced options that help free up cash to spend elsewhere. Look for regular starters on set-piece or penalty duties and pinpoint defenders who perform well for clearances, blocks and interceptions, which helps their bonus point potential.
3. Who will be this season's bolters?
Analyse the player list. As Bournemouth duo Ryan Fraser and Callum Wilson proved last season, there are typically one or two players who emerge from the budget bracket to cement a role in our starting XIs. Pinpointing any players who are wrongly classified and playing in a more advanced role can also give us the edge – a 3-5-2 could allow certain full-backs to be pushed up into midfield, for example.
4. Which big club players to go for?
Utilise your three-player allocation for the top clubs wisely. N'Golo Kante is a popular pick due to his budget-friendly price tag but generally offers little attacking threat from the centre of midfield. Focusing on the goal-getters or raiding defenders should reap greater rewards.
5. Forget the new signings
Don't go overboard on new arrivals. It's easy to succumb to the allure of a big-name signing, but there's a definite risk in overloading your squad with players unproven in the Premier League. Give them time to acclimatise and then reconsider if they show signs of settling.
6. Which games to target?
Always keep an eye on the fixtures. Those teams with favourable upcoming schedules are more likely to bring in the points, so it's wise to be aware of runs of easy or tough fixtures and plan your transfers accordingly.
7. Always check the injury news
A long-term lay-off can suddenly promote players from the fringes and has the potential to offer us a cheap option with the security of starts.
8. You'll need a strong bench
Keep your squad well stocked for Christmas. The threat of rest and rotation is rife over the festive period and strong benches are essential as top-flight managers shuffle their options to cope with the hectic fixture list.
9. When to cash in your 'chips'
Be patient with your three Chips. Both the 'Triple Captain' and 'Bench Boost' chips are particularly effective when wielded during double gameweeks. These are best played when explosive options such as Raheem Sterling or Mo Salah are handed a pair of fixtures in a gameweek to maximise their points potential.
10. Watch out for influential players
Watch the matches. Studying the statistics can help to an extent but there's nothing quite like scouting your targets in action to help guide those vital transfer decisions.
Part three: General tips from an ex-winner...
Pick loads of left-backs, says Greg Wright, who previously won the Telegraph's £40k prize. Oh, and don't make changes after being at the pub...  
1. Have a solid pre-season
"You need to do your research, starting in the summer. A few weeks before the season starts I'll look at injury news, transfers and so on, trying to find those unknown players that other people miss. Then in the last week of pre-season, when it's still unlimited transfers, I'll just start throwing players in, tossing teams around – you're looking for that good combination to start with. Once you're happy with your team – unless someone's injured – then it kind of manages itself."
2. Don't be afraid to gamble...
"It's no good having the same team as everyone else. In defence, a lot of people go for five players from different teams, playing it safe. I'll go for three from one, two from another. I'm only relying on two teams to keep a clean sheet then. You have to gamble a bit, especially at the end of the season. Don't be afraid to take form players out when they've gone cold – especially if you know most people around you have them in their teams."
3. But be mean in the market
"Think like a real manager. A player might have a goal spurt, but is he actually any good? Would you normally want to buy him? You want the maximum games out of potential signings, so look at their upcoming fixtures, possible suspensions – no matter how desperately I want someone, I won't buy them if they're on four bookings. And, most importantly, don't make drunken decisions at 1am. I've done that before."
4. Ignore reputations
"The best players don't always make the best team. I used to fall for the flashy, skilful players, but they weren't earning enough points, and in most games defensive midfielders never win any. Attacking full-backs are always good, because you might get points at both ends – I played three left-backs in some games. And this is something I got over a long time ago: don't ignore players just because you don't like them." 
5. Recharge the batteries
"People's teams usually go wrong when they forget about them, so I have a regular routine. Thursday and Friday, I'll follow the managers' press conferences and check the predicted line-ups. There are also some good Fantasy Football websites. But as soon as the weekend games are finished, unless there are midweek fixtures, I switch off until Thursday again – you get too into it otherwise. And I stop altogether in June. It's a long season. You need a life as well."
While you're here, why not take advantage of our brilliant subscribers' offer? Get 5 issues of the world's greatest football magazine for £5 – the game's greatest stories and finest journalism direct to your door for less than a pint in London. Cheers!
NOW READ
FUN The best football quizzes on the internet with FourFourTwo... every day
LIST Our 50 favourite football shirts... EVER
GAMING FIFA 20 news: what we know so far about release date, demo, Volta and more