Why scepticism of Liverpool's owners is flawed… for now
This Is Anfield's Matt Ladson explains why FSG deserve the benefit of doubt – at least for the time being, anyway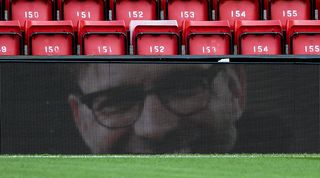 Football fans, perhaps with good reason, tend to be sceptical of their club's owners. And after the nightmare reign of American owners Tom Hicks and George Gillett, it's not surprising that Liverpool fans are more suspicious than most.
It's against the backdrop of Hicks and Gillett's short-lived tenure that Fenway Sports Group (FSG) have been judged since they purchased the club from under the noses of their compatriots in 2010.
The last 18 months have represented a positive time for FSG: in that time, Liverpool have appointed a world-renowned manager in Jurgen Klopp, reached two cup finals and provided a solution to the long-running issue of how to increase Anfield's capacity.
Add in the appointment of a sporting director and the announcement of a new £50 million training facility – two moves that Klopp had a significant say in – and the picture is even brighter.
Why, then, is scepticism among Liverpool's fanbase at an all-time high? There seems to be two key reasons for this, both of which are explored below.
1. The net spend argument
That Liverpool made a profit in the transfer market last summer has clearly irked many, but with Klopp repeatedly insisting he's very happy with the transfer dealings, how can this be something that's used against the ownership? The German spoke of his desire for a smaller squad this season, and Liverpool then set about getting some very good fees for the deadwood in their group.
The Reds spent £30m on Sadio Mane, but recouped almost all that by offloading the unsuited Christian Benteke for £27m. Georginio Wijnaldum arrived for £23m, which was largely covered by the sales of Jordon Ibe (£15m) and Brad Smith (£6m) to Bournemouth. The £13m for Joe Allen, £5.5m for Martin Skrtel (with Joel Matip arriving on a free as his replacement) and £8m for perennial loanees Luis Alberto and Tiago Ilori may skew the net spend figure, but it's hard to say the squad wasn't improved.
The truth is, Liverpool did some excellent business and received good prices for players Klopp didn't want, while also reducing squad size as the manager desired. Wijnaldum, Mane and Matip have already shown enough to prove that they were astute purchases, so why should this be used against the owners? It's illogical. Would it have been OK had Benteke et al. been sold at lower prices and thus a 'profit' not made?
2. Anfield Road End expansion
The Anfield Road End development of Anfield's expansion, for which the club have planning permission, has always been subject to the success of the Main Stand. Admittedly, comments by principal owner John W. Henry in September last year that "ticket prices are an issue in England" were, at best, ill-advised and won't endear him to supporters.
Henry suggested, seemingly in response to the fans' protests over rising ticket prices last season, that this issue "may foreclosure further expansion". This was followed by comments from departing CEO Ian Ayre that "a stand behind a goal doesn't have the benefit of hospitality that would go a long way to meet the redevelopment costs".
This is where FSG do themselves no favours. The Anfield Road End was always intended to be general admission only, so why would hospitality be part of the discussion now? Surely their original plans weren't contingent on hospitality.
When FSG (then NESV) bought the club in 2010, temporary Liverpool chairman Martin Broughton said that there was "definitely a commitment to invest in a stadium and we will finish up with a 60,000-plus seater one" – whether that be by expanding Anfield or building a new ground. FSG were right to opt for the former, but they must now deliver on the 60,000-seater arena they promised.
Despite the angst, though, Liverpool's director of operations Andrew Parkinson insists that plans for the Anfield Road End haven't been shelved and recently said that discussions are ongoing behind the scenes. Given that the new Main Stand isn't actually 100% complete yet, it's a bit too soon for fans to be up in arms about whether phase two will go ahead. Why not wait and see what happens before the outrage?
And so, to the future – and what happens next...
The future
This isn't to suggest FSG haven't made mistakes – of course they have, including placing too much trust in Damien Comolli, sanctioning the much-ridiculed Being:Liverpool documentary, waiting too long to sack Roy Hodgson and coining the phrase 'transfer committee'.
Those faults, though, were primarily in the early years of their tenure and decisions made more recently have been much better. When we reach 2020, after 10 years of FSG owning the club, they will have appointed a world-class manager, resolved the 20-year problem of the Main Stand and built a new training facility. Those are strong, long-term investments for the infrastructure of the club; Liverpool will patently be healthier in 2020 than they were in 2010.
In order to stem the tide of scepticism, though, FSG need to address the two major claims levelled at them above.
READ MORE
FourFourTwo's water-carrying XI: 11 quietly-brilliant stars who never really got the credit they deserved
The making of N'Golo Kante, by those who witnessed his incredible rise
Chelsea fans' taunts won't bother Jose Mourinho – he's only ever loved himself anyway
Firstly, an announcement on the expansion of the Anfield Road End and its timeline would give them significant breathing space. At a recent supporters club meeting, the figure of 62,000 was mentioned by the club – and this would certainly be a positive step in the right direction.
The second one is less black and white and involves financial outlay in the transfer market, which is somewhat out of their hands. Let's not forget it wasn't FSG's fault that Liverpool produced three awful penalties in the League Cup final last season, then capitulated when 45 minutes away from qualifying for the Champions League in May.
But should Klopp's side secure that all-important top-four finish this term, FSG must back him in the transfer market, both in terms of fees and wages. Julian Brandt is a leading target for the manager and the club should do everything in its power to sign the talented young German. A new centre-forward and another centre-back would see Liverpool enter 2017/18 in the best shape they've been in since 2008.
It's certainly a big few months for the Reds, both on and off the pitch.
Thank you for reading 5 articles this month* Join now for unlimited access
Enjoy your first month for just £1 / $1 / €1
*Read 5 free articles per month without a subscription
Join now for unlimited access
Try first month for just £1 / $1 / €1