Why Spurs are actually better off when Dele Alli plays deeper
The teenager is enjoying a spectacular debut season at White Hart Lane, but John Robertson argues that Mauricio Pochettino should keep him back to draw out his best form...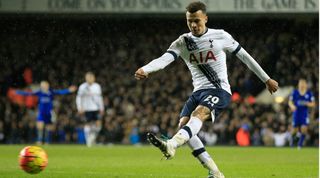 Without question, Dele Alli is one of the most promising young English players around. Also without question is the potential for his Tottenham side to end the season as Premier League champions, a feat that would reward what has been an impressive two-year stewardship from manager Mauricio Pochettino.
However, if the latter is going to come to pass, the former needs to be fully harnessed. Without Alli in full flow, Spurs' chances of winning that elusive first Premier League title are greatly damaged.
Talented youngsters are a staple in the modern game, but rarely do you come across an example who is so vital to their team's chances of success in the immediate term.
The likes of Wayne Rooney, Lionel Messi, Cristiano Ronaldo, Francesco Totti et al were all (rightly) highly rated, but they weren't expected to carry the expectations of a team on their young shoulders when they first broke into their respective starting lineups.
But while Alli isn't necessarily served with having to bear the full weight of Tottenham's title chances, his performances often dictate those of his fellow (older) team-mates. As a result, Pochettino's decision of where to play him and how to utilise him takes on a rather grand dimension in comparison to even those illustrious aforementioned teen stars of past years.
Utility man
Part of Alli's success is down to his versatility and wide range of abilities. On the offensive side he can dribble with speed, shoot from close and long range and draw a lot of fouls in dangerous positions (allowing the likes of Christian Eriksen plenty of opportunities from set-piece situations).
Defensively he has great ability, but more importantly his impressive positional awareness allows him to both make plenty of interceptions and cover his team-mates when they drift out of position – which they often do under Pochettino's fluid structure.
Even against a well-organised Watford team at the height of their powers just before Christmas, Alli managed to dominate on the defensive side.
However, this diversity of talents means that he is often the first player to be moved into a new position when someone else in the starting lineup is unavailable through injury or suspension. This season he has lined up in attacking wide positions, behind the striker and in a central midfield role alongside either Eric Dier or Mousa Dembele.
While he's shown himself to be capable across all of the positions that he's taken up, it's that central midfield role that has really allowed his ability to shine and where Pochettino should make a concerted effort to play him.
Deep threat
Alli is at his best when he has space to run into and defenders to attack at speed. Since the return of Dembele in early January, however, he has been playing as part of an attacking three – alongside Eriksen and either Erik Lamela or Son Heung-min – behind striker Harry Kane.
Clearly, Pochettino is a fan of Dembele and is therefore looking for ways to work him into the team without removing Alli. However, by positioning the 19-year-old further forward in order for Dembele to play in central midfield alongside Dier, Pochettino is limiting his team's impact.
This was evident to a startling degree in Spurs' 3-1 victory at Crystal Palace. During the first half, Alli played in the aforementioned attacking three in front of Dembele and Dier. However, with Palace taking more control of the game as it wore on, Dier was brought off in place of Nacer Chadli early in the second half.
Chadli took an advanced position and Alli was moved back to partner Dembele deeper in the formation. The change to Spurs' tempo, decisiveness and creativity was immediate.
Alli's personal role in this improvement was clear: his involvement in all offensive areas of the game increased dramatically following his positional switch.
Both his passing and shooting increased in volume and variety, hinting at the stunning ability he has to take advantage of space left by defenders. In a deeper role Alli is afforded a wider view of the pitch, allowing him more opportunity to identify areas that are either already absent of opposition or are soon going to be.
Move out of No.10
One of the reasons Alli is able to make such good use of the space in front of him is that, when playing in central midfield, he is positioned behind some of the league's most dangerous and intelligent passers.
Eriksen's ability to retain possession and feed the ball into tight gaps within his opponent's half is well-documented, but Son, Kane, Chadli and Lamela are all also up to the job. Kane, in particular, is hugely underrated as a passer and it's about time more people celebrated him as the well-rounded forward he is.
With defenders rushing to close down Spurs' attackers with every successful pass made, holes open up in the defensive lines for Alli to launch into. When he plays immediately behind Kane, in a role vaguely resembling a No.10 it becomes difficult to attain that panoramic view of the space around the box required to make his trademark late runs between defenders.
Essentially, Alli seems to suffer from claustrophobia when he plays too close to an opposing defensive line.
However, making use of his talents isn't the only reason for dropping Alli back. There is also an argument to be made for him playing in a central role doing a better job of muting his weaknesses.
If there's one area of his game that needs improving it's his ability to play intricate passes, a downside that is easy to note when playing in direct alignment with someone like Eriksen.
Sideways and backwards passes into the attacking third are generally no problem to execute, but it's those forward passes through central channels that so consistently fail. Spurs have other players who perform this role, so there's little reason to have to rely on Alli in these kinds of positions.
Long way together
Highlighting such a weakness does, of course, indicate just how far Alli has come since joining Spurs. We now expect so much from him in every game that even the smallest of failures are examined in extreme detail – simply because there are few disappointments to be found in his game that you must dig deep to expose them.
However, it's vital that these are found, highlighted and overcome for the sake of Alli's personal development and for his team's chances of winning silverware. Working on your shortcomings and promoting your strengths is, after all, the best way to success.
While it might mean the exclusion of a favoured player, Pochettino needs to think hard about how he can make the most of one of the league's most promising and exciting young talents. If he can definitively get the most out of Alli then his side is well on the way to pushing for that first title.
Quizzes, features and footballing fun
Get the best features, fun and footballing frolics straight to your inbox every week.
Thank you for signing up to Four Four Two. You will receive a verification email shortly.
There was a problem. Please refresh the page and try again.