Why Van Gaal isn't in Moyes' league when it comes to Man Utd failure
Louis van Gaal has certainly been a disappointment at Old Trafford, but his predecessor was on another level, explains Scott Patterson...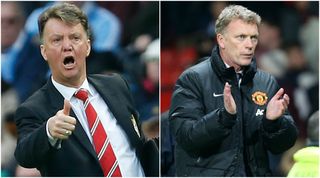 For all the insults that have been directed at Louis van Gaal this season, mainly by Manchester United supporters, surely the worst is to claim that David Moyes outperformed him when he was manager of the club.
The former Everton manager, who hasn't won a single trophy in his entire career, was absolutely woeful at United, taking the champions to seventh in a matter of months, before rightly being sacked with the season still yet to end.
While Jose Mourinho has done his bit in boosting Moyes' status, after taking Chelsea from the title to a relegation battle in an even shorter period of time, there can be no doubts that the Scotsman's reign was appalling.
No defence
When trying to think of redeeming features to those eight months, it's very difficult. United lost home and away to Liverpool, getting absolutely battered at Old Trafford in a season where, if not for Steven Gerrard falling over, they would have won the title for the first time since 1990.
Maybe that's a saving grace, although not one of Moyes' making, as if Liverpool had become champions in a season when United weren't even close to competing for the title, Moyes would have been a marked man in Manchester.
United also lost home and away to Manchester City, getting thrashed 4-1 at the Etihad before losing 3-0 at Old Trafford, in a season when Moyes claimed United aspired to be like them.
United finished below Everton, Moyes' former club, despite bringing their top scorer from the season before, Marouane Fellaini, with him down the East Lancs Road.
When people try to defend Moyes, in an attempt to discredit Van Gaal further, they mention the lack of funds Moyes was given. However, when you remember that Moyes spent twice as much as Roberto Martinez did that season, moving Everton from seventh (under Moyes) to fifth, leapfrogging United, there's no defence.
Underachiever
It's hard to imagine that any manager, other than Sir Alex Ferguson, could have won the title with the squad Moyes inherited, but it was perfectly reasonable to expect them to finish in the top four, or at the very least, above Everton.
However, what Moyes did have in his favour with this squad was it was full of champions, players who had been there and done it time and again, who were brimming with confidence.
Let's not forget that the useless Avram Grant oversaw Chelsea finishing two points behind United in the 2007-08 season, as well as losing the Champions League final in a sudden death penalty shoot out.
Jose Mourinho had been sacked after just six games, yet the players still had the winning mentality within them, and pushed United to the final two games of the season, only for the league title and European Cup to be decided in the Reds' favour.
Moyes, like Grant, should've been able to ride the wave, but he was so utterly hopeless that any confidence was sapped immediately and gathered pace as the season went on.
Still, when looking for highlights, it really is slim pickings. United knocked Liverpool out of the League Cup early on, which was great, but this only set up further heartache. United went out to Sunderland, who were fighting a relegation battle, on penalties in the semi-final at Old Trafford.
United fans also enjoyed an incredible 72 seconds in Munich, after Patrice Evra scored one of United's better goals over the past decade, when firing in to the roof of Manuel Neuer's net at the Allianz. Bayern Munich equalised though, before going 2-1 up less than 10 minutes later, then 3-1 up a few minutes after that. It was a great 72 seconds though.
Van Gaal's tormentor
Yet despite how few genuine moments of happiness there were with Moyes, following every bad result under Van Gaal, of which there have been plenty, supporters use the former manager as a stick to beat the Dutchman with, as if his time at the club comes close to emulating how disastrous it was the season before he took charge.
People look at points comparisons, as if comparing points earned over two different seasons proves anything about the quality of those teams.
Nobody would argue that Chelsea's side last year was anywhere near the same level as United's in 2007-08, when they were crowned champions of England and Europe, but if you were to compare the points they accrued, those sides would be deemed equal.
Fans discuss the drab football that Van Gaal employs, with his obsession with possession boring the supporters to tears, as if Moyes' United set the world alight.
Walking up Warwick Road on the way to big games was a breeze back then. There was no need to worry about whether United would win or not, or even if they would manage a draw.
There were no butterflies in the tummy or anticipation for what might be. Defeat was a certainty, so the anticipation was more about how many goals they would lose by.
While becoming resigned to boring football under Van Gaal isn't a great position to be in, it's still much better than becoming accustomed to watching a team with zero fight in it, and showing no passion in the games that really matter to the supporters.
The Dutch defence
United fans can look to the recent Europa League games against Liverpool with disgust, and that is fair, given the toothless effort at Anfield. Yet those sorts of performances against the club's rivals are a rarity under Van Gaal, when they were the norm with Moyes.
This season, Van Gaal has picked up 10 points from a possible 12 against United's fiercest rivals, City and Liverpool.
Last season it was it was nine from 12, after United were unlucky to get nothing out of the game at the Etihad, looking like the team most likely to score in the final 10 minutes, despite Chris Smalling getting sent off in the first half. The 4-2 win at Old Trafford more than made up for it.
When looking at Van Gaal's transfers, they've been decent, and even those that have been more disappointing have been understandable.
Radamel Falcao was certainly worth a punt, and we couldn't have predicted Angel Di Maria would have no bottle, even if he had made it clear a few months after signing that the only reason why he had come to Manchester was because of PSG's FFP ban. 
Memphis Depay hasn't found his groove yet but he still has the support of the majority of the fanbase, who can see the potential in the youngster.
Other than that, it's hard to argue with the players Van Gaal has brought to the club. The biggest criticism is probably his insistence of playing Marouane Fellaini, the longest lasting memento of Moyes' time at the club, when United paid more than the release clause to bring someone painfully out of his depth to Old Trafford.
New era needed
There is plenty wrong with Van Gaal and he should leave the club in the summer, even if United finish in the top four or get past West Ham in the FA Cup, or even win the competition. He's failed in what he came to do, even if it has been great to see United win so many big games or play so many academy boys.
The club shouldn't waste a further year hoping Van Gaal can achieve the things he set out to do, desperately clutching at straws, when it's obvious United have got as much out of him as they can.
But it's important to remember that Van Gaal took Moyes' confidence-bereft team that had finished mid-table to the top four. With a net spend smaller than City's, he's taken them within one point of their rivals, despite City's starting point being champions, and United's being seventh.
If Moyes was still the manager, United would be in the bottom half of the table by now, with their results becoming increasingly worse the longer he was in charge, taking a swift nosedive at the turn of the year. Of the 22 games he was manager of in 2014, United lost 11, drew three and won eight.
Van Gaal has underperformed but to suggest he is anywhere close to being as bad as Moyes is a huge insult and completely unfounded. Moyes never should have been given the job and didn't achieve anything at United, whereas at least there have been some high points to Van Gaal's time, even if they haven't lasted as long, or been as numerous, as they should have.
But what all United fans should agree on is that both managers have fallen well short of expectation and the club needs to make a brave and sensible decision at the end of this season, before this lengthy transition to life post-Ferguson becomes an irreversible decline.   
Quizzes, features and footballing fun
Get the best features, fun and footballing frolics straight to your inbox every week.
Thank you for signing up to Four Four Two. You will receive a verification email shortly.
There was a problem. Please refresh the page and try again.