World University Games: The inside story of British success
While England continually to fall flat at major tournaments, one British team ventured overseas this summer and reached the final...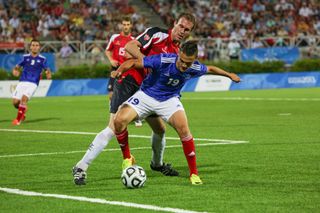 A Great Britain side made up of non-league footballers and students travelled to Russia this summer to partake in the 2013 World University Games. As well as playing for Conference Premier club Hereford United, central defender Luke Graham is also studying a degree in Professional Sports Writing and Broadcasting at Staffordshire University - a course specifically designed for players as the PFA looks to prepare its members for alternative careers after football - offering him the chance to experience an event many lower-league footballers will never...
Picture a group of students and non-league footballers walking around a Kazan Arena packed full of 45,000 excitable spectators... that was us.
None of us were prepared for it, and the reaction to our lap of honour took me back to say the least. More than 160 nations - that's 10,000 student athletes and staff - received an ovation walking around that night that matched the London Olympics opening ceremony in 2012. No-one among the Team GB ranks will forget it. 
The World Universiade Games is now the second biggest multi-sport event in the world. According to the International Association of Student Sports, Russia had coughed up almost £3 billion to host the showpiece competition, and such are the standards that several current Olympic medallists took part to add more silverware to their already-bulging trophy cabinets. The Russian team boasted 18 gold medal Olympians.
Although we were part of our very own strong Great Britain setup, the men's football team had no Olympians or internationals. Instead, the process to pick the best students in non-league football started two years ago, conducted by head coach James Ellis, currently director of sport at Warwickshire University.
He was tasked with watching countless university and non-league matches across Britain along with his assistant Steve Guinan, himself a former striker with a prolific record in English football's lower echolons. The squad was whittled down through testing trials, and a 20-man squad picked.
The opening ceremony gave us all a lift as we settled into student village life, a state-of-the-art Universiade village that would be our home for the next three weeks. My room-mates were two of the younger members of the squad, George Williams and George Nash. Two of Loughborough University's esteemed students, they were both a pleasure to room with and proved a big hit with the female athletes around the village!
The canteen was huge - it had to be - and even had its own McDonald's (a shimmering joy to behold once the competition was over). Every part of the world was catered for in this unique environment, so many cultures coming together under one roof. A large percentage of our time was spent here preparing and recovering before and after matches.
But if there's one canteen tradition that will live on for future generations it's Team GB's 'rock, paper, scissors' tussle, started by our boys. With hundreds of athletes from all over the world watching (quite literally), our boredom-bashing game revolved around the destiny of our finished trays and drinks. Lose, and you were forced to carry the whole team's leftovers over to the bin. 
One day our odd one out, Welsh wizard Craig Moses, took on the Canadians - a bold move when 30 trays were at stake. He lost, yet decided to gamble once more against the Koreans and won, leaving his unfortunate counterpart with 40 trays to clear away.
It was that sort of camaraderie that brought us all together. The schedule was gruelling; six games in 12 days from our opening match against Algeria to the final. Each day's rest was spent recovering in soaring hot temperatures. Team meetings were regularly held to maintain morale, talk tactics and review scouting reports.
The group campaign couldn't have gone any better, as we recorded routine wins over Algeria and Malaysia. We played expansive, attacking football in a 4-2-3-1 formation, without fear and taking risks - a million miles away from what the majority of the team were accustomed to in English football's lower leagues.
The last group match against Italy was massive. Littered with under-21 internationals and Serie B players, they had to beat us by two clear goals to progress. It was a football lesson for us as they dictated play for large periods, yet we held on to 'only' lose 1-0 and qualify. By the end, their players were in tears.
We would play Ukraine in the quarter-finals and the game started like a dream. We kicked off, kept the ball well until we approached their 18-yard box and won a penalty. Gavin Malin coolly slotted home and we held on from that first minute to the last for a 1-0 win - British bulldogs defending for our lives.
Our reward was a semi-final showdown with the hosts Russia before a sold out 10,000 crowd. Russia had several international players taking part and it was a chance for Fabio Capello to check on upcoming talent for the senior side. Never before had a Great Britain side beaten them so we knew the challenge facing us. The winners were guaranteed a medal and there was no bigger incentive to pull off an upset.
We battled bravely with 10 men for much of the game after an early sending-off. Russia took the lead, not that it bothered us, as we equalised right at the death through Mickey Rae. Having practiced penalties, we were confident – and it showed. After five of the calmest spot-kicks you will ever see from a British team in a penalty shootout we were through to the final against France.
Looking back, some of our off-field activities may have seemed a bit bizarre, but they helped to forge a real togetherness and squad spirit. Our special 'discipline points system' saw our three least disciplined members, along with the winner, being forced to sing a love song to our female physios. A canteen full of different nationalities watched 'My Girl' belted out by Nicky Platt, Joe Lolley, Simon Richman and Kieran Murphy.
At the right times, we were allowed out to support our other Team GB teammates, with the standard of the tennis and badminton very high. The women's football team was an inspiration to us as we watched them win gold by beating Mexico 6-2. The time had come for our last match, the final against France.
TEAM GB RESULTS
GBR 3-0 Algeria
GBR 2-0 Malaysia
GBR 0-1 Italy
GBR 1-0 Ukraine
GBR 1-1 Russia (5-4 pens)
GBR 2-3 France (AET)
It took every inch of blood, sweat and indeed tears out of us, as we eventually lost 3-2 after extra time. A Great Britain men's football team may never get this close to a gold medal again in this competition, such is the quality of the other teams involved. I couldn't have been prouder of the way we played. Nations like Brazil, Italy and Russia went home empty-handed, while we took home a medal.
We embraced everything as a group and achieved the near-impossible. So it's clear many of my team-mates are destined for greater things in life, as footballers and as people. Many players in the non-league game have the ability or physicality to play higher. It has been proved time and time again, and this competition is further proof. They just have to be placed in the right environment to thrive.
Being in the right environment for that particular player, whether it be the manager, coaching, tactics or team-mates, all contributes to how a player can perform. Credit must go to the backroom staff for how they coached us. I wish them every success and thank them for being part of my Great Britain experience, memories that I will never forget.
Team GB
James Belshaw (Duke Uni, Gloucester City), Tim Horn (Salford Uni, Burscough FC), James Aldred (Lynn Uni), James Baldwin (UWE Hartpury), Luke Graham (Staffordshire Uni, Hereford United), Kieran Murphy (St Mary's College, Kingstonian FC), Jack Winter (Lynn Uni), Alex Dyer (Open Uni, Welling United), Gavin Malin (Heriot-Watt Uni, Forfar Athletic), Tom McCready (Limestone College), George Nash (Loughborough Uni), Nicky Platt (Salford Uni), Simon Richman (Manchester Uni, Altrincham FC), Jake Parrott (UWE Hartpury), George Williams (Loughborough Uni, Worcester City), Joe Lolley (Uni of Central Lancashire, Kidderminster Harriers), Sammy Macvicar (Loughborough Uni, Grantham FC), Craig Moses (Uni of Glamorgan/South Wales), Marc Newsham (Manchester Metropolitan, Boston United), Michael Rae (Leeds Metropolitan, Spennymoor United).
Quizzes, features and footballing fun
Get the best features, fun and footballing frolics straight to your inbox every week.
Thank you for signing up to Four Four Two. You will receive a verification email shortly.
There was a problem. Please refresh the page and try again.