David James: "Declan Rice should stay at West Ham even if they win the Europa Conference League"
Former West Ham 'keeper James believes Rice could lead the club into the Champions League in future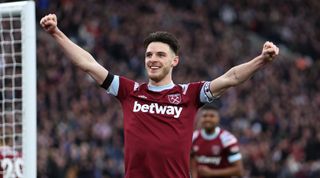 (Image credit: Julian Finney/Getty Images)
Declan Rice should forget about leaving West Ham and focus on leading the club into a new era, regardless of whether or not they win the Europa Conference League final against Fiorentina on Wednesday.
That is the opinion of former West Ham United and England goalkeeper David James, who believes Rice could lead the Hammers into the Champions League in future.
"Regardless of what Fiorentina do, West Ham were always going to be defensively solid and will look to keep the game as tight as possible, irrespective of which team they faced," James tells King Casino Bonus. "There will be a huge dependency on the likes of Benrahma, Antonio and Bowen to create and score chances - even if they don't have much of the ball.
"It's very easy to say Declan Rice is going to be a key player, but if he is on it it gives West Ham every possible chance to lift the trophy," James continues. "I really don't think they will fear Fiorentina at all on Wednesday in Prague. And whilst Fiorentina might be free-scoring and have the top scorer in the competition, there will definitely have been games in Serie A and cup competitions where they have failed to score."
Rice has been heavily linked with a move away from the London Stadium this summer, with the likes of Arsenal, Chelsea, Manchester United and Bayern Munich all rumoured to be interested.
"I've got this beautiful scenario in my head where West Ham win this competition, Declan Rice decides to stay," adds James. "They therefore qualify for the Europa League and then win that to get into the Champions League. I know it is a fantastical situation, but then it would be up to Declan what he does."
Thank you for reading 5 articles this month* Join now for unlimited access
Enjoy your first month for just £1 / $1 / €1
*Read 5 free articles per month without a subscription
Join now for unlimited access
Try first month for just £1 / $1 / €1