'I don't think that we will get beat whatsoever': Scotland legend dismisses England's chances for 150th anniversary game
Scotland are in fine form ahead of hosting England on Tuesday, and one former boss is convinced the Three Lions aren't good enough to win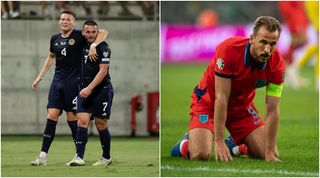 (Image credit: Getty Images)
Scotland welcome England to Hampden Park on Tuesday night for a 150th anniversary match to mark the first meeting between the two sides in 1872.
While billed as a friendly in name, the match certainly isn't expected to be a friendly in nature. Former Scotland manager Gordon Strachan suggests the quality on display will be at a high level due to the performances both sides have proven they're capable of in recent months.
He does, however, believe that there is no chance England will head back down south with the bragging rights, suggesting the Three Lions won't be able to cope with the energy and enthusiasm of their Auld Enemy.
"This is going to be a fiery game," Strachan told Gambling Zone. "We've got two teams playing each other that have both done incredibly well in recent times. Two team that are powerful, they'll be some great players on the pitch and both of the sides are very comfortable with their shape and tactics.
"Both teams are in a good place, Scotland in particular. Scotland have got players that are playing at the top of their game at the moment, playing at the very top level.
"I don't think Scotland will get beat. I don't think that we will get beat whatsoever."
Strachan's confidence rightly stems from Scotland's incredible Euro 2024 qualifying campaign which has seen them win all five of their games, scoring 12 goals and conceding just once.
VIDEO: Why Gareth Southgate's England don't look very good at the moment
Topping Group A, which contains Spain, Norway, Georgia and Cyprus, Scotland need just one more win to guarantee their place in Germany next year. Strachan points to the work manager Steve Clarke has produced in his four years in charge as reason for Scotland's success, highlighting the tactical set-up in particular.
"Steve Clarke has been very clever with what he's done, Strachan said. "He's found a system that enables him to play all of his best players and has picked a shape that suits them. That enables Andy Robertson to do what he does best in terms of providing width and quality in the wide areas, with Kieran Tierney – who is such a good football player – to play as a left-sided centre back. He's getting all his best players into the team.
"When I look at the overall balance and the way the team is set-up, it's fantastic. Callum McGregor and Billy Gilmour give players like John McGinn and Scott McTominay the freedom to go forward and Robertson and Aaron Hickey provide the width.
"The good thing about this team is that they are all starting to mature at the same time – this isn't a team of youngsters – this is a team of players who are mainly between the age of twenty-five and thirty and coming into their prime. They know the game. They have the energy and vibrancy."
More Scotland vs England stories
Watch the friendly between Scotland and England online and on television for free.
Are you able to name every scorer in Scotland vs England games since their Euro 96 encounter at Wembley?
The incredible England anniversary warmup shirt will be available to buy via auction.
Thank you for reading 5 articles this month* Join now for unlimited access
Enjoy your first month for just £1 / $1 / €1
*Read 5 free articles per month without a subscription
Join now for unlimited access
Try first month for just £1 / $1 / €1