'I thought it was my phone!' Alan Shearer and Gary Lineker on the infamous Porngate moment
The viral prank took place during the BBC's coverage of last season's FA Cup clash between Wolves and Liverpool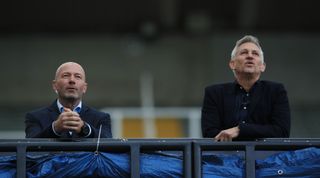 (Image credit: Getty Images)
As Gary Lineker and co. covered the FA Cup third round replay between Wolves and Liverpool back in January, a rather unexpected sound penetrated the BBC's studio at Molineux.
The Beeb had to apologise to viewers after loud moaning noises of a sexual nature interrupted Lineker's discussion of the game with pundits Danny Murphy and Paul Ince.
Amid much confusion and a fair amount of amusement, the source of what has since been dubbed 'Porngate' was found to be a mobile phone taped to the back of the set.
And Lineker and Alan Shearer – was part of the BBC commentary team that day – have a good old giggle when they recall the incident to FourFourTwo.
Why Gerard Pique's new Kings League is the CRAZIEST football competition on Earth
"I was interviewing Alan when it was actually going on," says Lineker.
"Yeah, I was on the co-comms," continues Shearer, "so I was inside the stadium. I could hear it, and there was a part of me thinking it was my phone..."
At this point, Lineker, ever the joker, interjects. "It's the porn he was listening to the night before!" he exclaims – to which Shearer can't help but laugh with his Match of the Day colleague.
"I'd been tricked by people sending me that video so many times," Shearer adds, "and I'm thinking, 'Has it gone off on my phone, in my pocket?'. I tried to be professional and ignore it; I only started laughing when you [Lineker] started laughing!"
The prank turned out to be the work of notorious YouTuber Daniel Jarvis aka Jarvo 69.
Read more
FOOTBALL MANAGER 2024 TACTICS These are the best FM24 tactics to download for FREE
QUIZ! Can you name every single Ballon d'Or winner since 1956?
IN THE MAG Ange Postecoglou exclusive interview! Gary Lineker and Alan Shearer UNLEASHED! PLUS Salzburg derby! Ally McCoist! Ballon d'Or and MORE
Thank you for reading 5 articles this month* Join now for unlimited access
Enjoy your first month for just £1 / $1 / €1
*Read 5 free articles per month without a subscription
Join now for unlimited access
Try first month for just £1 / $1 / €1