Jude Bellingham decided on Real Madrid transfer by taking inspiration from Erling Haaland: report
The English midfielder looked to his former Borussia Dortmund team-mate in order to make the correct career decision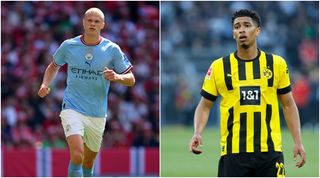 (Image credit: Getty Images)
Jude Bellingham is set to sign for Real Madrid from Borussia Dortmund for an initial fee of £88.5 million, and the English midfielder was reportedly helped in the decision-making process by his former team-mate Erling Haaland.
In a deal which could surpass £115m with add-ons, Bellingham will likely become the most expensive English player in history, and previous details suggest he spent a lot of time deliberating on his next club.
Taking inspiration from the way ex-Borussia Dortmund team-mate Erling Haaland eventually decided on Manchester City, Bellingham scored every prospective club in different categories.
As CBS journalist Ben Jacobs explained back in November 2022, these categories included both objective and subjective factors to consider, helping Haaland and, now seemingly, Bellingham in making their decisions.
"I think Bellingham, from what I gather, will do exactly what Haaland did. He'll score who he joins dispassionately, which is really key. So, when Haaland joined Manchester City he looked at the sentiment and the fact that his father played for the football club," Jacobs said.
"But he also created a bunch of columns, ranging from manager to teammates to training facilities to where the team was to pay packet to city and so on. And some of them were objective categories, and some of them were subjective categories.
"He scored them and he had a gut instinct, from what I understand, that Manchester City were his favourite club, but the data and all these columns from a more dispassionate, neutral sense added up. He scored all the suitors and Manchester City were top of the list, and I think Bellingham will do the same and that's going to be very important."
Ultimately, that scoring system has led Belllingham to Real Madrid, the 14-time European champions persuading the Englishman to swap Germany for Spain's captial, rather than head back to his home country.
However, Liverpool had already pulled out of the race to sign him, suggesting they would rather spend their transfer budget on multiple players for essential positions rather than one marquee name. Manchester City and Manchester United, according to reports, seemed the only other feasible options for the 19-year-old.
Thank you for reading 5 articles this month* Join now for unlimited access
Enjoy your first month for just £1 / $1 / €1
*Read 5 free articles per month without a subscription
Join now for unlimited access
Try first month for just £1 / $1 / €1