'Rocket up their backside' – McTominay reveals United attitude after Fulham win
The Red Devils responded to last weekend's derby disappointment against Manchester City by beating the Cottagers 1-0 on Saturday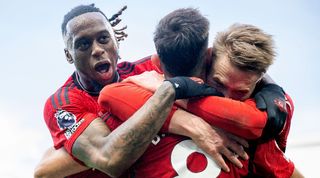 (Image credit: Getty Images)
Scott McTominay has responded to a banner held by Manchester United supporters before a 1-0 win over Fulham that read: 'Play like you mean it!!', suggesting fans had every right to express their frustrations.
The banner followed a tough week for United in which they lost consecutive games 3-0, first to Manchester City in the derby and then to Newcastle United in the Carabao Cup.
A late Bruno Fernandes winner at Craven Cottage was enough to secure three much-needed points and calm some of the disquiet surrounding the club, but McTominay said supporters' pre-match concerns were perfectly valid.
"We saw the banner before the game," he told TNT post-match. "A few of us [players] said: 'Do you know what, the fans pay good money to come and watch every week. The support is relentless towards us every single week and we want to repay them as best we can.'
"Things aren't going the best at the moment but it's building blocks, step by step, and with the manager and coaching staff we trust them a lot, trust the players, and I feel like we can go on, kick on and do better."
In a quiet game United showed enough resolve to earn victory in the 91 st -minute, extending their run of single-goal league victories to seven. Visiting fans could be heard booing Antony, who was substituted off in the 63rd-minute, but McTominay said the players managed to galvanise their way to a win.
"[We] just try and pick each other up," he continued. "Whenever things aren't going so well you need confidence. [Some] players need to feel like they're loved, some are different and need a rocket up their backside sometimes. That's just the way football is; everyone reacts differently to the different types of management.
"With the captain and other senior players I feel like we've got players who know the dressing room well to bring it together and to go and do better.
"We saw the banner before the game … the fans pay good money to come and watch us." ❤️Scott McTominay and Bruno Fernandes heard the Man Utd fans loud and clear 👏🎙@julesbreach pic.twitter.com/fkJ4Q60d95November 4, 2023
"It shouldn't just be this game and we can't get too carried away, but sometimes whenever everyone's against you and you have to do it your way, you've got to come together and fight like dogs. That's sometimes what you have to do. It's a building block and I thought we did more than enough to win today."
Fulham sit 14 th after their fifth loss of the season. United move up to sixth, four points off Aston Villa in fifth, but could be overtaken by three teams by the end of the weekend.
More Manchester United stories
Fabrizio Romano has claimed that Man United's prospective takeover "is set to accelerate quickly".
As a result, Sir Jim Ratcliffe's stance on Erik ten Hag's future at the club has already been decided, with major changes set to take place.
Meanwhile, former Manchester United defender Jaap Stam has said that Ten Hag hasn't been convincing in charge of the Red Devils.
Thank you for reading 5 articles this month* Join now for unlimited access
Enjoy your first month for just £1 / $1 / €1
*Read 5 free articles per month without a subscription
Join now for unlimited access
Try first month for just £1 / $1 / €1