The weird reason why Ronaldinho's new job with the Brazilian government is off to a bad start
He once dazzled millions with a ball at his feet and a smile on his face, but Ronaldinho's latest career move hasn't gone quite as smoothly as his time on the pitch.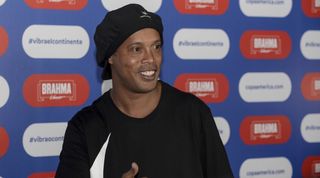 The former Barcelona and Milan playmaker's latest venture is his role as an ambassador for tourism with the Brazilian government.
"I hope to continue to speak positively about our country wherever I go, inviting people to come here. It makes me very proud," he said on Thursday.
Who better than an internationally recognisable sporting icon to help bring more visitors to the South American nation?
As it turns out, most people.
That's because there's a significant stumbling block for the 39-year-old with his new voluntary line of work: he can't leave Brazil.
The World Cup winner's passport was seized by authorities last November after he failed to pay a fine for environmental damage, and his unveiling as a new tourism ambassador came just hours after Brazil's supreme court upheld the decision to stop him from travelling abroad.
Ronaldinho and his brother were convicted of building an illegal fishing trap at Lake Guaiba in 2015 without possessing a proper licence in a permanent preservation area.
The siblings were subsequently slapped with an $8.5 million fine in November last year but refused to pay up, leading to the decision from Brazil's Court of Justice to stop them from leaving the country.
You would've thought that not being able to go beyond the borders of the country would be a significant issue, but the Director of Marketing and Public Relations for Brazil's Institute of Tourism, Osvaldo Matos de Melo Junior, remains optimistic.
"You take the case of Ronaldinho, a person who has almost 100 million followers in his networks and voluntarily helps us at no cost for patriotism," he said.
"This attitude is invaluable. Just by issuing a visa to countries like the United States and Canada, we have already had over 200 per cent increase in demand for our country."
Maybe he doesn't need that passport after all…
NOW READ...
QUIZ! Can you name the 50 players with the most Manchester United appearances under Alex Ferguson?
NO, REALLY Granit Xhaka is underrated – Arsenal just need to help him eradicate the errors
Thank you for reading 5 articles this month* Join now for unlimited access
Enjoy your first month for just £1 / $1 / €1
*Read 5 free articles per month without a subscription
Join now for unlimited access
Try first month for just £1 / $1 / €1