Ronaldo hasn't congratulated Benzema on Ballon d'Or 'yet', Real Madrid striker says
Karim Benzema won the Ballon d'Or in October, but says he has not heard from former Real Madrid team-mate Cristiano Ronaldo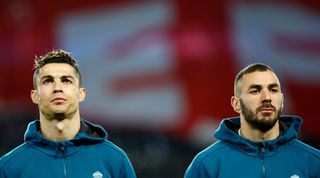 (Image credit: Getty Images)
Karim Benzema says former Real Madrid team-mate Cristiano Ronaldo has yet to congratulate him on winning the Ballon d'Or last month.
The French forward claimed the prestigious prize in October and showed it off to fans at his first club Lyon earlier this week, but revealed he has heard nothing from the player he helped win the award five times in Spain.
"I always believed in myself, I knew that at some point or another with my qualities and my ambitions I could win it," he told Telefoot.
"That's why the last four years, I pushed, pushed again to get that trophy."
And asked whether Ronaldo had been in touch to congratulate him, Benzema said: "No, not yet."
With almost a month elapsed since Benzema won the Ballon d'Or, that is perhaps unlikely now, but both players are currently preparing for the World Cup and could cross paths in Qatar.
"I'm proud to play in this World Cup," Benzema said. "We know what it means. I can't wait for it to start. Stress? No, I just want to start soon. To be able to show what we can do in front of millions of people.
"To represent France. Inevitably, we think about it [a third World Cup win]. But I don't tell myself that I have to win it, because I don't play alone. We are a group and every match is a final.
"And the closer we get to it, the more we will say to ourselves that we have to win. On paper, we are the best and we should not hide it. But football is 11 against 11 and we will have to treat our opponents with ambition and respect.''
Thank you for reading 5 articles this month* Join now for unlimited access
Enjoy your first month for just £1 / $1 / €1
*Read 5 free articles per month without a subscription
Join now for unlimited access
Try first month for just £1 / $1 / €1
Ben Hayward is Weekend Editor for FourFourTwo. A European football writer with over 15 years' experience, he has covered games all over the world - including three World Cups, several Champions League finals, Euros, Copa América - and has spent much of that time in Spain. He currently divides his time between Barcelona and London.