UEFA may have stopped Sevilla from ever winning the Europa League again
Sevilla are perennial Europa League champs… but maybe not anymore, thanks to UEFA's new competition format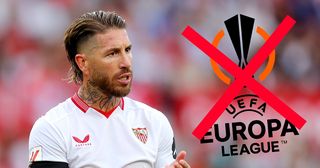 (Image credit: Fran Santiago/Getty Images)
Europa League holders Sevilla are currently in the premier UEFA competition, the Champions League – but bottom of their group. It doesn't seem like they'd mind.
While most clubs would frantically counting on fingers and thumbs to work out how to qualify for the next round, the Andalucian outfit made seven changes ahead of the defeat away to Arsenal, which leaves them with a mountain to scale in the final two games of the group. Ivan Rakitic and Boubakary Soumare spent most of the match watching on from the bench.
Sure, they're on a tough run in the league – but they'd quite like a shot at an eighth Europa League title, too, by finishing third in Group B. It's a bit of an ongoing gag, now: Sevilla are serial winners of the secondary competition despite constantly qualifying for the primary tournament, thanks to that third-place spot.
UEFA may have scuppered Sevilla winning future Europa League titles
The Champions League is changing as of next season. The group stage will be no more, with a 36-team league coming into effect, two more rounds of fixtures and more places up for grabs in the competition, with a Swiss-style system allocating fixtures to seeded sides based on difficulty.
It's not popular with fans, but one oft-overlooked aspect of this new idea is what it'll mean for Sevilla, who have spent a lifetime crashing in the same car, just to get a shot at a more attainable trophy. Seriously: they've won seven whole Europa League titles and never even made the semi-finals of the UCL. How!?
VIDEO: How The New Champions League Format Actually Works
As the competition currently works, the teams who finish third in the Champions League are relegated to a playoff round to play in the Europa League, while the third-placed Europa sides drop into the Conference. This won't happen in a Swiss-style tournament.
Nuh-uh. UEFA are cutting Sevilla off from the source of their glory, meaning that no team that wins the Europa League can defend their title. A little like any good second tier league system.
It's the end of an era. That threepeat of Europa League titles that Unai Emery won with Los Nervionenses? A thing of the past. Last season's drab Champions League performance before they surged to a seventh Europa? Never again. Like night follows day, this club seem to flunk the big occasion only to turn into peak Brazil 1970 whenever they hear the Europa theme tune.
Well, not anymore…
Thank you for reading 5 articles this month* Join now for unlimited access
Enjoy your first month for just £1 / $1 / €1
*Read 5 free articles per month without a subscription
Join now for unlimited access
Try first month for just £1 / $1 / €1