Vidic banned for San Siro trip
BERNE, Switzerland - Manchester United defender Nemanja Vidic will miss next month's Champions League first-leg match against Inter Milan after receiving a one-match ban for his red card in December's Club World Cup final.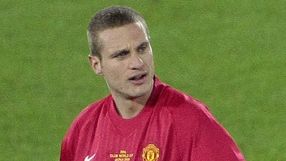 The suspension was announced by world football's governing body FIFA on Friday, along with a fine of 5,000 Swiss Francs ($4,329).
The Serbian international was sent off four minutes into the second half of United's 1-0 win over Ecuador's LDU in Yokohama on December 21 after elbowing LDU striker Claudio Bieler in the face and could have faced a lengthier ban.
Instead he will be free to play in the return leg at Old Trafford on March 11.
FIFA's disciplinary committee was responsible for issuing the suspension as the Club World Cup is a FIFA competition but it will be applied by European soccer's governing body UEFA who are the organisers of the Champions League.
FIFA also announced a two-match ban from Asian continental competition for Gamba Osaka's Takahiro Futagawa following his last-minute red card in the tournament's third-place play-off match.
UNITED FANS! Check FourFourTwo.com's ever-expandinginterviews archivefor more stuff to read:
Web Exclusives Wayne Rooney, Peter Schmeichel, Carlos Tevez
Q+A Wayne Rooney, Cristiano Ronaldo, Ruud Van Nistlerooy
One on One David Beckham, George Best,
Ask A Silly Question Bryan Robson
Boy's A Bit Special Danny Simpson
Perfect XI Garth Crooks, Bryan Robson, Sir Bobby Charlton, Eric Cantona
What Happened Next? David May, Norman Whiteside
Sing When You're Winning Dominic Monaghan, Ian Brown
And Another Thing Being a Big Four fan

Plus! Rate United players (and others) on Talentspotter (opens in new tab)
Thank you for reading 5 articles this month* Join now for unlimited access
Enjoy your first month for just £1 / $1 / €1
*Read 5 free articles per month without a subscription
Join now for unlimited access
Try first month for just £1 / $1 / €1