Summer sweet spot: why Newcastle fan Matt Ketchell will be savouring the next three months rather than counting down to next season
There may be trophies ahead, but while there's Wilson, and Murphy and love and Wor Flags… just play Big River and dance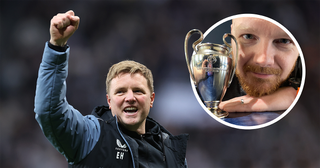 (Image credit: Getty)
On my way to work today I updated my calendar with Champions League group stage dates. As a Newcastle United fan it was 'a moment', believe me.
I watched this club beat Juventus in the 2002/03 group stage. I travelled to Milan to watch Sir Bobby Robson's team draw 2-2 against Inter in the 2nd group stage. But what happened in the 20 years that proceeded that season meant I never had to consider Champions League dates again.
But now they're back, seemingly from nowhere, ahead of everyone's schedule. Less than two years ago I stood in the away end watching a Steve Bruce Newcastle side labour to a 1-1 draw away at Watford. It was the end of September. Newcastle had three points from six games and it would take another nine before they eventually won a league game (at home to Burnley) on 4 December 2021.
Now Newcastle United fans like me are clearing Tuesdays and Wednesdays in their diaries. But rather than counting down the days to early September, when the Champions League group stage kicks off, I will be savouring them.
If European football becomes a regular staple on Tyneside, we will never have quite the same feeling of hope, opportunity and excitement. It will become normal. Right now, the Champions League does not feel normal.
Everything is in front of the fans: elite signings, infrastructure upgrades, European nights, finals, trophies. It's a space rocket to a new frontier. Ironically, the last time Newcastle won a trophy, a human being hadn't even set foot on the moon.
Manchester City fans have long since lost these feelings when it comes to the Champions League. To them, the word UEFA means stress, pressure, expectation, sanctions! If they lose their final on 10 June v Inter Milan a single game will have soured what should be the greatest season in their history. Possibly the greatest season ever by a British club.
Newcastle United fans meanwhile are in the sweet spot. The club has over achieved, they're ahead of the curve. It could be the last time in a while that expectations are exceeded. It feels special.
The velocity of the journey since October 2021's takeover, and the makeup of the ownership group, made this success feel different to previous golden periods under Kevin Keegan and Sir Bobby Robson.
Newcastle aren't people's second favourite team anymore and that will only become more pronounced. Under Eddie Howe Newcastle became intense, organised, focused and streetwise. The latter commodity in particular seemed to become a huge talking point in football media, but 'sh*thousery', as some might describe it (I prefer to call it managing a game and seeing it out) is an essential tool for success in European competition.
"There's a lot of haters in football" said Newcastle's Assistant Manager, Jason Tindall to media after Newcastle secured a point to mathematically assure Champions League qualification. Tindall himself has personally attracted an angry online mob of haters in the wake of his role at Newcastle. "A lot of people probably don't like the fact Newcastle are challenging at the top end of the Premier League and going to the Champions League."
He's right. The rise of Chelsea in the mid-00s and Manchester City in the 2010s tell us that more success means more hatred and more jealousy.
This summer, Newcastle's top-four finish is a relative novelty to neutrals. Non-Newcastle fans might even find themselves remarking how 'good a job Eddie Howe's done', how refreshing it is to see the traditional establishment disbursed. Nothing lasts forever, especially in football.
So I'm going to cherish this summer. Madrid, Munich, Milan are around the corner. Adventure, hope and opportunity too. There will be daily stories of upgrades and unveilings. But timeline tantrums, pressure, expectation and stress are in the post. It's the uncomfortable rough that comes with the smooth of being a 'big club'.
We got a small taste for it towards the end of last night's game vs Leicester. At 0-0 Dean Smith's men began putting passes together in the dying embers of the game. Newcastle players' body language stiffened. It reflected what was going through the minds of their supporters who quietened momentarily, nervously.
'If Leicester score now, we'll have to go to Chelsea and get something'. Had Nick Pope not palmed away Timothy Castange's stinging volley, we would've had six whole days of nauseating pressure that could've culminated in losing a Champions League spot at Stamford Bridge. The relegation underdog would've beaten the bookies' favourite.
It was uncomfortable. Manchester City fans will experience that on a larger scale, with higher stakes, in Istanbul next month.
I have fever dreams about the dying moments of a Newcastle final, or game, that could result in silverware. It's uncharted agony for most Newcastle fans.
But, it can wait. This moment where it all feels new, fresh, and exciting, it needs embracing. I'm going to enjoy every single day between now and the sound of that Champions League music booming out around St. James' Park in September. Then hold on tight from there.
Thank you for reading 5 articles this month* Join now for unlimited access
Enjoy your first month for just £1 / $1 / €1
*Read 5 free articles per month without a subscription
Join now for unlimited access
Try first month for just £1 / $1 / €1
Get FourFourTwo Newsletter
The best features, fun and footballing quizzes, straight to your inbox every week.
Ketch joined FourFourTwo as Deputy Editor in 2022 having wracked up appearances at Reach PLC as a Northern Football Editor and BBC Match of the Day magazine as their Digital Editor and Senior Writer. During that time he has interviewed the likes of Harry Kane, Sergio Aguero, Gareth Southgate and attended World Cup and Champions League finals. He co-hosts a '90s football podcast called 'Searching For Shineys', is a Newcastle United season ticket holder and has an expensive passion for collecting classic football shirts.