Allardyce still seems to be managing someone, worried friends report
Friends of former West Ham manager Sam Allardyce are concerned that he still seems to be in charge of a football team, Back of the Net can reveal...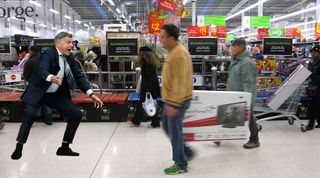 Allardyce left West Ham at the end of last season when his contract wasn't renewed, but puzzled acquaintances have reported that the Dudley-born tactician's behaviour hasn't altered at all since losing his job.
"Big Sam always seems to have plans on Saturday afternoons and most midweek evenings, and whenever I see him he's either wearing a tight suit with a striped tie or a tracksuit top with his initials on it," a friend told FFT.
"I asked him how he was getting on the other day and he kept mumbling about it being hard to get the results his boys deserve and that nobody sees the hard work going on behind the scenes. 
"He told me to ignore what the press are saying about him, but as far as I'm aware nobody's talking about him. Nobody at all."
The manager has also upset strangers in the street by pointing into the distance and shouting incomprehensible orders at them, while others have complained that Allardyce repeatedly applauded them in a supermarket with no provocation.
Press conference problem
Even Allardyce's wife has admitted that there may be cause of concern. 
"I'm starting to worry about Sam," Lynn Allardyce admitted to FFT. "I woke up in the middle of the night the other day and found him in the living room giving a press conference. 
"When he realised I was standing there he tried to pretend he was looking at hardcore pornography, but I knew what he was up to.
"He's acting so strangely I'm worried he's having some kind of secret relationship with a Championship football team."
Quizzes, features and footballing fun
Get the best features, fun and footballing frolics straight to your inbox every week.
Thank you for signing up to Four Four Two. You will receive a verification email shortly.
There was a problem. Please refresh the page and try again.