Most of Woodward's trip to Barcelona spent yelling 'Pedro' at strangers
Manchester United's transfer guru has returned from Barcelona with a sneaking suspicion he didn't get his man, Back of the Net can reveal...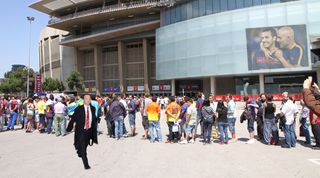 The details of Manchester United suit Ed Woodward's mission to Barcelona have started to emerge and suggest that his plan didn't show his usual pinpoint precision. Woodward jetted off to Barcelona in a bid to secure the signature of 28-year-old Barça star Pedro, but his mission ended in disappointment, possibly due to the executive vice-chairman's lack of anything but the most rudimentary knowledge of his target.
"He was supposed to be the dynamic business presence of a world football powerhouse pulling off a transfer coup, but what I saw was a sweaty, balding man asking people on city centre streets if they knew where he could find Pedro," a source in Barcelona told FourFourTwo.
When asked for further details, Woodward was unable to provide a surname or detailed description of the man he was looking for and settled on repeating 'Pedro' increasingly loudly.
"To be honest it came across as being something of a slur," our source explained. "I mean, some English guy waving a chequebook and asking passers-by if they are Pedro, that just doesn't go over well in Barcelona.
"Woodward kept saying he'd been tracking this man for ages and was ready to pounce, but none of that made anyone feel more at ease."
"He did look quite deflated"
After a fruitless first two hours, Woodward eventually arrived at the Camp Nou navigating with a map clearly ripped out of the EasyJet magazine, but he made no more significant progress than buying a ticket for a stadium tour. "It seemed like an odd way to go about things," Barcelona tour guide Jordi Prats told FFT.
"This man went round the entire stadium and listened to my lecture on Barça's rich history, and then at the end when people usually ask a few questions, he calmly asked whether he could buy Pedro for £20 million.
"I told him I was more the guy he'd talk to about buying a rubber with the Barcelona logo or a coffee table book of historic team photos. After that he did look quite deflated. I hope that didn't impact on the customer feedback form."
Woodward was to suffer a final indignity on his way out of Barcelona as he gazed into the window of a Michelin-starred restaurant to see the elusive Pedro sitting opposite Chelsea director Marina Granovskaia, laughing heartily at a shared joke.
"This man, this Woodward, pressed his nose up at the window," the maitre d' told FFT. "As I went to get my broom his FC Barcelona carrier bag broke and a signed picture of Pedro smashed on the street, just as the real Pedro left. It was a pretty awkward scene."
Quizzes, features and footballing fun
Get the best features, fun and footballing frolics straight to your inbox every week.
Thank you for signing up to Four Four Two. You will receive a verification email shortly.
There was a problem. Please refresh the page and try again.