Barcelona's sorry summer so far: a tragic timeline of despair
The Catalans are used to getting most things their own way – but this has been a period where almost everything that could have gone wrong has. Almost...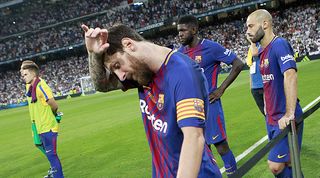 June 8: Hector Bellerin goes public to snub Barça
It was reported in early June that Bellerin and Barcelona were ready to make a deal. Bellerin, a Barcelona youth product, is – despite some dips in form at Arsenal – a highly promising right-back.
The young Spaniard would have filled a role Barça needed covering: last season, Sergi Roberto was playing out of position as a stop-gap, while Aleix Vidal was unable to contribute consistently amid injury and fall-outs with Luis Enrique.
Shortly after those reports, Bellerin took to Twitter:
Player and club flirted with one another until July, but couldn't strike a deal given Arsenal's asking price, which was reported as close to €60m. Barcelona actually ended up with the excellent Semedo as their fall-back in the end, which has been a blessing for them. The Portuguese was a strong signing from Benfica – but buckle up, we're just getting started...
June 16: Marco Verratti teases Barcelona from Gran Canaria
Verratti would have breathed new life into Barcelona's midfield had they been able to land him – he's one of the few midfielders (who doesn't already play for Real Madrid) that can go toe-to-toe against other elite rivals. In the first leg of the Champions League last 16, the Italian swooned Barça by dominating; reading the passing lanes and acting as a ball-carrier to start attacks. Afterwards, Barcelona legend Xavi lauded him as the best central midfielder in the world.
In mid-June, a Mundo Deportivo journalist somehow convinced Verratti to pose with a newspaper headlining his rumoured Barça move while on holiday in Gran Canaria, which added fuel to the fire. PSG were never going to sell, though, and apparently it only motivated them to unite Verratti and Neymar on their terms.
July 5: Theo Hernandez signs for Real Madrid
Many believed that Barcelona were about to torpedo Real Madrid's offer to sign Atletico Madrid left-back Theo Hernandez. Concrete offers had come in from the Catalans, according to Theo's agent, and while he didn't hint at which way his player would sway, the Catalan press were convinced he'd decided to join Barcelona for 'sporting reasons'.
Theo chose Real Madrid.
July 14: Dani Ceballos signs for Real Madrid
Theo wasn't the only one who snubbed Barcelona for their arch rivals. For Barcelona, Ceballos's snub was another stake through the heart – particularly because he filled a position they were so thin in, and Real Madrid certainly weren't (see Luka Modric, Toni Kroos, Mateo Kovacic and Isco). Ceballos's relationship with Real Madrid players like Marcos Llorente, Jesus Vallejo and Marco Asensio (his best friend) at the Euro U21 tournament surely played a factor in the recruitment process.
July 23: "Se Queda" ("He stays")
Oh if you only knew what you were setting yourself up for, Gerard.
August 3: Neymar signs for PSG
It gets so much worse. Football was shook to its core on August 3 when Neymar moved to Paris for an astounding transfer fee that more than doubled the world record. His legal representatives paid his €222m release clause, and an utterly powerless Barcelona lost their second-best player.
August 8: Inigo Martinez talks break down
Proper talks had taken place between Real Sociedad and Barcelona over established La Liga defender Inigo Martinez. The Blaugrana wanted the 26-year-old but backed out late on, declaring that Sociedad's refusal to budge from his €32m release clause was too steep. This one ranks low on the 'snub' list.
August 13: 'Se Queda' karma
Real Madrid take over the Camp Nou in the first leg of the Spanish Super Cup. Pique scores an own goal, and has a front row seat for the other two goals conceded in a humbling 1-3 loss. Then he was criticised by an official from his own club.
"Barcelona had a good first half, but Gerard Pique's goal and error was decisive and until then there had been two even teams," declared Barcelona's general manager Pep Segura.
Bonus diss track: the Camp Nou was filled with tourists cheering on flicks and roulettes from Marcelo and Isco, while celebrating Cristiano Ronaldo's excellent goal deliriously.
August 14: Barcelona sign Paulinho... for €40m
There were, erm... other options.
August 16: 'Se Queda' karma, part 2
Pique gets trolled by Real Madrid fans during Barça's second-leg 2-0 defeat to Real Madrid.
August 17: Barcelona admit Messi hasn't officially signed his contract extension yet
A month prior, Josep Maria Bartomeu had stated that Messi had penned the contract extension that would make him a Barcelona player until 2021. During Paulinho's presentation, however, vice president Jordi Mestre revealed that wasn't the case (although he "would be very surprised if the signing didn't happen").
August 16: Marco Asensio's agent reveals Barcelona rejected him over €2m
Mallorca wanted €4.5m for the starlet in 2014, but Barcelona wouldn't budge from their €2.5m bid according to Asensio's agent, Horacio Gaggioli. "The offer from Real Madrid for Asensio was 20 times better than Barcelona's in every aspect, football-wise and financially," he helpfully pointed out.
August 22: Barcelona file latest unsuccessful bid for Philippe Coutinho
They say the more you're rejected, they more you want it. In this case, the more Jurgen Klopp says 'nein!', the more determined Barcelona are to change his and Liverpool's minds.
Bartomeu was close, to be fair, and Coutinho is on board to do a deal. But Liverpool would rather keep the Brazilian, and have repeatedly given Barcelona the thumbs down. But on August 22, spurred on by Coutinho's agents despite being told to stay away, Barcelona put in another bid – this one just north of £135m.
Desperation breeds persistence, however, and this saga should continue until deadline day. Liverpool might be wise to set up an auto-reply: "Sorry, we're out of the office for the summer. If your email is about buying Philippe Coutinho, please go away."
August 22: Barcelona file lawsuit against Neymar
Neymar received a bonus – £7.8m – for renewing his contract just nine months ago. Barcelona want this sum returned, as they feel loyalty has been breached.
"The club also requests Paris Saint-Germain take on responsibility for the payment of these fees if the player cannot do so himself," the Catalan club stated.
This is going to go well.
August 22, Messi, Suarez and Pique hang out with Neymar and post pictures on Instagram
August 23: Neymar to sue Barcelona
Speaking of loyalty, Neymar feels that he embodies it, and is suing Barcelona for their refusal to pay another loyalty fee in his clause which states he should receive £23.97m.
According to Barça spokesperson Josep Vives, Neymar breached his contract – hence why Barcelona are leaving this fee unpaid.
"There were three conditions: one, that the player didn't negotiate with another club before July 31; two, that he publicly expressed his decision to fulfil his contract; and three, the payment was to be made on September 1 to ensure he didn't go to another club," Vives said. "With these criteria not met, the club will not pay the renewal bonus. The money is no longer with a notary but back with the club."
August 23: Hackers announce Angel Di Maria purchase
The Argentine would have been a fine signing too, alas.
August 24: PSG derail Barcelona's bid for Jean Michael Seri
On the shortlist of midfielders Barcelona were looking at, Nice's Seri was near the top. But Barcelona lowballed Nice, bidding €35m – €5m below his release clause. Nice's response: the €40m release clause expired in July, and Barcelona need to not only meet that threshold, but also throw other players into the deal.
This saga has hit a dramatic climax now. Seri's agent, Franklin Mala, says PSG joined the race for the sole purpose of derailing the deal. "Three days ago, PSG phoned the president of Nice and only for one reason – to screw Barca over," said Mala. "Now PSG are putting pressure on the club to take the player. It's crazy. They just want to do it to f*** Barça."
It's almost like PSG and Barcelona aren't on very good terms right now.
August 25: Something finally goes Barcelona's way
Well, they finally struck gold. The Catalans announced the arrival of Ousmane Dembele – one of the top four young superstars of world football (along with Kylian Mbappe, Marco Asensio, and Dele Alli) right now.
Barça's bidding started at €100m, and they could end up paying something around €150m with add-ons. It's probably worth it, though, despite how crazy that fee would have seemed just one year ago. Barcelona needed to overspend for a star, and no one will blame them for it. Dembele's signing could change their entire outlook this season... and beyond.
(But even this didn't go entirely to plan...)
Quizzes, features and footballing fun
Get the best features, fun and footballing frolics straight to your inbox every week.
Thank you for signing up to Four Four Two. You will receive a verification email shortly.
There was a problem. Please refresh the page and try again.