Euro 2020: What's the deal with the tiny car that brings on the match ball?
By Conor Pope published
Hey, there's a small remote-control car that sometimes appears at Euro 2020 – what's going on there?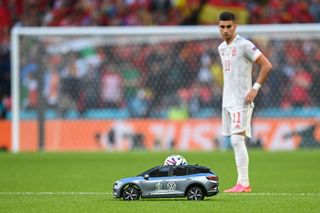 (Image credit: Getty Images)
Tuesday night's Euro 2020 semi-final between Italy and Spain saw the triumphant return of one very special character: the tiny car that brings on the match ball.
Having appeared at the opening match between Italy and Turkey on June 11, the tiny car unceremoniously disappeared – we thought possibly for good.
But with the introduction of a new Adidas Uniforia ball for the semi-final, everyone's favourite diminutive remote-control vehicle came roaring back.
it is a truth universally acknowledged, that a man in possession of a heart, must be in want of a cuddle from the tiny football car pic.twitter.com/VGZrk0FP5zJuly 7, 2021
And the question on everyone's lips is now: erm, what's the deal with the small car that brings the match ball on, then?
Well, the unsurprising modern football answer is that it's a sponsorship deal. Volkswagen is the "official mobility partner" (no, us neither) of Euro 2020, and the tiny car is a clever way of advertising that vital deal. It's even got its own Twitter account now (opens in new tab).
Can't believe I'm here. #EURO2020 #ITAESP pic.twitter.com/A2DYhfV6MCJuly 6, 2021
So will we see the tiny football car for England's semi-final against Denmark and the final on Sunday? We don't know for sure, but the signs are good.
Thank you for reading 5 articles this month* Join now for unlimited access
Enjoy your first month for just £1 / $1 / €1
*Read 5 free articles per month without a subscription
Join now for unlimited access
Try first month for just £1 / $1 / €1
Conor Pope is the Online Editor of FourFourTwo, overseeing all digital content, and joined the team in February 2019. He plays football regularly, both on grass and artificial surfaces, and has a large, discerning and ever-growing collection of football shirts from around the world.
He supports Blackburn Rovers and holds a season ticket with south London non-league side Dulwich Hamlet. His main football passions include Tugay, the San Siro and only using a winter ball when it snows.