Everything you need to know about Martin Odegaard
Martin Odegaard is barely 16 but he's already a full international and the European giants are queuing up for him, reports Thore Haugstad...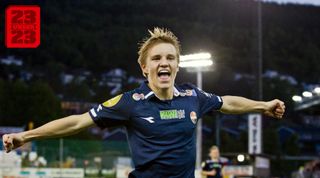 It's been a decent year for Martin Odegaard. The Norwegian prodigy started 2014 having barely turned 15, without an official senior appearance; he ended it with the European club elite vying for his signature. "Obviously a beautiful bride and many grooms are waiting on the doorstep," said Bayern Munich chairman Karl-Heinz Rummenigge. "Maybe we are the best-looking groom."
NEW ISSUE Odegaard included in our '23 under 23' for 2015
FACT FILE
Born Drammen, Norway, 17 Dec 1998
Height 5ft 9.5in
Position Attacking midfielder
Club Stromsgodset (24 games, 5 goals)
Country Norway (3 caps)
No groom has been picked as of yet – the Odegaard family keeps touring the continent in search of the right move – but the talent in demand is of an unusual kind. Odegaard, born 17 December 1998, is the youngest player and goalscorer in the history of the Norwegian premier division, the youngest to play for Norway and the youngest to feature in Euro qualifying. 
He has not been fielded for the sake of it. Since first coming on as a sub for Stromsgodset, aged 15 years and 118 days, on 13 April 2014, the precocious playmaker has recorded five goals and seven assists in 23 league appearances. On his senior international debut, a friendly against United Arab Emirates in August, he was one of the best players on the pitch, and was duly given his first competitive cap against Bulgaria in October, two months before turning 16. 
Slick, technical and left-footed, Odegaard has inevitably been compared with Lionel Messi and the world seems to be at his feet. So what is it that makes him so special? 
Tricks and timing
The New Messi tag is generally slapped on youngsters far too quickly, but with Odegaard it contains some truth. The teenager is an attacking midfielder with a low centre of gravity, who specialises in rapid dribbling and incisive passes. Ronny Deila, the former Stromsgodset coach now at Celtic, once described him as an untypical Norwegian player; considering the country's recent record in major tournaments – they last reached one at Euro 2000 – that can only be a good thing. 
Indeed, in the modest world of Norwegian club football, Odegaard is highly cultured. His drive with the ball is excellent. He'll pick it up in pockets of space and skip past opponents; shift the ball quickly between his feet; nutmeg defenders; perform Zidane-like pirouettes. His finesse and technical repertoire is already on a different level to most.
He most resembles Messi when running at a back-pedalling backline, often cutting in from the right. His understanding of when to dribble and release an opponent is well developed. Nearing the penalty box, he'll either skip past another or slip through a team-mate.
Such final passes are one of his strong points. His sense of vision is remarkably sharp; he spots runs and angles that would escape most observers, whether in boots, in dugouts or high in the stands. Often, cutting in from the right, he will also set up one-twos, then finish with his left foot. Much like a certain Argentine.
Grounded teenager
The comparison is made not to suggest Odegaard will come close to emulating Messi, but rather to note a similarity in style. Indeed, some fear Odegaard may become the next Freddy Adu: another early promise that fades into obscurity. Yet there is another factor about the Norwegian that is almost as impressive as his ability: his mentality. 
No matter what question is asked, he responds with the maturity of a 25-year-old. Quizzed about broken records, he responds with gratitude and lightheartedness. Requested to comment on his future, he only reiterates the importance of focusing on self-development. Asked to highlight what makes him so special, he politely refuses to comment. 
With the pressure building, such level-headedness is fundamental. In Norwegian football, Odegaard is a shining light in an otherwise gloomy reality, the young man to whom all hopes cling. In Europe, expectations have been further raised by his well-documented city-hopping: he has trained with Bayern, but also Manchester United, Manchester City and Liverpool among others. When not at secondary school, Odegaard handles dozens of inquisitive journalists with calmness and a touch of indifference. His feet are rooted to the ground. 
A telling aspect of his mentality is his sense of perspective. So far, Odegaard has remained solely focused on his development, paying little attention to goals scored, records broken and trophies won. He has underlined that, if he takes off now, his career may stall in his mid-20s. That is the period he is supposed to be at his best, and he knows it. 
Home improvement
Odegaard did not become good by chance. Behind it all stands his father, Hans Erik, a former professional with more than 300 matches for Stromsgodset and Sandefjord. Hans Erik is currently an assistant manager at Mjondalen, who were promoted to the Norwegian premier division in November, and he cares passionately about youth development. 
The family home, in Drammen, just south-west of Oslo, is located close to a pitch. Odegaard Senior estimates that since the boy was seven years old, he has trained about 20 hours per week. Even today, in addition to training with Stromsgodset, Odegaard does four to six solo sessions per week. 
Quantity has been paired with quality. Hans Erik favours exercises where the ball is involved as much as possible. Drills tend to focus on the technical: dribbling, vision, spatial awareness. The conditions around Odegaard always had to be privileged for such a special talent to emerge. 
"My dad has never talked about winning and being the best," said Odegaard in an interview with Norwegian football magazine Josimar. "The only thing that has mattered is development and improving all the time. It's always been supposed to be fun, devoid of stress and fear. He always tells me that there's no danger in making mistakes. He wants me to make them, then try again. He's always encouraged me to use the ball." 
The only question over Odegaard is the meagre quality of the Norwegian league: his talent will be put into fresh perspective once examined at a higher level. But that is clearly no obstacle for Europe's big clubs, between whom Odegaard must now choose. May the marriage be a happy one.
Quizzes, features and footballing fun
Get the best features, fun and footballing frolics straight to your inbox every week.
Thank you for signing up to Four Four Two. You will receive a verification email shortly.
There was a problem. Please refresh the page and try again.